Ginger Valdez: Glamour and Grit, Advocacy and Outreach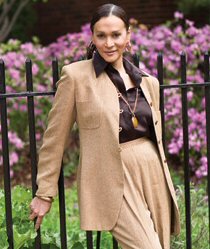 Ginger Valdez shows up for a Positively Aware photo shoot in a suit.
"They think we're all prostitutes with our cleavage showing. I'm going to show something different," she says. And she does, her manners as elegant as her style.
Ginger is a drag performer -- her words -- and a costumer, but she's also an advocate for transgender people, including those who, like herself, are living with HIV.
"I grew up poor, in a casero -- a housing project in Puerto Rico -- more than 50 years ago," she recounts. At the age of seven, she was raped by a 14-year-old boy. "A lot of people believe that gave me the tendency to like boys, but that's not true. I liked boys before then."
At age 13, she began to dress in drag -- her words. Her father was away a lot and she only worried about hiding her feminine appearance from her mom. At the age of 14, while her father was away working at the Fontainebleau Hotel in Miami, she fell asleep in her room still wearing make-up and women's clothing, with a male friend her own age crashed out in the living room. "No one was naked, but my mom got mad and threw me out."
Ginger says that unlike most transgender women she has met, it was her father who always accepted and supported her, but not her mother. "My mother didn't want to deal with it," she says. When her father returned, she was gone.
She went to live with a friend her age who had already begun to live as a transgender girl, invited by the friend's mother to stay in a spare room until something better came along.
A placement glitch kept her from entering high school and she later earned the equivalent of a G.E.D. in Puerto Rico. Instead of school, she began performing in drag shows. The choreographer for the traveling show of famed Puerto Rican entertainer Johnny Rodriguez was going to throw out the fancy sequined and feathered costumes worn in the show when a friend suggested he keep the dresses and start operating drag performances.
They needed a dancer, and Ginger had studied tap, jazz, and salsa dancing. Because she was a minor, they needed permission from her parents, and her father wrote a letter giving his permission for her to work in the show. "That's how I became Ginger Valdez," she says. But, she says, she never denies that she is José Cruz -- "I'm very proud of being José Cruz."
At that time, being a drag queen was illegal. Johnny Rodriguez managed to get a government license for the show at his theater, El Cotorrito ("the little parrot"), she says, because he provided free graphic design work for the party in power. But with all the glamour that came with her career also came the violence of gay bashers, and she says she "went to hell and back" in her experiences.
The show travelled to New York City and Chicago as well as the Dominican Republic, appearing only in theater lounges, not nightclubs. When she was 21 and performing in New York, she met a man and decided to stay with him. She spent more than a decade in New York City. She was already taking hormones to become more feminine.
"He was 42 and very handsome. He had been in relationships with drag queens before. He was responsible and didn't smoke or drink. A friend of mine told me I should stay with him, that he worked and could take care of me," said Ginger.
And he did take care of her. Ginger was happy to stay in New York because she felt she had "nothing to return to in Puerto Rico. My mother didn't want to have anything to do with me."
She stayed with him several years. Later she met another man, a younger one. She dated him for a few months when someone told her he was HIV-positive. "I went to go get tested and sure enough, I was HIV-positive, and my life changed, not for worst, but for better. I began to take care of myself. I learned everything I could about HIV and medicine, and this was in the '80s when there weren't any medicines for HIV." She has been positive for 22 years.
She came to Chicago in 1992 for a couple of months when Miss Kitty, who ran Latino drag shows, invited her. The two had met at El Cotorrito. Ginger ended up staying in Chicago, but performance work here paid much less than it did in New York. "I did the wrong thing and started boosting in the stores." She ended up serving a short prison sentence for shoplifting.
Afterwards, in addition to her performance work, she was hired by the HIV service agency Minority Outreach Intervention Project (MOIP). She reached out to the transgender community with a program called TransAction, including a weekly support group she held in her home. She says 24 transgender women attended each week. When the agency closed, she went to work with another HIV organization, Vida Sida, for three years. In 2000, she received an award for transgender leadership from ALMA, the Association of Latino Men in Action, an educational, social, advocacy, and support group for gay, bisexual, and questioning men. She is still a "den mother" of sorts, providing support to other transgender women, including sterile syringes for their hormone injections.
Ginger says Chicago is the most segregated city she has ever seen, with even different Latino groups being hostile to each other, and in the gay community, hostility between gay men and the transgender population. "The gay community never understands the transgender community. It's due to one [person, or negative stereotype] that the others are judged."
She says that, "If I had the chance to go back and start over, I would not be transgender. A gay man can get a job. They do not allow you to get a job if you're transgender. It's like, 'To be transgender, you made a mistake and we're going to punish you.' There's a lot of discrimination. It's very obvious. They want a sister or a Caucasian. There's discrimination even in the Latino community. With all my knowledge, I cannot get a job because of my appearance. And in Chicago, being Latino and being transgender are two strikes against me."
But, she says, she's also gay. She doesn't understand how people can feel trapped in the wrong body. "How can you tell you feel like a woman if you're not a woman? That's impossible." Yet, she says that "I always felt feminine. I didn't like men's things. I liked women's things; I always liked cooking and sewing."
She has three friends who underwent surgery to become women, but now feel uncomfortable in their former gay bar hangouts. "They get treated worse," she said. "It's horrible. They get taunted for being women and asked why they don't leave.
"No matter what, you're a man. Even if you have the surgery, you're still MTF (male-to-female) and they still consider you a man. Somewhere in a corner of the computer, they still put that you were a man," she says. "I'm not trying to burst your bubble, but see the truth."
What she sees in the transgender community are people who were runaways because they were rejected by their family, and so they were unable to finish their education and became "hustlers" -- sex workers or drug dealers.
"The transgender community is the most misunderstood population in this [gay] community. And if they have HIV, they can't even go get services because of the way that they're treated." She believes that community organizations need to learn how to work with transgender people. "They can get hormones at Howard Brown [Health Center, serving the gay, lesbian, bisexual, and transgender community], but they need places where they can get help. Hormones are good, but they need housing, they need medicine. And not everyone who's HIV-positive can take hormones."
For herself, she says, "My life is very peaceful because I'm very secure in who I am."
For her baby sister's wedding, she cut her hair and put on a man's suit. She did not know the family her sister was marrying into and wanted to be "respectful." Her sister said, "What are you doing? Are you crazy!" She said she was expecting her wedding dress to be outdone by the dress her older "brother" wore. Although her sister was mad about her clothing choice, Ginger wouldn't budge, although true to her nature, she was still feminine. "People thought I was a lesbian," she said. "I did it out of respect, and still somebody tried to get grosero (rude) with me. My sister, who's a cop and tough, threw him out. I didn't even look at him."
Ginger says that, "el hábito no hace el monje." The habit does not make the monk. It does not matter what you wear, you will be who you are.