Feeling better physically -- but getting worse financially? Afraid of being left behind? Wanting to return to work but running up against barriers laid down by bureaucrats, clerks, and personnel people? Worried about holes in the resumé, traps in the interviews, gaps in benefits -- and having nothing to fall back on should your symptoms come back?
In a special feature entitled "Life Beyond Disability" in the February 1999 issue of Body Positive_, financial advisor Per Larson wrote about nailing down medical insurance -- especially pharmaceutical coverage -- before returning to work. In "Keep Covered," he focused on retaining benefits, and in "The Road Back -- One Step At A Time," he focused on touching all the financial bases._
_
Now, in a two-part series, Larson turns his attention to the nuts and bolts of re-entering the world of work. This month's article deals with moving ahead with a job and a career -- searching for market intelligence; developing contacts and leads; securing free training geared toward increasing job prospects, starting income, and medical, disability, and life insurance benefits.
Next month's article will shift this inner focus and hit the streets -- discussing resumés, applications, interviewing, and negotiating to get a job, and then accommodations, keeping the job, networking, and generating ever-greater income, benefits, and opportunities (including entrepreneurship).
---
_
Caveat: The advice given here is limited by the space available. It is general, background information. Take action only after checking other sources, especially written descriptions of your own benefits. Work with someone experienced -- and disclose your circumstances fully. And remember -- these ballpark observations don't give you aisle and seat numbers!
The United States is a land of jobs, career, and paid work. That's how we define ourselves. No one attends Workaholics Anonymous anymore.
The U.S. is in its biggest boom ever. In many areas, labor is scarce and hiring bonuses abound. Employees can set the terms of their employ. It's a sellers' market.
In and around New York City, inflation is up. Rent and purchase prices of apartments are skyrocketing. Key services and materials are scarce and dear. Gaps in medical coverage are growing.
Many people with HIV have had to leave their jobs suddenly -- without good medical, disability, and life insurance coverage. Properly orchestrated, getting a new job can at a minimum recapture or improve these benefits. And even if a return to work fails, it can produce an additional 29 months of medical coverage (on COBRA), sixty percent of the new income if you qualify for group disability benefits, and saleable life insurance worth one to five times the new salary.
At best, a return to work can expand the improvement and stabilization of your physical health to your financial health. While no one can deny HIV and its impacts, work can provide the resources, structure, and security for a new life.
And don't forget, some of us are at that certain age where it's put up or shut up. We may have already faced many kinds of discrimination -- race, gender, sexual orientation, and disability discrimination -- and soon we can add age discrimination to the list.
But skills may be squeaky, networks dried up, and experience outdated. If life's all about making the most of our best -- when we can, where we can, how we can -- there's no time like the present . . . if we feel up to it. If life is movement and action, here's how to get off dead center.
This series is about the nuts and bolts of getting employed after having been on disability. The "bird-in-hand/two-in-bush" problem -- how safely to give up hard-won insured benefits for the uncertain income and benefits of higher paying jobs -- remains the core factor preventing a return to work for several categories of people:
those who want to break free from the public benefit safety net.
those who've fallen into the limited opportunities of barter and off-the-books work.
those with rich medical insurance or disability income benefits.
To break this catch 22, search out information about:
what types of jobs you could do, would do, and should do (a balance of skills, interests, and values).

which industries offer the best benefits. These searches cannot help but generate the information and contacts needed to:

spot-specific job opportunities.
determine what training is needed to get those jobs.
These four elements -- job potential, industry profiles, job market, training needs -- are the basis of a return-to-work plan. This article is your guide for creating that plan. Next month's installment offers advice on how to put your plan into action.
The Two-Pronged Approach
The best way to go about seeking employment depends a lot on your current situation and what kind of work you are looking for. Some people returning to work are looking to pick up on a career track that had to be abandoned when they went out on disability. Others, for any number of reasons, may prefer "job" to "career." That doesn't necessarily mean the job nobody else wants. In much of today's workplace, the old boundaries between "professional" or "managerial" positions and "support" staff have blurred, and so have some of the distinctions between "job" and "career." A clerical job is no longer automatically a dead end, and being a construction worker or bus driver is becoming increasingly recognized as just as valid a career choice as becoming a teacher or banker.
There seem to be two main ways to get work -- finding and searching:
For a relatively short-term, low-paying job with limited benefits or growth opportunities, finding works just fine: answer ads and go to agencies; hit the pavements; wait for providence.
For a more permanent position, one with higher pay, richer benefits, and more growth opportunities, searching is much better. For those who wish to get off Medicaid and SSI and those who now have solid private or group benefits, the search approach is the only one that offers advantages to offset the risks in giving up an existing disability safety net.
For many people with HIV/AIDS, simply finding a job is enough of a challenge, especially when they've been on SSI and Medicaid for some time. For advice on how to work the system to keep Medicaid while working a job and how to stockpile the income received in a PASS account geared toward training or starting a small business, see "Keep Covered" in the February 1999 issue of Body Positive.
The problem with this approach in the past has been that people end up in a revolving door between low-paying jobs and welfare benefits.
TICKET TO WORK
The federal government has recently passed legislation that may improve the options -- especially by enabling disabled people to pay to continue Medicaid benefits while getting back to work -- but only through working the system in sophisticated ways.
It's called the Ticket to Work and Work Incentives Improvement Act of 1999, Public Law 106-170, and it will be phased in over the year ahead. Its key feature is allowing workers with disabilities who earn over 250 percent (possibly up to $43,000) of the federal poverty level to continue receiving Medicaid by paying a premium for it. These people may be able to keep a car and house, but possibly also to exempt additional assets, such as IRAs, 401(k)s, etc., as well. People with disabilities who lose eligibility for Social Security benefits as a result of medical improvement, but who continue to have severe medically determinable disabilities, will also be able to do this. Certain workers who have a disability that without ongoing healthcare would become severe enough to qualify them for Social Security disability benefits would be able to buy into Medicaid as well.
The Act gives an additional 4.5 years of free Medicare Part A to SSDI beneficiaries who return to work after October 1, 2000.
The Act provides funding from 2001 through 2004 for vocational rehabilitation by giving SSI and SSDI beneficiaries a "Ticket to Work" that allows them to choose a rehabilitation provider or employment services.
Social Security's Continuing Disability Reviews, CDRs, are suspended for Ticket users while enrolled in the Ticket Program (unless earnings are too high), but protections against employment itself being used as evidence of medical improvement in a medical review (CDR) do not become effective until January 1, 2002.
The Act's "Easy Back On" provision allows SSDI and SSI beneficiaries whose work attempts fail because of their disability to get back on provisional benefits easily, pending proof of their continuing disability, for up to six months while SSA determines disability status. If an individual is found to be no longer disabled, the cash benefits received do not have to be repaid.
But let's mix some caution with our optimism. The "Ticket" reimburses vocational rehab providers only when benefits actually stop, possibly creating an incentive for providers to move clients through their programs as quickly as they can, even at the expense of seeing that they get the best and most appropriate training. This also presents the danger that people will be pushed into jobs before they are ready. If experience with welfare reform legislation is any guide, these new measures may result only in enabling people to move more easily between low-end disability benefits and low-paying dead-end jobs. For the Ticket Program to be truly effective, it is vital that adequate training and job search help be given to participants to enable them to get off Medicaid and SSI altogether. If those two key elements are just window dressing, the only result of the new legislation may be to move a disabled underclass into a low-paid workhouse in an economy of dead-end service jobs.
People who want to make sure this Ticket to Work Act is applied as broadly as possible, or who wish to lobby for additional protections for people with HIV from providers who would use the new legislation as a new source of income, should contact their local AIDS service organization.
Search, Then Find
So how do you develop the return-to-work plan that's right for you? What's the difference between job finding and career searching?
Job finding literally means knocking on doors, answering ads, buttonholing friends and family -- hitting the workaday world with one direct message: "I want a job." That works well for jobs that are plentiful, but are usually low-paying, with few benefits and little security. But people on disability may not need or want that kind of job. In fact, this kind of job may be a steppingstone to other jobs with greater security and opportunity.
Career searching supplies the leverage of one intermediate step. You approach contacts with a different message: "I want information." Searching works better than finding with industries that are hard to crack, employers that are difficult to approach, occupations that are relatively closed, locales that have higher unemployment rates. It's especially key for finding out which industries, employers, and occupations have the best benefits.
The Research Search
Searching means asking contacts for short interviews to help you research the field. It means asking for their opinions, information, advice, warnings, suggestions, and introductions to other contacts -- but NEVER asking THEM for a job.
Why not short-circuit the process and ask your contacts for a job? Virtually none of these contacts have jobs they could give you. By asking for a job you not only pin them down, you make them feel inadequate. If that's the result of your query, they'll never want to see you again!
Asking for mentoring instead puts people at ease and genuinely flatters them. Most of us are never asked purely for our opinions, wisdom, and knowledge -- we just expect to be hit upon for favors. Rarely are we given an opportunity truly to foster someone's career.
The information generated can be very useful: who's hiring; who's paying what; what benefits are likely to go with what type of job; what employers are employee-centered; whom to stay away from; what future opportunities exist; what kind of salary increases are possible; how secure are certain employers; how hot is demand for various occupations; what specific jobs are the best entry points; how demanding those jobs are now; what fluctuations in job demands are likely.
Just one contact can blossom into a network of interviewees. Each of these can generate further information and further interviews. The process is fast, high-level. It produces contacts who are favorably disposed, relieved not to be hit upon just to produce a job (which most could not do anyway), and available for future networking.
When enough information has been gathered, you can go back to this network and let your contacts know the results of your research -- what you've observed, what you've decided, and what you'd like -- and ask their advice or assistance in putting your plan into effect. But above all, again, NEVER ask members of this vital network at this time for a job. They may direct you to job opportunities . . . but this is the exception that proves the rule.
Now you are ready to move onto job finding. Your search will have generated the names of many possible employers and contacts at those employers. You are in a perfect position to target your search in a rifle-shot manner rather than relying on shotgun-like methods with high levels of competition like answering ads. By approaching employers in a targeted manner, you can present yourself without being drowned out by hundreds of competing resumés.
SELF-ACTUALIZATION AT LAST
The psychologist Abraham H. Maslow, in his famous pyramid of needs (Toward a Psychology of Being, Van Nostrand Press, 1968), tells us that security comes first. That's why without solid medical coverage and a steady income we only have pipe dreams and paper fantasies.
Maslow also tells us that once secure we need to work with people and actualize ourselves. With disability income, we can do both in whatever way we want, without the requirement that these callings produce paychecks . . . theoretically.
But many on disability have found that American society structures social life largely around jobs and that self-actualization on one's own requires not only an entrepreneur's skill and an artist's creativity but a freelancer's iron will -- to do on one's own while managing a disease!
That's why it's often easier to meet these needs and wants through jobs and a career. Moreover, most of us have found that when we just do what we want, the money -- and life-supporting benefits -- don't necessarily follow.
The Benefits Search
Researching this way enables you also to ask sensitive benefits questions, to get referred to contacts who know about benefits, or even possibly to get a hold of benefits booklets. Does a new employee get enrolled in the group medical, disability, and life insurance plans right away (often the case)? At the end of the first month? After X months on the job?
Pre-Existing Conditions. Note that New York State is nearly alone among the states in that it has laws that may help you meet the requirements of any pre-existing condition clauses in key group coverages:
Medical insurance: No pre-existing condition clauses apply if you had previous coverage up to 63 days prior to enrollment in the new plan. Medicaid and Medicare count as previous medical plans. (New Jersey has similar protections.)
Disability insurance: Membership in previous disability plans -- including being out on disability -- counts toward fulfilling the common twelve-month waiting period before the new group disability coverage becomes applicable.
Benefit-Rich Employers. This highlights one of the best reasons to return to work -- to get better benefits. In areas with labor-short industries, employers often put new employees on their medical insurance plans immediately. Some do the same for disability and life insurance benefits.
Industries who do this include most government agencies, financial institutions, and computer/high-tech firms. The larger the employer, the better and quicker the benefits.
Key Benefits To Get. A new job with rich benefits can give a person with HIV significant financial advantages worth far more than just salary:
Medical insurance: A person on Medicare who is ineligible for ADAP -- the AIDS Drug Assistance Plan -- or who needs pharmaceuticals not covered by ADAP can get medical insurance that pays for drugs, which can be continued after the job's over for 18 to 29 months on COBRA (the Consolidated Omnibus Budget Reconciliation Act, but no one calls it that).
Disability insurance: A person without disability insurance, a person with a two-year limitation on a mental health claim, or a person with taxable disability benefits can significantly improve these benefits or extend coverage.
Life insurance: A person can acquire life insurance typically equal to at least one year's salary (with the federal government and financial institutions, this can be up to five times annual salary) that can be converted into individual coverage upon leaving the job. This might be acceleratable if a life expectancy of six to twelve months can be shown, or viaticatable/saleable in the case of a life expectancy of less than four years.
WHEN PROFESSIONALS HELP OR HINDER
New York abounds with career counseling services, but most of them -- like most employers -- assume you're in excellent health and have had no gaps in experience due to disability.
Beware of spending scarce resources on professionals you may end up having to educate, or whose techniques are inappropriate to your needs or wants.
Do consider support groups if they appear to obey the common rule that those who get the most help are those in the most need -- and you are that person.
Make sure the person helping you is very experienced in the specific area where you need advice and guidance. Social workers are well versed in Medicaid, PASS programs, Social Security's trial work programs, ADAP, and AHIP. Major universities usually have career centers, computerized tests, and competent counselors at no or low cost. You may need specialized legal or financial counsel if group or private medical or disability benefits are at stake.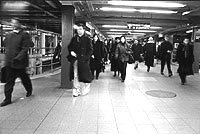 Gearing Up with Training
The market intelligence generated by a search also reveals what kind of training may be needed to get a better job, a higher salary, or richer benefits.
After years on disability benefits, skills, knowledge, experience, and contacts get rusty -- even obsolete. With technology moving at its current breakneck pace, training is an ongoing component of many of today's jobs and a good, fast way to bridge experience gaps. It's often the key to whether a return to work means falling back to where you were -- or even a few rungs down the ladder -- or moving ahead to where you could have been.
When I advise clients to go out on disability, I usually do so early enough so that the disability time-out can be used to recoup health and then redirect the person's career.
Needs. The disabling symptoms documented in the disability claim provide clues as to what redirection is required. If ability to travel, carry on multiple tasks, work long hours, supervise, or perform complex computations is compromised, there are often other areas of potential that can be strengthened with training.
Wants. Once your needs are determined, it's equally important to define what new wants you have. A disability time-out, coupled with systematic career inventorying exercises, often reveals what was dissatisfying in jobs of the past and can be used to explore what types of occupations and employers are worth gearing up for. Few in the working world have this incredible opportunity to have current needs met while discovering what really makes their clock tick workwise.
Imagineering. This is a good time to review career planning classics such as What Color Is Your Parachute by Carl Bolles (Ten Speed Press, 1971-2000, published annually in January), Where Do I Go from Here with the Rest of My Life? by Carl Bolles and John Crystal (Ten Speed Press, 1974), and Zen and the Art of Making a Living by Laurence G. Boldt (Penguin, 1993). New Yorkers can find these titles--and more--at the New York Public Library's Job Information Center located in the Mid-Manhattan Branch at 455 Fifth Avenue (Fortieth Street); (212) 340-0836.
Testing. Next, the rich resources of university career centers may be tapped by voicing an intention to take classes there or by paying a very small fee. This gives access to inventory tests of interests, skills, style, and compatibility that otherwise could cost over $1,000 on the open market. These centers have references for writing resumés, role-playing interviews, and getting contact information for possible employers.
Training. Once you have assessed your direction, investigate state funding of training selected by you. New York and New Jersey are among the most supportive states. They have added state funds to federal funds designated for use by disabled people to get training. In New York the program is VESID -- Vocational and Educational Services for Individuals with Disabilities -- at (212) 630-2306. In New Jersey, call the Division of Vocational Rehabilitation Services at (609) 292-5987. They will have a program office near you. In other states, check your state government phone listings.
Plan First. The key to vocational rehab is to have a detailed plan in mind before you ever make that call. Gatekeeper employees of these organizations have too much work as it is processing paperwork. They respond favorably to the person who walks in the door having researched what courses to take, why they make sense in terms of background and test results, how long a course will take -- and what kinds of work opportunities the training may lead to.
I have seen these programs fund computer network training that raised a person off welfare into a $40,000-a-year job in four months. That same person, once on the job, then had to go back on disability, this time with disability benefits that permitted him to pursue further training that jumped his salary to the $70,000 level. I have seen people justify and receive funding for four-year college programs. The approval process takes months -- but it's worth it.
Vocational Rehab Protections. Keep in mind that vocational rehab generates all kinds of additional financial advantages. Social Security benefits are locked in and immune from a claim review while vocational rehab is going on. A student status may give access to low-cost student medical insurance with full pharmaceutical benefits -- the premium for which might be paid by a program like AHIP, the AIDS Health Insurance Premium Program, (212) 630-1934.
Precautions with Insurers. Studying can create potential problems with group and private disability insurers, especially if the original disabling symptoms included such mental incapacities as lack of concentration, short-term memory lapses, and a slower mental pace. These may be offset by seeking accommodation for these problems from the school, perhaps by easing requirements for course completion and graduation, acknowledging the symptoms.
Legal or other professional guidance should be sought when group and private disability benefits are at stake. There are major differences between insurers in whether and how they encourage training and whether they consider it an indication that the end of benefits is at hand. Consider presenting training as part of an overall proposal geared both to a return to work and to the protection of benefits while doing so. Carriers may be willing to give written assurances and bend policy requirements to suit your situation.
---
In sum, use your disability time-out to research what you can do and what you'd really like to do, what job and career problems and opportunities exist specifically for you, and what training or education could either rectify those problems or jump-start those opportunities into a realistic return-to-work plan. In doing this, use the tools of career counseling and the techniques of information interviewing.
Next month I'll spell out how to apply that plan in the job marketplace.
Per Larson gives financial advice to people with HIV and other serious illnesses, helping individuals go out on disability and return to work. He gives workshops at Memorial Sloan Kettering and Friends In Deed and helped run the Body Positive workshops on Personal Finances and HIV for several years. A frequent contributor to Body Positive, Positively Aware, and POZ, he is the author of the book Gay Money and over 100 articles, some of them available at www.GayMoney.com. He has been seen on 60 Minutes and 20/20 and has been quoted or featured in Forbes, Kiplinger's, and Worth as well as The Washington Post, Boston Globe, and New York Times_. He can be reached at PerLarson@aol.com or (212) 734-0941._
RESOURCES
The AIDS Benefits Handbook (Yale University Press) by Thomas P. McCormack, the foremost authority on Social Security, Medicare, and Medicaid regulations, is an excellent resource for information about government disability benefits.
The following articles on these issues have been written by the author:
"Life Beyond Disability," "Keep Covered," and "The Road Back--One Step at a Time" (Body Positive, February 1999)
"It's Back to Work We Go" (Body Positive, September 1998, Interview)
"Disability Benefits: The Other Shoe Is Dropping" (In The LIFE, December 1997)
"Disability: Hope for the Best, Plan for the Worst: Designing Your Financial Future--Now That You Have One" (Positively Aware, March/April 1997)
"HIV: Back to Work?" (In The LIFE, March 1997)
"Money Matters: Challenges Posed by the New AIDS Drugs" (LGNY March 30, 1997)
"New AIDS Drugs and the Realities of Disability Benefits" (LGNY, March 17, 1997)
Back to the
April 2000
Issue of
Body Positive
Magazine.