With a 27-year history of drinking, using drugs and sleeping with hundreds of women, Greg Braxton's AIDS diagnosis in 1994 came as no surprise. He'd blown through a string of careers because of his addictions: steel mill worker, Chicago police officer, taxi driver, bus driver. Even after his diagnosis, he struggled with his crack cocaine addiction, which would often cause him to skip essential doses of his HIV meds.
A Downward Spiral
Greg's self-destructiveness continued for several years. During this time he was frequently admitted to his hospital's intensive care unit. "I was extremely sick, and a few times they didn't know if I would live or die," he says. "I was always able to pull myself together eventually, but would get sick again, with pneumonia, histoplasmosis and other opportunistic infections."
At one point, he even suffered a heart attack, although this didn't deter him from his crack use. He just thought he'd accidentally taken too much crack at once. It wasn't until the summer of 2001, seven years after his HIV diagnosis, that Greg finally got his addictions under control. With a laugh, Greg recalls the real reason he entered a treatment program for substance-abuse for what turned out to be the final time: He was trying to escape a drug dealer he owed money.
Although his previous attempts had failed, this time, he says, something "clicked." He managed to stay focused and struggled to change his life.
The Long Road Back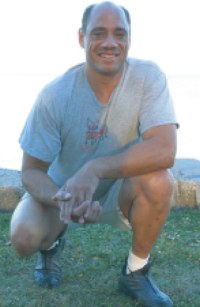 Greg says his addiction to drugs and alcohol has been transformed into a passion for exercise.
Greg spent nine months in Haymarket Center, one of the largest substance abuse programs in Chicago. Once he completed the program, he was placed into a transitional community living program called AIDS Care. Since then, Greg has been in an independent-living group home that provides him with the support he needs in order to recover from so many years of drinking and drug use.
"I couldn't have stayed sober without it," Greg says. "I needed the structure. If you need something it is always there. I'm pretty independent now, but at first I had to take it slowly." There are substance abuse counselors and support groups available if he needs them. He tries to attend at least three Alcoholics Anonymous meetings a week.
Once he was in recovery, Greg was finally able to adhere to his HAART regimen. But by then he had exhausted his options: By failing to take his meds on time for so many years, he had become resistant to most of the available medications. His CD4 count continued to drop while his viral load continued to rise. "I never thought beyond two or three years, didn't make any plans as far as employment and going back to school, because I never expected to live that long," Greg said. "Then a friend gave me information on this new drug, T-20 or Fuzeon, and that's when I really got hope."
Since his medications were no longer working, Greg assumed he had little time left to live. He never imagined he would be around long enough to see the younger of his two sons graduate from high school (which he did in the spring of 2004), or his daughter give birth to his first grandson, who is now two years old. "It's really a miracle for me to see my grandson," Greg acknowledges. "I didn't think I would see my kids grow up. I remember telling my kids that I had AIDS and my daughter was crying. I really thought I would die soon."
From Crack to College
Greg started Fuzeon as part of a clinical trial in November 2002. He took the drug in combination with Epivir (3TC, lamivudine), Norvir (ritonavir), Viracept (nelfinavir) and TMC-114, an experimental protease inhibitor. "At that point I was out of options," he said. "If my doctor told me to jump off a building I would -- as long as I had a parachute!" By sticking to his regimen, Greg has seen his viral load slowly plummet to around 900 and his CD4 count rise from 1 to 100.
The same year he started taking Fuzeon, Greg decided to finish college. He had dropped out of Chicago State University in his junior year in 1974. He was majoring in accounting and had decided it would be more interesting to get a job. He finally graduated in October 2004 with a GPA of 3.8 and a bachelor's degree in applied behavioral science, which he will put to use in the HIV community. "That's all because of the Fuzeon, the hope that it gave me," he says. "I haven't got to undetectable yet, but to me this is a big improvement from over a million copies to 900!"
Adjusting to Fuzeon
Greg on injection site reactions: Massage the injection site with a small vibrator. "I use it on the site right after the injection," he explains. "It helps diffuse the medication and the injection site reaction is much less severe."
When asked what he thought when his doctor told him that he would have to inject Fuzeon twice a day, Greg didn't blink. Though he had never injected during his crack addiction, he says, "the thought of injections didn't bother me too much, because I had experience injecting Procrit for anemia. I wanted to do whatever was necessary to get the virus under control. The first three or four times I injected I had to play the training video to do it. After that it became second nature. It really was no big deal considering the benefit I was trying to get from the drug."
It was actually the preparation of Fuzeon that concerned Greg. "It seemed a little complicated at first because you have to mix the drug, and I had a little apprehension about that," he said." But after my doctor went over the training video with me, I was confident that I could do it."
How does Greg work the twice-daily injections into his schedule? "It takes an adjustment; you have to plan," he explains. "I mix two batches at night, inject one and do the other in the morning. You have to allow time for it to come out of the refrigerator and warm up. By and large, I've adjusted to it quite well. It doesn't burden me."
And what about his adherence? "I've been on Fuzeon for a year and a half and I might have missed only three doses."
Greg on getting help taking Fuzeon: Attend a support group. "It's amazing how many small tips you can pick up in the Fuzeon support group," he says.
Although people in Greg's Fuzeon support group talk about bad injection site reactions, he says that his are pretty much average. "Sometimes I inject and have very little reaction at all, and sometimes I get a little bruise there. On average, it's just something that's barely noticeable to me. It's nothing that would prohibit me from injecting. I have to look around for a fresh site to inject. I have problems injecting in my legs and arms, so I stick to the abdomen area and I seem to do okay."
So how long will Greg stay on Fuzeon? "As long as necessary, that's my outlook on it. If medications come out that will allow me [to] take pills, then I'll do that. But I'll inject as long as I have to because I'm getting results from it."
Greg's Treatment History
HIV medications: Fuzeon, Epivir (3TC, lamivudine), Norvir (ritonavir), Viracept (nelfinavir) and TMC-114, an experimental protease inhibitor
Current side effects: Some skin irritation from the injections
Lowest CD4 count: 1
Current CD4 count: 100+
Highest viral load: In the millions
Current viral load: 900
How he pays for his meds: Medicaid. He's getting the TMC-114 through a clinical trial.
The Power of Support
For people beginning a regimen that includes Fuzeon or those who are considering it, Greg firmly believes in the importance of attending a support group. "You can get honest feedback on the pros and cons of injections," he says. "The bottom line is, if this is what you need to do to save your life, then you learn how to manage it, and get over the fears of injecting. If you don't have a support group in your area, then talk to people who are on it and get feedback, ask questions."
The Power of Recovery
Greg's turnaround in life has been nothing short of remarkable. His health has improved, as has his romantic life: Almost two years ago, he met his current girlfriend, and they're still going strong. Greg has also discovered a passion for exercise -- an obsession that's yielded several benefits. "My addiction to drugs and alcohol have switched to exercise," he says. "Even in recovery, my T cells plummeted, my viral load was a million and my T cells were 1. The only thing that kept me going was juicing and exercise."
Greg makes fresh vegetable juices, he says, with broccoli, carrots, beets and celery or whatever else he has on hand. He also makes strawberry, raspberry, apple and grape smoothies. "The exercise and diet helped me to stay healthy when the meds weren't working."
In his tiny studio apartment, Greg keeps 10 to 15 pieces of exercise equipment, including a stationary bike, total gym, Power Flex for strength training, a crossbow trainer and a rowing machine.
Despite devoting his time over the past several years to his full-time college schedule, and his exercise regimen, Greg also contributes his time and energy to the HIV/AIDS community. He leads a support group for HIV-positive Alcoholics Anonymous members; he's a member of various AIDS policy and planning groups; and he serves as a board member of the agency that runs the independent-living group home where he lives in Chicago. Most recently, Greg joined the National AIDS Fund AmeriCorps Program, a yearlong community service program. His assignment: an 11-month stint at Haymarket Center, the same substance-abuse program that started him on his path to recovery. While there, he'll perform a wide range of duties, including HIV testing, one-on-one counseling, outreach and training.
Whenever he's asked, Greg speaks freely about substance abuse and HIV -- at colleges, at high schools, wherever he can. "It's a way of giving back; it's 12-step work," he says. "Having HIV is something negative, so I can flip it to a positive; I can use my disease to prevent others from getting it. I really get a lot out of doing that."
Copyright © 2005 Body Health Resources Corporation. All rights reserved.