"Do you love yourself enough to take treatment on a daily basis? If you don't love yourself, you won't do it." This is what 49-year-old Beatriz Diaz says to people with HIV who are considering treatment. Beatriz is speaking from personal experience. She learned the painful way how critical loving yourself is to committing to HIV treatment.
The Diagnosis
Before the Fresno, Calif., mother of four was diagnosed in July 1992, after donating blood, she believed all sorts of things about people with HIV: that you had to stay away from "those" people ... that they were bad ... that you couldn't get near them because they were extremely contagious. "It's a big factor when you are diagnosed," Beatriz emphasizes. "You feel a lot of self-hatred."
What made things worse was that Beatriz had little support. She didn't tell her parents or her four sons, who ranged in age from three to 14. She confided only in her partner of one year. But he had his own diagnosis to deal with. Although he was supportive, it wasn't enough. Beatriz also had to contend with a stressful, full-time job as an information officer for the federal government.
She admits that she was completely ignorant about HIV. "I didn't get a lot of background info at the time. The doctor just said I was positive and, at the beginning, I didn't ask any questions."
"I kept the plates I ate on and my cup separate for a year and a half," she says, thinking she was protecting her children from HIV. "My oldest child kept asking me why I was doing this. He kept pestering me." Finally, she learned that sharing plates did not put her kids at risk and she stopped. She laughs now at how ignorant she was.
For three long years, from 1992 to 1995, Beatriz lived with her HIV in silence. In that time, Beatriz grew more depressed. She stopped seeing her friends and bringing her kids to their barbecues. She kept herself isolated, just staying home with her children. Though physically she was fine, she had no one to talk to, no one to share her worries with. Those three years, she says, were the worst years of her life. Even though she still had her partner, her previously active social life was at a standstill.
The Turning Point
In 1995, for reasons she can't explain, it suddenly hit her that she had HIV. She closed the curtains, stayed in bed and for four days couldn't bring herself to go to work. Beatriz had worked at the same office for 12 years. She had good friends at work. But now she wouldn't take their calls. When one of her coworkers stopped by to visit, Beatriz pretended nobody was home; she hushed her children and wouldn't answer the door.
But when her coworker Rosario (not her real name) came to check up on her, it wasn't as easy for Beatriz to ignore her. Rosario banged and banged at the door. She kept shouting, "I know you're in there!" Finally, Beatriz reluctantly opened the door.
A normally outgoing person, she was silent. Her house was dark. Still in her robe and nightgown, she just looked numbly at her friend. "What's wrong?" Rosario cried over and over. "What's wrong? You haven't even showered! What's wrong?!"
Finally, Beatriz could stand it no longer. She broke down and sobbed out the story right in the doorway. Together they then walked to her room, sat on the bed and cried. As Beatriz tells it, Rosario, noticing how listless Beatriz was, pulled her into the shower -- cold water only -- and pushed her in, clothes and all.
Beatriz recalls yelling, "What are you trying to do?" "You gotta shake out of it!" Rosario responded, "It's not like you're going to die tomorrow! What are you going to do with these boys? You've got to think about your boys! You have to do it for them!"
"That's what made me snap," Beatriz says: trying to figure out who would take care of her boys if she died. Her parents? Her sister? Maybe -- but she knew that no one could take better care of her kids than she could. "Life is too precious to let it go just like that," she says.
"I started out slowly," she admits. "But eventually I got myself doing what I had to do." What Beatriz says truly changed her life was the special support group for HIV-positive women run by All About Care. "Talking to these women helped me a lot emotionally," she says. "They showed me ways to deal with the disease. Just by going to the groups and being inspired by the older people and younger people. I kept saying, if they can do it, why can't I?"
Nine years after joining, Beatriz still goes to the group at least once every few weeks, often with one or two of her kids. She has also taken her family on two of the group's camping trips in Yosemite National Park.
Telling Her Family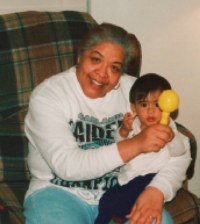 Beatriz with one of her grandsons. They live with her, along with her son and daughter-in-law.
Soon after she started reaching out for help, Beatriz finally decided to tell her children she had HIV. One Sunday evening, she gathered her boys into the living room and told them she had a chronic disease called HIV. Although they asked her questions, she says it took time for it to sink in. Her two oldest sons had the most difficult time coping with her diagnosis, but they're now completely supportive.
She also told her parents. Though it was heart-wrenching, she has no regrets about telling her family. "You carry something so heavy for so long," she says. "It was such a relief to stop carrying this secret around with me."
A New Life
In that year of momentous changes, Beatriz also decided to quit her job, accept a reduced pension and live on Supplemental Security Income. It was time for her to take care of herself. Her HIV infection had begun to progress and she had stopped feeling healthy.
Before she left work, though, Beatriz decided to tell eight close work friends that she was HIV positive. They reacted so much better than she imagined, she says. "I got all kinds of prayers in the mail. I could've kicked myself for not speaking up sooner. There are people out there who care, and I didn't give them the chance to show it!"
Once she quit working, Beatriz focused on her kids. While she was working full-time, they had taken the bus to school and eaten cold cereal and TV dinners. Now she cooked their meals, ate with them and drove them to school.
During this time, she began HIV treatment; it consisted of two medications: Retrovir (AZT) and Videx (ddI). She suffered through various side effects, including a skin rash and headaches and changed treatments a few times, but she couldn't find a drug regimen she could stick with. By 1999, her CD4 count had been falling for six months straight. Her emotions seemed tied to her CD4 count; as it fell, she sank into depression. In 2000, her doctor told her that her HIV had become resistant to all the medications available at that time. Her CD4 count was 54, the lowest it had ever been.
Her only hope? To join a clinical trial for an entirely new type of HIV medication called a fusion inhibitor; the drug: Fuzeon (T-20, enfuvirtide). Unfortunately, the clinical trial was in San Francisco, which would mean a three-hour drive each way from her home in Fresno. But Beatriz was motivated. After all, she had her kids to take care of. If she were to let HIV kill her, she thought, "how would they pay for my funeral expenses?"
Beatriz joined the trial, and committed herself to the taxing drive to and from San Francisco. "Sometimes," she says, "I just didn't have the money to pay for gas. My kids helped me out." Her two oldest boys were working at the time and chipped in.
For a year Beatriz drove to San Francisco twice a week, then twice a month for six months, then once a month for a year. She never missed an appointment. Her CD4 count climbed from 54 to 216 after the first year. Now, four years later, it's at 784. She's still in the trial and drives to San Francisco once every four months.
Getting Used to Self-Injections
Before she would agree to take part in the Fuzeon trial, Beatriz told her doctor she would have to see the needles up close. "My father is a diabetic," she explains, "so I was used to seeing needles. When I saw that they were small like that, I thought, if he could do it, so can I."
The first time she took Fuzeon, the nurses prepared the medication and injected it for her. Then they gave her a kit containing sterile water, Fuzeon in powder form and clean needles. The nurses taught Beatriz how to prepare the drug herself and inject it under her skin.
Although Beatriz is blasé about injecting now, it took her a while to get used to it, she says. "A lot of people get afraid about Fuzeon. If people with diabetes can do it, we can do it."
To make sure she never misses a dose, Beatriz incorporates Fuzeon into her daily ritual. Every morning when she gets up, she removes the medicine from the fridge and mixes her morning and evening doses. She puts her evening dose back in the fridge and then leaves her morning dose out so it can reach room temperature, which makes it easier to inject. Then she takes her shower and eats breakfast.
Finally, she fills one of her clean needles with the Fuzeon. "I grab the skin of my thigh and put the needle in, and let it go slowly as I'm putting in medication," she says. "After I'm done with the medication, I rub the spot for at least a minute. I get a little bump sometimes that lasts three to four days before it's gone. I also sometimes inject in my stomach and waist."
Beatriz's Treatment History
HIV medications: Fuzeon, Kaletra (lopinavir/ritonavir), Viramune (nevirapine), Combivir (AZT/3TC), Viread (tenofovir)
Other medications: Oyster shell calcium, Tagamet (cimetidine), ibuprofen
Current side effects: Some skin irritation from the injections
Lowest CD4 count: 54
Current CD4 count: 784
Highest viral load: In the millions
Current viral load: Undetectable
How she gets her medications: Through her private health insurance, paid for by her former employer.
It Takes a Family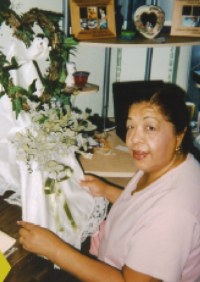 Beatriz frequently creates floral centerpieces for weddings and coming-of-age parties for Hispanic girls.
What does Beatriz do to keep busy nowadays? She crochets blankets. She creates floral centerpieces for weddings and for quinceanera, the Latin American coming-of-age party for girls. A few times a month Beatriz acts as a court interpreter for Spanish-speaking immigrants.
Beatriz also speaks to audiences around the country about her experiences since being diagnosed with HIV. "I've become a very outspoken person," she admits. "I speak to people about living with HIV and taking Fuzeon. I now know that you are not going to get HIV by touching someone. HIV is just three big letters. People hear it and panic and get scared. But it's just a big word."
Now Beatriz says she is happy. A few years ago she bought her own house -- "a four-bedroom, two-bath, two-garage house!" she says proudly. All of her sons live with her. A special pleasure is sharing her home with her second oldest, now 23, who is married and has two sons of his own, ages two and four.
"I love my grandkids so much!" Beatriz exclaims. "I went to San Francisco not long ago to speak and they came with me. They give me inspiration. They understand I have an illness. They just see it as a fact of life."
Through it all, Beatriz says, her sons have been her main support. They often come to her doctor with her, and her youngest son even helps prepare her medications. She says that if she falls asleep at night before taking her meds, he wakes her up to remind her. She says this with pride, grateful her sons have so wholeheartedly accepted HIV as a part of their lives that they're willing to give so much of themselves to keep her healthy.
To reach Beatriz, e-mail her at DiazBeatriz55@aol.com.
Copyright © 2005 Body Health Resources Corporation. All rights reserved.