Tiger Medicine
A Native American Woman's Story
By Sue Saltmarsh
After searching unsuccessfully for an HIV-positive Native American woman to interview here in Chicago, the American Indian Community House in New York suggested Lisa Tiger. We spoke by phone; her honesty and willingness to share her experiences and wisdom were refreshing and inspirational.
No shame
A member of the Muscogee Nation and of Creek, Seminole, Cherokee, and Irish descent, Lisa Tiger has been one of the few public Native American faces of AIDS since 1992 when she was first diagnosed with HIV, advancing to AIDS in 1999.
When asked how she became an advocate in the first place, she explained, "It was something that just happened. There's something about me -- things just don't embarrass me. From the moment I found out I was positive, I told everybody. My mom thought I was crazy and my uncle told me not to go around telling everybody. But, even though at first I was shocked to find out I was positive, I wasn't embarrassed or ashamed."
Wilma Mankiller, first female chief of the Cherokee Nation, asked her to come to the reservation and share her story. She accepted the invitation because, she says, "There is such a need for education. And people weren't paying attention to the Red Cross coming in with their classes. They needed to hear from one of their own." She also believes that prevention efforts must be made more authentically culturally-based in order to get the message out to Native American people.
Hardship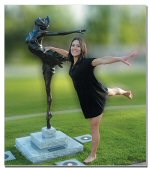 It was clear, hearing her story, that this is a woman who has dealt with more tragedy in her life than most of us can imagine. Starting with the death of her father when she was 2½, she has also lost her brother and an adopted daughter, both murdered, as well as an ex-fiancé who "drank himself to death." In addition to her losses, she is dealing with Parkinson's disease as well as AIDS.
As if all that wasn't enough, she is currently in the midst of a divorce and custody battle over her five-year-old daughter, who she conceived by self-administered artificial insemination. With a deep sense of perception and a touch of sadness, she told me, "My husband is a good guy," remembering times when his support helped her face some of life's difficulties. As our phone conversation continued while she drove towards Santa Fe to find her daughter, she stated hopefully that they would work things out.
Forgiveness
Her ability to look past anger and sadness is the result of several life lessons. She told me that when she was 40, she gave herself 10 years to finally tell the truth about all the things she'd done in her life that she regretted or was ashamed of. In giving me some examples, I thought that if everyone were willing to be as honest about their human foibles as she was, we'd all be better off! She found that once she started with her honesty campaign, it turned out to be not as daunting as she'd thought and she was able to get it all done way before the 10-year deadline.
She also gave Oprah, and some of her guests, credit for inspiring her to make a conscious effort to "be a healthier person" in many ways. She found that once she forgave herself for the mistakes she'd made, she found forgiveness of others easier. "There's no hate, no anger. Anything's forgivable." She has even found a way to replace the anger she felt towards the killers of her brother and daughter with compassion and peace.
Dedication
Tiger credits tenacious dedication to exercise as one of her survival secrets. "I've done a mile every day for over two years now," she proudly states. "It doesn't matter if I walk, run, or do the stationary bike as long as I do a mile of something." She found that even while at the hospital bedside of a dying friend, her commitment got her to the gym every day.
That dedication shows up in other ways as well. In addition to the public presentations she does, she admits that she "always wants to be a good friend, the one people call when they need someone to talk to" and her generosity of heart is evident in everything from her 1996 adoption of four abandoned and abused children from the Pine Ridge Indian Reservation, to the opening of her home to her ex-fiancé's cousin. She even has a plan in case she wins the lottery -- to build a fitness center on the Pine Ridge Reservation in honor of her friend, Leo Black Feather.
Native American factors
When asked about some of the factors that are contributing to the increase in HIV infections among Native Americans (see sidebar), women in particular, Tiger cited poverty, self-esteem issues, and alcoholism, but added that those things, along with domestic violence, accidental death, and suicide are so common in Native American communities that HIV is not at the top of the list of difficulties and dangers that tribal people must deal with. In fact, in a way, she feels that HIV has become, for her, a way out of a painful life -- it has given her purpose and through the speaking she does, sharing the story about her life and HIV/AIDS, she has found emotional healing.
When asked about her philosophy of life, Tiger noted that the Native American sense of humor had often gotten her through hard times. "After all," she laughed, "you gotta go through the manure to get to the magic."
NATIVE AMERICANS & HIV/AIDS
According to the most current data available from the U.S. Department of Health and Human Services' Office of Minority Health and the Centers for Disease Control and Prevention (CDC) 2005 HIV/AIDS Surveillance Report, revised in August 2008, it has been determined that in the 33 states with long-term, confidential, name-based HIV reporting, the rate per 100,000 persons with HIV/AIDS diagnoses was 10.4 for Native Americans, as compared to 71.3 for African Americans, 27.8 for Latinos, and 8.8 for whites. It should be noted that the number for Native Americans may be skewed by racial misclassification during data-gathering. For instance, according to the CDC, "In Los Angeles, 56% of American Indians and Alaska Natives with AIDS were racially misclassified." In addition to HIV infection rates being high, Native Americans also have the lowest AIDS survival rate of any group -- only one in four lives longer than three years after an AIDS diagnosis. The Center for AIDS Prevention Studies at the University of California San Francisco cites factors such as poverty (32% of NA live below poverty level, as compared with 13% of the general population), high rates of alcohol and substance abuse, STDs, and mental health problems as all playing a part in the HIV infection rate.

According to the CDC, in 2007, 201 new cases of HIV infection were reported among Native American men and 69 among women. This puts the rate of infection among women at almost 26%, a rate three times higher than the rate for white women. Violence, domestic and otherwise, may be an underlying cause. According to the U.S. Department of Justice (1999), "the rate of violent crimes against Native American women is highest among all ethnic categories." A 2006 study published in the American Journal of Public Health reported that 48% of NA women reported being raped, 62% reported physical assault, and 40% reported multiple victimizations. The Department of Health and Human Services reports that "Native American and Alaska Native women experience the highest rate of intimate partner violence of any ethnic group." With 68% of HIV infections in these women being attributed to heterosexual contact, domestic violence is obviously a significant factor.

In order to promote prevention and testing programs in Native communities, the CDC funds Capacity Building Assistance programs through such organizations as the National Native American AIDS Prevention Center and the Inter Tribal Council of Arizona. Mobilization efforts like National Native American HIV/AIDS Awareness Day (the second annual day occurred on March 20 of this year) help communities to plan events like talking circles, pow-wows, testing opportunities, and the presentations of speakers like Lisa Tiger that will hopefully continue to raise awareness and help develop sound strategies for Native Americans to lessen the toll the disease takes on their communities.

Thanks to Felicia and Alice at the American Indian Health Service in Chicago for providing insight and information and for the work they're doing to reach out to those at risk in the Native American community. -- Sue Saltmarsh

Visit their website at www.natHIVeamericanawareness.org.

Got a question about women and HIV treatment? Ask The Body's experts!
Got a comment on this article? Write to us at publications@tpan.com.
About Lisa
Home: Oklahoma
Diagnosed: 1992