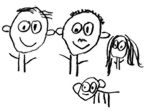 It wasn't so long ago -- in some circles, it's still the case today -- that "family" was defined in strictly biological or legal terms, and the idea that "blood is thicker than water" was supposed to tell us whom we should love.
That's changing today, and "family" is more and more becoming recognized as a network of people who love, support, and care for one another in reality, irrespective of accidents of birth or the dictates of property-based statutes.
The lesbian, gay, bisexual, and transgender community has been and remains in the vanguard of the move toward the self-defined family. From Hawaii to Vermont, same-sex couples are fighting for the right to marry. Across the country, more and more children are being adopted into nontraditional families. Despite the vocal and well-financed opposition of the religious right and the architects of the infamous Defense of Marriage Act, progress is being made.
During Gay Pride Month, Body Positive salutes the families LGBT individuals have formed -- couples in long-term committed relationships; adoptive parents; biological parents, whether through artificial insemination or heterosexual relations; circles of friends; even, sometimes, loving and supportive families of origin.
On the following pages, we introduce you to a few families of our acquaintance. Although these few sketches are hardly representative of the incredible diversity of LGBT family life, we thank these families for sharing a part of their lives with Body Positive readers.
Planned Parenthood
Tom Keegan & Davidson Lloyd
Having a baby was anything but a spur-of-the-moment decision for Tom Keegan and Davidson Lloyd. The couple began talking about the possibility of parenthood some twelve years ago, but their daughter, Connor Keegan-Lloyd, is only 4 months old.
Tom and Davidson are performance artists who specialize in gay "couples" pieces. In addition, Davidson works for the Actors Fund of America and its Palm View residence, which includes 41 units set aside for people with HIV/AIDS, and Tom is a director with a company that makes interactive children's software. The two met 22 years ago at an artists' colony on Martha's Vineyard and lived together in New York until moving to Los Angeles nine years ago.
When they first started talking about the possibility of parenthood, gay adoption was even rarer than it is now. There were few models to look to, few places where Tom and Davidson could get their questions answered.
And they had a lot of questions. "Before we could go ahead," says Tom, "we needed to feel internally that we could handle this and that it was possible. Will they allow us? What would it mean? Can we afford it?"
The catalyst came in 1993, when Tom's brother died of AIDS. "It made me realize it was time to get real, that this is life," he says. "We should stop waiting."
They began to investigate -- "We probably did a little too much research," says Davidson -- checking out agencies, attending seminars, taking classes. By January of 1998 they had found an agency that they were comfortable with, one that had even had a little bit of experience arranging adoptions for same-sex couples, and one that would allow them to meet their child's birth mother.
Then began the process of being investigated -- home visits, family history, psychological workups, physical examination (HIV testing optional). The agency's procedure is that would-be adoptors must write letters to prospective birth mothers. Pregnant women registering with any of the agency's affiliates across the country, after intake, are given the letters of likely candidates, and they choose those they would like to meet.
They had several responses, but the one that clicked came in October 1998 from a woman in Arkansas. She and her family had many gay friends, and so had no reservations about having her child raised by a same-sex couple.
From there on in, the process was the next thing to giving birth to their own biological child. Although the birth mother elected not to have Tom and Davidson in the delivery room, they were in the room next door, and were able to hold their daughter ten minutes after she was born. Two and a half days later, when Connor left the hospital, it was with her fathers. "On a spiritual level," says Davidson, "she was meant for us. The birth mother was a conduit. It's evident in her peacefulness with us."
Friends and family have been incredibly supportive. Both men were given showers at their offices, their friends gave them a shower, Davidson's family gave another, and, in May, they brought the baby East to meet Tom's family and received another truckload of baby presents.
"No child comes into a vacuum," says Tom of Connor's very extended family. "It really does take a village. 'Family' is any group of people that gets together and wants to be family and are willing to make the commitment -- blood relatives, friends, adopted relatives. Whoever wants to be in this and is willing to stay -- the door's open."
Davidson goes on: "We've been together a long time, and we wanted to share that with another little being. We know that she doesn't belong to us, and that she comes to us as her own person. We're there to help, to provide two things -- love and safety. She's not our property. If anything, we belong to her."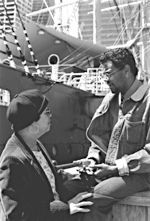 All In The Family
David Gonzalez & Lorri Thompson
For many adults -- particularly lesbian, gay, bisexual, and transgender adults -- their families of origin are more bitter memories or unpleasant realities than the safe and loving groups of legend. Too often "family" means the people who kicked you out, or who barely tolerate you, or from whom you fled.
That's not the case with David Gonzalez. David's family of origin was loving and supportive when he was a child, and it has remained so through his coming out, first as a gay man and then as a gay man with HIV.
A major part of that support and that love comes from David's sister, Lorraine (Lorri) Thompson.
Actually, David and Lorri's mothers are sisters, which makes David and Lorri biological first cousins. Their relationship, however, is that of an exceptionally close sister and brother, and that is the way they refer to themselves.
Lorri is twelve years David's senior, so she was pressed into babysitting duty for David and her younger brother when they were growing up, and David spent his summers at Lorri's family's home.
Even when David was a small child, and despite the difference in their ages, David and Lorri's relationship was closer than that of most natural brothers and sisters. Their closeness was made even more special by the fact that they share a birthday, and they make a point of spending it together. In fact, in David's 36 years, they have only spent their mutual birthday apart five times.
By 1984, when David was 22 years old, he was leading a double life. He needed to tell someone in his family that he was gay, and his sister Lorri seemed the obvious choice. Which doesn't mean that it was an easy decision. "I was afraid because she had two kids," says David. "You hear horror stories about people being shunned." It took David six months to get up the courage to speak to Lorri.
He needn't have worried. She'd never thought about David -- or anyone else -- being gay before, but when he told her her response was automatic. "You're still my brother," she said. "Don't worry." "I should have come out sooner," says David now. Ten years later, when David was diagnosed with HIV, he didn't hesitate; he told Lorri right away.
Their relationship has stayed pretty much the same over the years, and David has continued to help Lorri raise her kids. They hang out together, sometimes in straight bars or gay bars, and David's boyfriends have always been welcome in Lorri's home.
Then, in 1998, Lorri was diagnosed with cancer. It was her turn to turn to David for support, his turn to give it. And that's the way it's been as she continues to fight her own health battle.
David remembers how he felt when he heard about Lorri's cancer. "It brought back my own HIV diagnosis," he says. "I knew how she must have been feeling then. I had told her right away. I just dumped on her, and didn't consider her feelings." Says Lorri, "We just kind of tell each other everything."
This brother and sister, both facing life-threatening diseases, say that neither could have gone through what they have gone through without the love and support of the other. "Especially," says Lorri to David, "when I was going through chemo in the hospital." And David responds to his sister with a vigorous nod. "If I have to go in the hospital, you owe me bigtime!"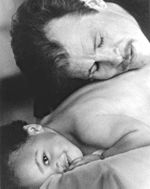 Living Life
Michael & Tia Kearns
"Ironically, it was the ravages of AIDS that led me to a consciousness about life. And forced me to live mine as if death was not an option."
When Michael Kearns lost his lover to AIDS in 1992, he asked himself, "What are you going to do with the rest of your life?" He was positive (pre-protease inhibitors), and had already fulfilled many of his life's dreams -- travel, relationship, career (actor/writer/director/producer/teacher). But there was a void. The desire to parent, which had always been there, became overwhelming.
He began foster parenting for several months at a stretch to kids in a variety of situations. Finally, Tia was sent to him, as a foster situation that was "likely to go to an adoption" according to the agency. "She was a ward of the county," explains Michael. "Her mother had several other kids in the system. She was a crack baby, born two months premature, weighing less than three pounds, with no prenatal care."
Michael had no race or gender preferences -- all he wanted was a baby -- and he was willing to deal with any problems that might arise later on as the result of her mother's drug use. But it wasn't going to be easy. For openers, there was his HIV status. He told the county social worker, whom he trusted, and she handled the information responsibly -- getting a letter from his doctor, for instance -- and discreetly. Then there was his age. At 45, some considered him "too old" to adopt an infant.
Then there was the family:
"Tia's blood relatives showed no interest in her until it became clear that an adoption was forthcoming. Then they decided they wanted her. In truth, they didn't want me to have her. What's interesting is that it was a race thing more than a gay thing. Secondly, it was a gender thing. Why would a white man want to raise this black child? It got incredibly ugly, including accusations of child molestation. Gender, race, homophobia, class -- all figured into the stew. The situation with the family was a nightmare, but it only increased my desire to have this child I'd fallen madly in love with."
Michael first got Tia when she was five month's old, and it took two years and seven months for the adoption to be finalized, for Michael to become Tia's legal father -- just a few days before her third birthday.
But the wait and the struggle and the uncertainty were all worth it. "I have never experienced love in the way that I do with this child," says Michael. "She is my family. We also have an extended 'family' of aunts, uncles, grandmas, and grandpas who help -- gay, straight, black, white, famous, poor, church-going, agnostic. I never had a family as a child -- never this sense of safety or reciprocity."
Then Michael tells a story. "The other day, Tia asked if I were ever going to get a tattoo. 'Maybe,' I said. 'And what do you think my tattoo would say?' 'I love Tia,' she responded. Then, after thinking a few minutes, she said, 'I'm going to get a tattoo that says, "Daddy, I'm going to bring you a million chocolates."' That's the sweetest thing anyone has ever said to me."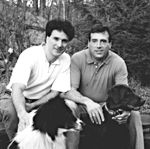 Making It Work
Robert Dostis & Chuck Kletecka
"In the beginning, it was a lot of work to get to the point where we both knew who each other is. We were compatible from the start, and related well, but it's probably partly dumb luck that it worked out."
Chuck Kletecka is speaking about his fifteen-year relationship with life partner Robert Dostis. Making it work for these two has taken them along some unexpected roads.
Robert grew up in Brooklyn, a product of the projects, and spent part of his childhood in the New York City foster-care system. Chuck comes from a middle-class Queens family. They're far from these roots today though. A little less than five years ago, they sold the house they owned together in Brooklyn's Park Slope, and their country place in the Catskills, to move to rural Vermont. Today they share a spacious, comfortable house on a mountain road, where they have all the peace and privacy anyone could wish for.
Robert, 40, is a nutritionist and Executive Director of the Vermont Campaign To End Childhood Hunger, while Chuck, 45, is a retired social worker. Their life revolves around their home, their extended family, their church, and their community. Chuck is a member of the church's vestry and serves on the board of Vermont PWAC, while Robert is in demand as a spokesperson and advocate on social welfare issues.
That these two are natural nurturers was apparent from the dogs, cats, birds, and fish that have shared their homes over the years. Vermont presented a new opportunity, and less than a year after moving to the country they became the proud caretakers of two goats. The goats multiplied and were eventually joined by a bunch of exotic chickens and even some turkeys.
Then Robert and Chuck took a really big step -- foster children. "In a way it was the goats that led to real kids," says Robert. Chuck agrees: "Caring for them taught us that we were ready to accept the commitment without moaning and groaning, that we didn't really mind not being able to just pick up and go whenever we wanted to." The couple provides regular respite care for four children -- two boys, two girls, ages 5 to 15 -- from different families, at different times.
Another important part of Robert and Chuck's family relationship is the support and acceptance they have received from their families of origin. "The fact that my sister-in-law and brother asked Chuck to be my niece's godfather shows that acceptance," says Robert. "And when we're in New York we both stay at Chuck's father's house. In fact, I got stuck unexpectedly between planes in New York by myself just recently, so I spent some time with Chuck's family, because they're my family too."
"It takes time and work to reach a comfort level in a relationship, an ease," says Chuck. "It doesn't just happen naturally. It's a process of making compromises, of finding out what is and what isn't important. Luckily we were both willing and able to do that. We're reaping the benefits now."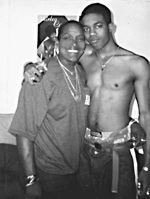 Unconditional Love
Dell & Jermaine Alonzo Williams
"He's a blessing to me," says Dell Williams of her 21-year-old son Jermaine.
Dell explains what she means: "He's someone I love unconditionally -- something I never had in other relationships. It's not on the surface; it's real deep. And he loves me unconditionally."
Jermaine was not a planned baby. Dell was already an out lesbian, and was involved in a committed relationship, when she became pregnant as the result of a heterosexual one-nighter.
Not that Dell had never considered having a baby. "I'd thought for a long time about having someone I could call all my own," she says. "It was an experience I wanted, but one I feared." Then she got pregnant, and she couldn't put the decision off any longer. She and her lover discussed it, and Dell decided that she would continue the pregnancy and raise her child.
It hasn't always been easy. At the beginning, Dell was the picture of the involved parent. "I used to pop up at the school. The teachers liked that. They wished the other mothers would do it." She helped Jermaine with his schoolwork, took an interest in his activities, knew his friends.
"Then," she says, "the drugs got hold of me."
In 1982, Jermaine was 14 years old and Dell was using. Unable to look after herself and an adolescent male, Dell sent him to live with her sister in Texas. It was a difficult time for both mother and son. "He was hurting," says Dell simply.
It would be five years before Jermaine returned to his mother, and they were eventful years in her life. In 1995 she was diagnosed with the virus, and four days after receiving the diagnosis she was evicted from her apartment. For the next two years, Dell stayed with a succession of friends while she put herself into rehab.
Dell has been clean and sober for three years, and has had the apartment that she and Jermaine share for two. Dell is a peer educator at Body Positive, and Jermaine has a job and is making plans to go back to school. He stays away from drugs and alcohol, except for an occasional beer, and for this Dell is very grateful. "I have a good son," she says.
Another important part of this small but devoted family is Dell's on-again-off-again lover of over two decades. "We've been in and out for 22 or 23 years," says Dell, "but now we're settled." And what about Jermaine's relationship with his mother's lover? "He's gorgeous. He loves her."
Looking back to when she found out she was pregnant, Dell speaks from the heart. Having and raising her child, she says, "was the best decision I've ever made."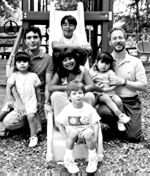 Five Is Enough?
The Coopers
It's all there. There's the comfortable house with the sprawling yard in an affluent suburb. There are the nicely spaced children -- Daniel, 13; Jessica, 9; Christopher 5; and the twins, Jennifer and Kimberly, 4. There are the two parents, one of whom stays home to look after the brood. This could almost be the "traditional family" poster clan.
Almost. But the Coopers aren't entirely "traditional." In this close-knit family, both parents are men.
Jon and Rob met eighteen years ago, and after a few months had entered into a committed relationship. Before long they had moved in together, establishing the type of home and suburban lifestyle they both favored. "We had the dog and the white picket fence," says Jon. "The one thing we realized was missing in our lives was kids. We both had strong parental instincts."
At first they weren't sure having children was even an option. Even after the idea of adoption had taken root, it wasn't clear sailing. Early efforts to find a child through the relevant public agency didn't pan out, nor did attempts at private adoption.
Then they learned about foreign adoptions. Their first child, Daniel, came to them as a 2-month-old from Central America. After five years together, Jon and Rob had become parents.
Four years later, they decided that the family would not be complete without a baby girl. They went to the same Central American adoption agency, and soon Daniel had a little sister named Jessica. The next addition came four years after that, when 10-day-old Christopher, half Anglo and half Latino, joined the family through an adoption agency in Texas.
The plan was that they would round out the family in another few years with one more daughter. But eight months after Christopher's arrival they were contacted by the Texas social worker, who told them about the availability of a pair of Latina twins. "It was twice as many girls as we wanted," remembers Jon, "and two or three years early." They told the social worker they would think about it. Which they did ... for about five minutes.
They had to put off bringing the girls home, though, because the call from the social worker had come just as the family was about to set off for Disney World.
Disney World, in fact, is something of a symbol of the place the kids have in the adult Coopers' lives. As this article is being written, the family has just returned from its fourteenth annual junket to that most child-centered of destinations. In fact, Jon and Rob take not only their own five kids, but two others, friends of their older children. The grownups are pretty much Moused out by now, and have promised themselves that next year they will vacation at Club Med ... albeit at the one in Florida that has day trips to you-know-where.
The Coopers are fortunate in that they can afford to give their large family a more-than-comfortable life in a well-educated and socially progressive community.
Jon had an upper middle-class upbringing and education and is today president of a prosperous family-owned firm.
He is active in the school and the community, and has run as an openly gay candidate for county legislature. (He believes his defeat is due more to his Democratic party affiliation than to his sexual preference, and will probably seek public office again.)
Rob was born in Cuba, where he spent the first ten years of his life. A former factory worker, he is now a full-time homemaker. "I was lucky to be able to quit my job when my son came," he says. "I dedicate my devotion to my family." Five years ago he legally changed his last name to Cooper to make things easier with school records and the like.
Because of the laws that were in place at the time, the children were adopted by Jon as a single parent. Now, in the wake of recent legal victories dealing with adoption by same-sex couples, the Coopers are taking steps to have Rob made legally his children's parent.
When they talk about the place their family has in their lives, the two echo each other. For Rob, "The best thing I ever have done is build the family I have. It is the biggest pride of my life." Adds Jon, "The children are our lives, the reason for everything we do. I can't remember my life before kids. I live for Rob and I live for my kids."
Both men confess that some part of them would like to have even more children, but neither wants to spread themselves too thin, to shortchange the kids they have, or miss any part of their growing up. According to Jon, "There's only so much of us to go around, and we don't want to deprive the existing kids."
Rob is even more specific: "I would like to have another baby, but I don't know if that would be the right thing to do. The baby would take away from the others. They really do grow, and I want to be a part of all the phases. I'm really looking forward to being a grandparent."
Family Organizations
We human beings seem to have a passion for forming ourselves into groups. The basic group, of course, is the family, however defined. Beyond that, we join clubs, religious organizations, professional associations, political parties, and interest groups. Whatever our interest, need, or commitment, whether we're hobbyists or lobbyists, somewhere out there there's an organization of like-minded individuals where we can find information and support.
The rule holds when it comes to the families of lesbian, gay, bisexual, and transgender individuals.
PFLAG
Probably the oldest and best-known of the LGBT "family" organizations is PFLAG -- Parents, Families and Friends of Lesbians and Gays -- with a membership of over 70,000 households and more than 400 affiliates worldwide. The group's Mission Statement sums it up:
"Parents, Families and Friends of Lesbians and Gays promotes the health and well-being of gay, lesbian, bisexual and transgendered persons, their families and friends through: support, to cope with an adverse society; education, to enlighten an ill-informed public; and advocacy, to end discrimination and to secure equal civil rights. Parents, Families and Friends of Lesbians and Gays provides opportunity for dialogue about sexual orientation and gender identity, and acts to create a society that is healthy and respectful of human diversity."
To find a chapter near you, or to obtain any of their wide variety of educational materials, write to PFLAG, 1101 Fourteenth Street, NW, Suite 1030, Washington, D.C. 20005, or visit www.pflag.org on the Internet.
COLAGE
Newer and smaller, but growing fast, is Children Of Lesbians And Gays Everywhere. Formed in 1990 by six young people with lesbian and gay parents, COLAGE today has twenty regional groups and chapters, publishes the quarterly Just For Us, and sponsors two e-mail discussion groups and a pen-pal program.
COLAGE's mission is "to foster the growth of daughters and sons of lesbian, gay, bisexual, and transgender parents of all racial, ethnic, and socio-economic backgrounds." Its constituency includes young children, adolescents, and adult children of LGBT parents, and its programs are designed to respond to the needs of these different groups.
The organization can be reached at COLAGE, 3543 Eighteenth Street, #17, San Francisco, CA 94110, (415) 861-KIDS, or www.colage.org.
Laura Engle is the Editor of Body Positive.
Back to the June 1999 Issue of Body Positive Magazine.