Facing the Realities of Fantasy Sex
The Internet allows people to interact with others who share social or sexual interests, or completely reinvent yourself.
Behind your screen name you can bend your gender, talk nasty, check out the action on Web-cam sites, cruise Internet back alleys, download porn, and play out all your sexual fantasies.
Having fantasy sex over the Internet with someone you may never even see in person is called cybersex. And if the Internet doesn't lead to a real-time sexual encounter, it may be the safest safe sex of all.
But cybersex is not without risks and dangers.
Most Avoid Addiction
Did you know that there are more than 300,000 adult sites, cybersex sites and chat rooms? According to a well known study, between 80 percent and 90 percent of people who cruise the net for sex don't get hooked. Dr. Al Cooper, a psychologist who teaches at Stanford University, concluded that about 1 percent of the respondents could be classified as true "cybersex compulsives," spending more than 11 hours a week on online sex.
Of 20 million people who visit sex-oriented sites each month, approximately 200,000 people may be using the Internet in a sexually compulsive manner. Women, gay men and other "sexually disenfranchised" groups were particularly at risk for Internet sex addiction.
Researchers found that compulsives have more problems with relationships and jobs than casual visitors of X-rated sites. Research also indicated that 20 percent of men and 12 percent of women use their workplace computer to access online sexual material and that six out of every 100 employees admitted that their work computers were their primary method for accessing online sexual material. According to Robert Weiss, clinical director of the Sexual Recovery Institute in Los Angeles, half of the 125 patients his center treats each week have an Internet component to their compulsive sexual behavior.
It's All in Our Heads
Just what is addiction as it relates to the Internet?
Addiction is more than chemical dependency on drugs and alcohol. It can also be a response to stimulating, pleasure-producing areas of the brain. Our brain circuits are wired so that behaviors needed for our survival, such as eating and sex, are pleasurable. The release of neurotransmitters to the pleasure receptor sites of our brains rewards us. This neuron high can be achieved not only by drugs or alcohol but also by running, meditation, yoga, courting danger, thrill-seeking, or even gambling.
But when it comes to stimulating the brain's pleasure centers, nothing compares to sex. Our sex pleasure circuits serve one of our strongest and most primal needs -- survival of the species! For some people sex can become as compulsive as smoking crack cocaine or using heroin is for others. A generic definition of addiction is a chronic compulsive seeking to engage in a behavior in spite of that behavior leading to life-damaging consequences, including the erosion of self-esteem.
Serious real-world consequences of cybersex can include:
Breaking off sexual intimacy with your primary partner.

Engaging in sexual situations in which you would not ordinarily find yourself.

Financial losses. Downloading pornography or engaging in cybersex at the workplace could jeopardize your job. You may also rack up huge fees on Web sites that charge by the minute.

Reliance on the Internet as a coping mechanism for marital/relationship problems, stress or depression.

Loss of relationship, separation and divorce. A spouse can find out what a person is doing online. That can become an issue in child custody cases.

Legal problems. People who download child pornography material or go online to meet children with sex in mind can become targets of FBI or police sting operations. Many chat rooms are frequented by minors, which leads into consensual/non-consensual sex issues including the possibility of statutory rape.

Loss of judgment. When you're engaging in cybersex and sexually aroused and get caught up in the moment you may be less likely to think about the consequences of your actions or refrain from crossing a boundary that you wouldn't otherwise cross. People in recovery from substance abuse have reported relapsing when a real-time hookup initiated on the Internet showed up with drugs or alcohol. Use of drugs and alcohol with sex can lead to unsafe sex choices as well.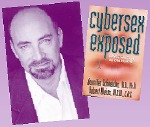 Robert Weiss, co-author of Cybersex Exposed, says that half of the 125 patients treated at the Sexual Recovery Institute each week have an Internet component to compulsive sexual behavior.
Risk for Infection Rises
Results of separate studies found that people who look for sex partners online may be at a higher risk for sexually transmitted diseases, including HIV and AIDS, than those who meet each other in a more conventional way.
Studies also show that people who sought Internet sex were more likely to have other risk factors for getting sexually transmitted disease. For example, they were more likely to have had an STD previously, and they had more partners than people who didn't look for sex online.
A team from the Centers for Disease Control and Prevention in Atlanta surveyed 856 people who sought HIV testing at the Denver Public Health and Testing Site in Colorado. Nearly one in six said they had logged on to the Web to seek real-time sex partners. Two-thirds of the people in this group had initiated successful sexual contact and one in four had met more than three partners using the Internet.
They also found online sex seekers were more likely to have had a previous STD and had greater numbers of partners than offline clients. Nearly one in three (28.9 percent) of online sex-seekers reported exposure to someone known to be HIV-positive.
A syphilis study conducted in San Francisco reinforced the role of the Internet in sexual risk-taking behavior. While admitting that their findings were not necessarily representative of wider populations, researchers writing in the Journal of the American Medical Association said: "Seeking sex on the Internet may be a potential risk factor for STD/HIV and that these data underscore the need for development of strategies to promote STD/HIV prevention among online seekers."
This is not to imply that there is anything wrong with cybersex. Sex is wonderful, and the Internet is a new fact of modern life. But being aware of the risks and dangers is important.
The Internet allows people to be much more readily consumed by an involvement with sexually explicit materials than they otherwise would be, said David N. Greenfield, head of the Center for Addiction Studies in West Hartford, Conn. If you suspect that you have a problem with Internet sex addiction, a number of avenues are open to you (see "Resources" below).
Recovery from sexual addiction is possible. With help, there's a 70-percent chance of arresting self-destructive behavior.
Addicted to Cybersex?
If one to three of the symptoms here are found to be true, cybersex addiction may be an area of concern and should be discussed with a friend or family member. More than three positive answers indicate the need to consider counseling with someone trained in the treatment of addictive disorders and consideration of a 12-step support program. Adapted from Robert Weiss, M.S.W., C.A.S.
Spending increasing amounts of online time focused on sexual or romantic intrigue or involvement.
Involvement in multiple romantic or sexual affairs in chat rooms, Internet or BBS.
Not considering online sexual or romantic "affairs" to be a possible violation of spousal/partnership commitments.
Failed attempts to cut back on frequency of online or Internet sexual and romantic involvement or interaction.
Tired at work or late due to previous nights use, online while at work, etc.
Online use interferes with primary relationships (e.g., minimizing or lying to partners about online activities, spending less time with family or partners).
Intense engagement in collecting Internet pornography.
Engaging in fantasy online acts or experiences which would be illegal if carried out (e.g., rape, child molestation).
Decreased social or family interactive time due to online fantasy involvements.
Being secretive or lying about amount of time spent online or type of sexual/romantic fantasy activities carried out online.
Engaging with sexual or romantic partners met online, while also involved in marital or other primary relationship.
Increasing complaints and concern from family or friends about the amount of time spent online.
Frequently becoming angry or extremely irritable when asked to give up online involvement to engage with partners, family or friends.
Primary focus of sexual or romantic life becomes related to computer activity.
Resources
Sexual Recovery Institute
914 S. Robertson Blvd., Suite 101
Los Angeles, CA 90035
(310) 360-0130
info@sexualrecovery.com
National Council on Sexual Addiction and Compulsivity
www.ncsac.org/cybersex.htm
Cybersex Chat Addicts Anonymous
www.cyberaa.com
Sexaholics Anonymous
(213) 480-1096
Sexual Addicts Anonymous
(213) 896-2964
Sexual Compulsives Anonymous
(310) 859-5585
Sex and Love Addicts Anonymous
(213) 259-6549
Sexual Recovery Anonymous
(213) 243-9438
Recovering Couples Anonymous
(314) 830-2600
An AIDS Project Los Angeles support group on "Sex, Drugs and Self-Esteem" meets at 7 pm each Monday. The group is for people with HIV/AIDS who have a history of compulsive sex and substance use and wish to change their behavior. Space in the group is limited. Individuals who are interested in participating may call Lydia Szamraj, (213) 201-1446.
| | |
| --- | --- |
| | Steven Solberg is a Health Promotion Specialist in AIDS Project Los Angeles' POWER Program. He can be reached by calling (213) 201-1558 or by e-mail at ssolberg@apla.org. |