Our faces are the windows of good health. The face, along with body weight, is often the barometer of how most people judge a person's overall health. People with HIV are sometimes told that we look tired, thinner, or stressed out because of a gaunt face. But we are familiar with "the look" attributed to AIDS from the early years when wasting syndrome was often the scarlet letter. And while successful antiviral therapy has changed the outcome of people's health for the better, it unfortunately has left a new symbol of AIDS on our faces, despite how well we feel or how well HIV is being controlled.
The scarlet letter today is a metabolic syndrome called lipodystrophy (see "Lipodystrophy" below). Having been diagnosed with wasting syndrome in 1995 and later lipodystrophy, I am very familiar with body shape changes. I have been researching any way to restore my own face with several types of fillers and implants that are being used to reconstruct faces. I have known several people who have used New-Fill (see "Sculptra" below), microdroplet silicone, fat grafting and collagen, but all have their specific problems including side effects, expense, availability and long-term effectiveness. Most of the products have been used before in some capacity, but only Sculptra has been approved for HIV.
One product garnered my interest when I read that it is a permanent filler, can be removed and is relatively easy to implant. It's called Bio-Alcamid or polyalkylimide, and is available in a clinic in Tijuana called Clinic'estetica. Bio-Alcamid is a biopolymer, made mostly of water and is stable and non-toxic. In studies thus far it does not cause granulomas, a cancerous tumor. In those who have used it thus far, Bio-Alcamid appears to be safe and long lasting, however it is not yet widely used, probably due to its expense -- approximately $4500 -- and the fact that it is also not approved in the U.S.
Bio-Alcamid is owned by Polymekon, an Italian company, and has been used in Europe for several years. Because of its biochemistry, it can be used in high volume and can also be removed in cases of overfilling. One to three sessions are required depending on the severity of the lipoatrophy. Several studies in HIV negative reconstructive and cosmetic surgery have been performed in Europe and show positive and lasting results. Other larger trials in HIV facial lipoatrophy are ongoing in Los Angeles and London.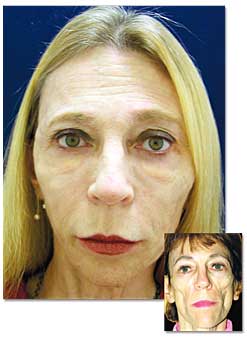 I realized my face was getting bad because I was literally getting double takes in the supermarket. Friends and family who hadn't seen me in awhile were always saying how bad I looked (not in front of me of course). Quite frankly, I knew at times my face looked hollow, but I just wrote it all off as getting older. Despite the fact I couldn't afford it, I came to the realization that it was time to take action. Then, an offer came to Positively Aware from Clinic'estetica in Tijuana. The agreement was to trade a written article in the magazine for an actual facial filling with Bio-Alcamid in hopes of reaching out to those who had not heard of the product. I jumped at the offer, made the necessary arrangements and packed my bags for the border.
In May I flew to San Diego and on a warm smoggy morning I met Anna Love, the director of Clinic'estetica. Together we drove with her husband Nick across the border in their SUV. I was somewhat apprehensive about the upcoming procedure, but Anna made me feel at ease as we talked about her history with facial reconstruction in AIDS, and her belief that Bio-Alcamid was the product to beat. Anna is a petite, attractive woman whose background has been in holistic health and plastic surgery -- something I subsequently learned was not mutually exclusive. Although living in San Diego, Anna operates Clinic'estetica across the border in Tijuana. And despite not being a physician, she has been performing facial reconstruction for several years at the clinic in AIDS patients who were fortunate enough to afford the luxury. Through her vast experience, Anna is so assured of the quality and effectiveness of Bio-Alcamid that she owns the license to the American subsidiary of the Italian company and has begun the extensive FDA deliberations for approval in the U.S.. Her medical director, Dr. Luis Casavantes, is an M.D. and dermatologist and performs most of the Bio-Alcamid procedures at the clinic. He has authored the studies performed at the clinic and speaks about his experience to medical doctors. Together, Anna and Dr. C, as he is affectionately known, are quite a confident team with excellent bedside manner, and made me feel I was doing the best possible thing for my face. Out of approximately 500 people with HIV who visit the clinic, thousands of fillings with Bio-Alcamid have been performed.
After coffee and more interviews, I was brought into the clinic and told to wash my face thoroughly in preparation. One thing I noticed immediately was the cleanliness of the clinic. After signing a detailed consent form, I posed for the "before" photographs with Anna's boisterous assistant, Ellen. Ellen is an HIV-positive woman who was so happy with her Bio-Alcamid reconstruction at Anna's clinic, she moved from Texas to San Diego to work for Clinic'estetica and promote the procedure to people with HIV. She's a true believer who arranged the procedure for Positively Aware so we could report on and experience the benefits first hand. I was ushered into a very sterile exam room with a reclining dental chair, complete with a stuffed animal to grab on to. I had taken no pain medication, since I had expected there to be little pain.
Anna and Dr. C explained that I was a "5" -- the most advanced facial fat loss. It would take two or three trips to the clinic to finish the job. Even then, because of HIV, my lipoatrophy might progress in the months after the filling. As I watched the nurse prepare the lidocaine needles for numbing, Dr. C carefully explained in detail each step of the procedure and reassured me that I was going to look terrific.
Then he began injecting about seven or eight times in different quadrants of my face to numb me for the Bio-Alcamid. It was an intense "pinching" that burned wherever the lidocaine went in, and probably the worst part of the entire process. In a few minutes I was unable to whistle, which was a sign the drug had taken effect to numb my face.
Dr. C then carefully felt the hollows of my face that needed the Bio-Alcamid. He determined the best place to inject and began by saying, "Here we go!" If the needle went in I didn't feel it, but after the sixth or seventh injection I felt an intense pressure under the skin. Then Dr. C pressed and molded the injected fluid to the form of my face like a wax sculptor. The whole procedure took a little over an hour. Despite the ease of the procedure I was relieved when it was over.
The assistant gave me a mirror so I could witness the immediate results. My face was red and slightly puffy, but the hollows were definitely filled. There was a distinct difference despite the swelling. I felt a sense of relief besides a headache that had developed. I knew the days of lipoatrophy were all but over.
I was given some antibiotics, an anti-inflammatory drug, and some Diflucan to prevent any fungal outbreak. Ellen slapped two ice packs on my swollen gopher cheeks to reduce the swelling. I then left with her to drive back across the border.
Within two days the swelling had subsided and I basically felt no physical difference but felt an improved self confidence. When I returned to Chicago most people reacted subtly to the procedure. Those who knew I had gone to Tijuana for the filling were nicely surprised by the results. Those who didn't know knew something had changed but weren't quite sure what it was. I think the fact that it was such a subtle change -- that it was reconstructive, and not so much cosmetic -- was definitely a positive outcome. Anna and her team had performed another successful procedure and I had a new face and new outlook on life!
I had a second procedure in early August to complete the job. The "after" pictures you see are reflective of both fillings. I was less apprehensive with the second trip to Tijuana. I came prepared with pain medication and had an overall easier time. Now my face is done and I am feeling like a new man. Despite the traveling I would definitely recommend Bio-Alcamid and the care of Anna's team to anyone.
I spoke with two other men who went to the clinic. Glenn had had several botched fillings with other products, which led to him to Bio-Alcamid. He claims the results have been "amazing" and only wished he had learned of it before he had the other procedures done. "It would have been much easier and saved a lot of money," Glenn said of his outcome. "The confidence and improvement to my self image have been the greatest part. No one looks at me anymore and wonders what kind of horrible disease I have because I don't look sick anymore."
I ran into Dan from Chicago at Clinic'estetica while I was there. He explained that he wanted the procedure because he was a "walking billboard for AIDS" and wanted to feel good about himself so he could date again. A long-term survivor who had been in the first AZT trials, Dan was a little frightened to do the first of three procedures with Bio-Alcamid, but because he was going to be starting a new business where he will be visible to customers, he decided to go ahead. During the procedure Dan had pain medication and said he didn't remember the whole experience. When he returned to work he had similar reactions to mine. Smiling, he explained that the outcome is not like a "night and day" difference but subtle and "most people don't pick up on it."
Today while more people are benefiting from Bio-Alcamid and other procedures for lipoatrophy, the fact remains that the products will only be available for the privileged few who have the cash or those who may get into clinical trials. Even now with the approval of Sculptra there is uncertainty about reimbursement from third party payers. One thing seems clear, however, that products like Bio-Alcamid are raising the standard for good lasting results in reconstructing fat loss that will help us to enjoy a better quality of life into the future.
Lipodystrophy
Lipodystrophy is a condition that causes several health problems including lipid abnormalities -- elevated cholesterol and triglycerides, body fat redistribution and thinning of the limbs and face (more specifically called lipoatrophy). Sometimes these symptoms coexist, and most likely they are multifactoral. Lipodystrophy is one of the most common complications seen in HIV. Reporting methods vary, but cases are estimated at 50% of people with HIV.

The good news is that there has been relative progress in treating lipid abnormalities in people with HIV, and some people have been able to control trunk fat associated with protease inhibitors. The bad news is that there have been no advances in treating facial lipoatrophy. Sadly, the look of AIDS persists for those who have sunken cheeks and hollowed temples and therefore stigmatization still exists for those with an otherwise healthy outlook. And unfortunately, some people make the choice between looking good and having to take antiviral therapy.
Sculptra
By Bob Munk
Sculptra (also known as New-Fill) is the first treatment approved by the FDA for lipoatrophy related to HIV disease or treatment. Facial wasting can include a sinking of the cheeks, eyes and temples caused by the loss of fat tissue under the skin. The FDA expedited review of the product because of its importance to people with HIV/AIDS. Sculptra is an injectable form of poly-L-lactic acid. It is a biodegradable, biocompatible synthetic polymer that has been widely used for many years in dissolvable stitches, bone screws, and facial implants.
Sculptra can produce significant increases in skin thickness, adding volume to facial tissue and restoring shape in areas of the face with fat loss in patients with HIV-related facial fat loss. Studies reported an improvement in the quality of life among those treated, including less of the anxiety and depression often associated with lipoatrophy. Each session of Sculptra application involves multiple injections of small volumes of product.
If you search the Internet for "New-Fill" you'll find a lot of European cosmetic surgery clinics. Their ads describe New-Fill as a product that has been used in plastic and reconstructive surgery for over 20 years, and is now available for cosmetic use, especially filling in wrinkles, making the skin appear smoother and firmer. Not surprisingly, you'll see a lot more pictures of Greek statues than of people with facial wasting.
Sculptra was presented to the FDA by Dermik Laboratories, the U.S. dermatology arm of Aventis Pharmaceuticals. According to the FDA advisory panel, the presentation was very weak in terms of data on exactly how the product works. Dermik had recently acquired the product and the clinical trials data, which were not standardized in terms of who was studied, exactly what was measured, for how long, and with how many treatments. At the FDA hearing, several people with HIV who had used Sculptra brought their own "before and after" pictures. They made a compelling case that Sculptra helped them regain self confidence and, in some cases, remain employed.
The panel members unanimously recommended approval of Sculptra, restricted to HIV-related facial wasting. There was concern that the manufacturer, Dermik, would use this FDA approval as the "foot in the door" to start extensive sales and use of Sculptra for cosmetic purposes. However, there's no effective way to prevent "off-label" use of an FDA-approved product, although the manufacturer cannot legally promote off-label uses.
In the studies presented to support Sculptra's approval (two from Europe, and two from the U.S.), patients typically had several treatment sessions. FDA approval of Sculptra was based on data from 277 HIV-positive patients with severe facial wasting. They were all being treated with antiretroviral drugs, and were primarily white males, mostly ages 41 to 45. Patients were given Sculptra in three to six sessions at two-week intervals, and were followed for two years.
In the U.S., New-Fill is difficult to get -- and harder to get paid for. According to the manufacturer's Web site, Sculptra is available in over 40 countries. Its use to treat facial wasting is reimbursed only in France, and with restrictions in Sweden and the United Kingdom. German people with HIV are suing to force reimbursement for New-Fill. People in the U.S. expected the cost situation to improve following FDA approval but were disappointed. The price of Sculptra more than doubled from what it had been through personal importation through a buyers club (no longer an option), and the physician's fee has to be added. The cost of a restored face? At an estimated $1,400 to $1,500 per session, we're talking about $5,000 to $10,000, with no reimbursement in sight.
After an initial treatment series, repeat treatments may be needed to maintain the correction; most of the product literature mentions that Sculptra corrections can last "a year or more."
Third-party payers are likely to automatically reject claims for what they will call a cosmetic procedure. Efforts are underway to draft a standard "Letter of Medical Necessity" for Sculptra restoration of HIV-related facial wasting. Best chances for reimbursement are in California, where legislation requires coverage of reconstructive surgery. The difference between "cosmetic" and "reconstructive" is a critical one. In the California law, reconstructive surgery is performed to "correct or repair abnormal structures of the body to improve function or to create a normal appearance." Cosmetic surgery is performed "to alter or reshape normal structures of the body to improve appearance."
Where from here? Dermik Laboratories is considering a patient assistance program. Details have not yet been worked out. Also, as a condition of FDA approval, Dermik has agreed to conduct an open-label registry study of 100 patients for five years to evaluate Sculptra's long-term safety. The study will include at least 30 females and 30 people with dark skin types. Sculptra is currently available from physicians who participated in the U.S.-based trials, including Peter Engelhard in Miami Beach, Doug Mest in Hermosa Beach, Patrick McNamara in Houston, and Gervais Frechette in New York City. Additional physicians will certainly be instructed in Sculptra use and make it available in their practices. So there is an approved method of dealing with facial wasting -- but it's expensive, at least for now.
HIV treatment advocate Bob Munk represented consumers on the FDA advisory committee to review Sculptra. Bob is the Coordinator of the New Mexico AIDS InfoNet.