So how does a girl who popped out of a cake at Studio 54, performed with her band on American Bandstand, and had the honor of being one of the first music videos ever shown on the fledgling MTV Network come to be an AIDS educator? After the glory days of the 80s, my party quickly came to a halt when the reality of AIDS hit my friends in New York City.
The alarm sounded in my own life when I went for a routine blood test, in connection with getting a marriage license, and asked the doctor to test my blood for the AIDS virus while he was at it.
I felt secure about that request because I was perfectly healthy. But on April 12, 1987, my 33rd birthday, the doctor called to tell me the news that has forever altered my life: I had tested positive for HIV, and so my fiancé would need to be tested as well. His test results came back negative, thank god, and we were married a few months later.
After being handed what was then regarded as a death sentence -- one that meant I had no future and could never have children -- I had the good fortune to be embraced by the academic community when I was hired to begin counseling other HIV-positive people ... and so I began what would become a new career for me, as an HIV/AIDS educator.
VIDEO: Sherri Beachfront Lewis: A Video Biography
Sherri tells her story onstage amidst highlights from her career as a performer and educator.
I have been blessed with continued good health, good luck, good genes, good friends, and good doctors, and that good fortune has enabled me to live long enough to see huge breakthroughs in science and medicine and education for HIV/AIDS, breakthroughs that many of my friends did not get to witness. As a result, the core of my teaching is rooted in sharing my personal experience of living with HIV for 25 years -- which is also, of course, a living history of the AIDS epidemic.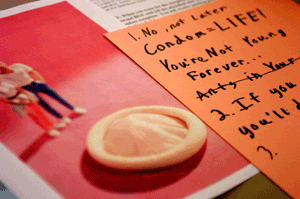 Materials from the UCLA AIDS Ambassadors.
When I moved from Boston to LA in the summer of 1999 I began working at UCLA where some of the very first cases of what we now know as AIDS were described in 1981. I have had the opportunity to share all that I have learned with an incredible group of college students who collectively made up the UCLA AIDS Ambassadors.
The dream of having them continue that process, passing along their knowledge to their younger peers, the teens, soon became a reality when they went on to mentor the high-school-age Crossroads Teen AIDS Ambassadors. And so it goes: They tell one friend, and that friend tells one friend, and so on. Instead of spreading the virus they are spreading the message of prevention, and another generation moves forward carrying the message of prevention and education.
The UCLA AIDS Ambassadors are still active with high schools in LA. The core groups of UCLA AIDS Ambassadors have now graduated. Some are continuing on to med school, some are working in Tanzania and other places around the globe. Their commitment to HIV/AIDS has not wavered. In fact it got stronger. How do I know this? Because the beauty of the Internet has enabled us to remain in contact, from Israel to Tanzania to Spain and back to Los Angeles. And what a fabulous feeling it is to hear from them, seeing in pictures where they are and what they are doing now, or looking for a new opportunity to continue their AIDS activism.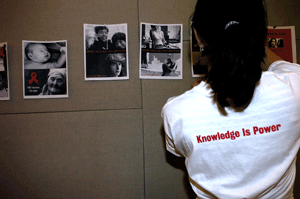 UCLA AIDS Ambassadors and Crossroads Teen AIDS Ambassadors share prevention messages with their peers.
When I share my experience living with HIV and how I got there with young people, I am transformed. The darkness is lifted into the light where there is hope and healing and love. Miraculously HIV becomes a gift when I use it for a higher purpose.
I have been blessed to have these remarkable students who would embrace the idea of becoming peer educators. And they are extraordinary because of you, the parents -- my peers, my generation, who know this disease personally and know its devastation. How could we allow our children to be ignorant, uneducated about the ways to protect themselves against HIV infection?
KNOWLEDGE IS POWER. The knowledge that can protect your children, our future, is still the only vaccine we have against the spread of HIV, the virus that causes AIDS. It is because of you that your children will be leaders, scientists and artists who will be proactive on the war on AIDS rather than its next victims.
It is with the most sincere and deepest gratitude that I thank my mentors and my community of recovery for getting me to this place and helping me realize that living with HIV can have a higher purpose. I thank all those teachers and parents from the bottom of my heart for sharing their children with me and filling the great void of not being able to have my own due to the era I was diagnosed. Thankfully that is not the case today for young women of childbearing years who, if HIV positive and able to receive HIV medications, can have healthy uninfected babies.

Images shared by the UCLA AIDS Ambassadors.
Teach your children well. Be honest with them so that they learn the truth about HIV/AIDS. The "H" stands for "human," not "homosexual" or "heroin." The "H" stands for hope when we speak out about living with HIV and teach others how to protect themselves. We must do what we can to empower our young people until the eradication of HIV is a reality. Until then -- as Dr. C. Everett Koop, the Surgeon General of the United States, observed two decades ago at the outset of the epidemic -- "Education is our only vaccine."