It wasn't too long ago that many of us were cheering for Jack Mackenroth on the hit reality television series Project Runway. Today, Mackenroth is reaching an entirely new audience with the recently launched campaign, "Living Positive by Design." The campaign, supported by Merck and Co., takes him around the country to local AIDS service organizations, as well national and local events and fundraisers, to help fight stigma and to engage others in the ongoing conversation about how to live better with HIV.
But long before Project Runway, or even the campaign itself, Mackenroth had to come to terms with his diagnosis and deal with stigma in his own life, at a time when there weren't a lot of effective or tolerable medications available, and HIV was still considered a death sentence.
"What happened to me is what I see happening to a lot of people," says Mackenroth. "I don't think it's changed much, other than there are many more options than there were in 1990." He says that, in retrospect, he can trace back the point at which he seroconverted to when he was still attending the University of California, Berkeley.
"I had a whole bunch of ulcers in my throat, and I had no idea what they were -- I couldn't swallow water and I couldn't eat for three days, and it was excruciatingly painful." He ended up going to a gastrointestinal specialist and says, at the time, he still had no suspicions that he might be HIV-positive. When the doctor told him, very matter-of-factly, that it was quite unusual for someone his age who was otherwise in good health to have those symptoms -- and recommended he undergo an HIV test -- Mackenroth was a bit taken aback.
Two weeks later, he went back to see the same doctor who then blurted out, "Your test came back positive."
"I remember the room," says Mackenroth, "I remember everything about it. It was so surreal and weird, and he said, 'I'll leave you alone so you can think about it.' And I thought, 'What the hell does that mean?'"
Mackenroth sat there for a moment, and then got up and left the office. He says he remembers looking up at the sky and thinking, "Oh, shit." At the time, he says, he was more worried about his family, and how they were going to be able to deal with it, than he was about himself. "I think people are fairly resilient in coping with their own mortality," remarks Mackenroth.
Doctor, Doctor
Mackenroth met with one of the few HIV specialists at the time, and started a regimen of some of the medications that were then available, which were less effective and harder to take, but luckily he tolerated them very well. And perhaps unwittingly, he began to lay the foundation for the very campaign that he's a part of today.
"I just kept going back every three months and getting my blood work done," says Mackenroth. His T-cells stayed intact, and his viral load, higher at first, slowly got down to undetectable, and he was eventually able to move on with his life. But the relationship with his provider proved instrumental in his treatment success, and the importance of finding and working with the right doctor is one of the many messages he carries with him as he speaks to groups around the country.
"I think the design part -- in 'Living Positive by Design' -- comes in not just because I'm a fashion designer, but it's really about designing your own health care program, in a sense, and being your own health care advocate -- partnering with your doctor in an active partnership."
Facing Stigma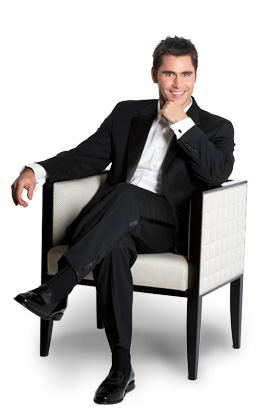 Just as for so many people with HIV who see a clear delineation in their lives between the time before they became aware of their HIV status and the point at which they tested positive, for Mackenroth there is a "pre-Project Runway" and a "post-Project Runway" -- at least when it comes to dealing with stigma.
"Before, when I would talk about it and I would say to someone that I was HIV-positive, there was always a look of surprise," explains Mackenroth. "Like, 'Really? You don't look like you're HIV-positive.' People expect there's a certain way you're supposed to look or act when you're HIV-positive, and I'd say, 'No, HIV looks like me. HIV doesn't look like anything -- it looks like everybody.'"
For Mackenroth, his preference when it comes to dating has been to get the whole HIV discussion out of the way right from the beginning. "The experience of going on a couple of dates -- without telling, and then disclosing -- and having that person never call again, or being mysteriously busy all the time, or having some excuse for why they don't want to see you anymore -- I just disclose before I even go on the first date."
But he says he also understands that if you're HIV-negative, putting yourself at potential risk with an HIV-positive person can be a tricky situation, at least for some. "I can't make those decisions for someone who's HIV-negative. It's a tough situation, although I think that the more we combat the stigma, the more we keep educating, and the more we talk about and normalize it, I think it will help people to open their minds to possibility."
He says that the work he does with the campaign has changed his life in so many ways, but the most amazing thing that's happened is that he feels like he's part of the HIV community, and that he's making a difference in a real, tangible way. Mackenroth receives a number of e-mails every week from people who are newly diagnosed, or from people who just want to say thank you, and says that it's extremely gratifying. But he also hears from those who, especially in dating scenarios, say they feel tainted, unworthy, or unlovable.
"It's really interesting how it's developed this negative connotation, when it's just a disease -- it should not be a moral judgment."
Mackenroth feels that because HIV stigma is still fairly prevalent, there are very few people who are public figures (he doesn't really consider himself a celebrity) who are willing to speak openly about being HIV-positive. "A lot of people reach out to me and I guess I've become a role model in that sense, which is great. Maybe it's my calling, who knows? I thought I was making dresses, but maybe this is it!"
Looking Ahead
Avid fans of Project Runway will be happy to hear that, at press time, Mackenroth was awaiting the verdict on a pilot he recently shot along with fellow Runway alum Kevin Christiana (who he fondly refers to as "the lone straight man" who was on Runway). He also just participated as a swimmer in the Out Games in Copenhagen, and is currently designing a bear that looks like Christiana Aguilera, for charity. All this in addition to the campaign appearances already planned for the fall, including a stop at the United States Conference on AIDS in San Francisco this October.
"So yeah, I'm keeping busy," laughs Mackenroth, "and it's all good."
Positive Thinking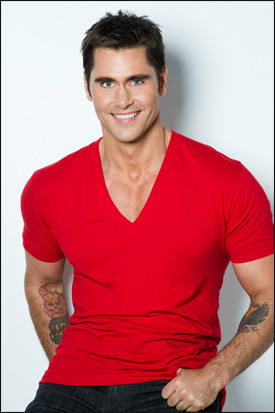 When asked how he maintains his positive outlook, Mackenroth thinks that he just naturally is that person, and that it's a testament to his mom. And while he says it didn't take him long to come to terms with being HIV-positive, he talks to a lot of people who are just finding out they're HIV-positive, and are depressed.
"When you get into your head too much, that can be dangerous," says Mackenroth, "especially when you have a tendency to get depressed about things." That's why, he says, working on something like "Living Positive by Design" has been so great for him. "Pushing people in the right direction to get the information and the health care that they need -- that's helped me keep a positive outlook."
One question he gets asked a lot is whether he has any advice for someone who is newly diagnosed, or who just found out that they are positive and are having a difficult time dealing with their new status.
"I always say -- have that 'freak-out' time if you need to, but know that there are a lot of options out there, and a lot of support and information. Find a website, like livingpositivebydesign.com, or The Body -- just make sure your sources are clinical. But know that there are a lot of other people out there who are like yourself, and that there is a reason to have a positive outlook, because there are treatments available. Just partner with a doctor and become part of the movement. As soon as you're comfortable enough with it to talk about it, hopefully you can become part of fighting the stigma along with the rest of us.
"And get your blood work done," he's quick to add, "and keep it undetectable!"
Visit www.livingpositivebydesign.com, and www.jackmackenroth.com.
Got a comment on this article? Write to us at publications@tpan.com.