Dazon Dixon Diallo was working towards a B.A. in English and Communications at Spelman College when she was drawn into the work of HIV/AIDS.
The year was 1985. True to the nature of students who attend Spelman and other historically Black colleges and universities, her commitment to community service occupied most of her free time. She was actively involved in the women's reproductive health movement, volunteering regularly at a local clinic in Atlanta.
Shortly after Rock Hudson announced to the world that he had AIDS, the clinic where she worked received a disturbing call from a local AIDS service organization (ASO), a call that would change her life forever.
Because AIDS had been labeled "the gay plague," most, if not all, of the services and information regarding the disease was geared towards gay men. The people at the local ASO, then, found themselves clueless as to how to handle the flood of phone calls that they were receiving from newly-diagnosed Black women. As a result, they called upon women in the community who were already working with women's health issues, in some capacity or another, to help them to figure out this emerging crisis. That was Dazon's introduction to what became her life's work. At the time, however, she was clueless as to just how politically driven that work would become.
Long story short, the women's organization she was volunteering for teamed up with that AIDS service organization to create and implement HIV/AIDS prevention and support programming for women. Then one day, as a result of what she calls "CBO (community based organization) political upheaval," all of the female volunteers and staff at the ASO simply walked out, at the same time.
In an effort to salvage what they had helped to establish (the first and only HIV/AIDS program for women in Atlanta or anywhere in the southeast at that time), Dazon and her colleagues from the women's clinic decided to take on the program themselves.
Relocating it was a challenge that, like so many others, they overcame. She would soon learn, though, that the politics involved in the work would be inescapable.
Hard Work
Although the numbers clearly demonstrated the need, funding for HIV/AIDS services for women was tough to come by in the late 1980's. And, with Ronald Reagan as president, funding for anything that had to do with abortions, including the clinics that provided them, was even more scarce.
The clinic that Dazon worked for was organized by mostly white, middle-class, pro-choice feminists. Their primary focus was reproductive health rights and not necessarily the increasing number of Black women living with HIV/AIDS. Therefore, when funding really became an issue, the HIV/AIDS program that they offered (the only one like it in the entire region at that time) was the first of their programs to get the ax.
Understanding the need, Dazon remained steadfast in her desire to be of service to women with HIV, Black women in particular. With the support of some of the others who had also been involved, she opened up her home to provide space for the program. From there, SisterLove, Inc., was born.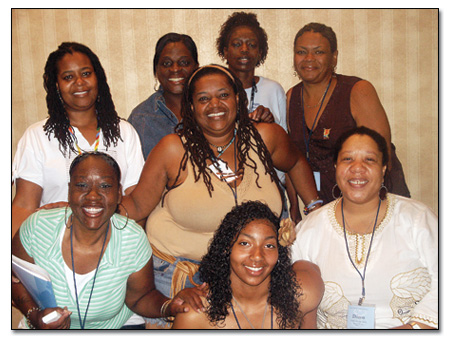 Realizing that the program was lacking in the area of cultural sensitivity, the collective of women began to incorporate Black feminist theory and the "self-help" model created by the National Black Women's Health Project into the program. Their primary objective was to empower Black women to take charge of their own lives, in order to stop the spread of HIV. SisterLove became one of the few places in Atlanta where HIV-positive Black women could go for support and comfort and, oftentimes the only place they could go for love.
In time, though, the program grew too large for the bedroom in Dazon's house that it once comfortably occupied. Eventually, and somewhat to her dismay, SisterLove made the transition from a grassroots collective to a more sophisticated operation, offering a wide array of services for women and children.
"I didn't realize that I would have to literally build a business from the ground up," she says. "All I wanted to do was provide services to my community. I got in this to bring some solutions to some serious problems, not to worry about grants and funding or whether or not I'm going to be able to make my payroll."
But she does what she has to do, and she does it well. She even found time, somehow in the midst of all that she does, to return to school to obtain a masters degree in public health (MPH).
Realizing the interconnectedness of women's reproductive health issues and HIV/AIDS, services at SisterLove now extend beyond HIV prevention and care to more fully address the entire Black female experience -- regardless of HIV status, age, sexual identity, or country of birth.
Today, SisterLove operates two locations in Atlanta and one in South Africa, doing capacity building work with small, grassroots organizations that were already doing tremendous work in that country, but lacked the infrastructure and/or the resources necessary to sustain it.
South Africa
Their most recent project is called the Thembuhlelo Trust Cooperative. Thembuhlelo is Swahili for "trust your own program."
Essentially, SisterLove organized a formal trust of three non-government organizations (NGO's) in a region about 90 miles east of Johannesburg, who were doing either home-based care, orphan care, or youth prevention work. Those three organization identified 60 individuals, who are either volunteers or recipients of services, to work collectively in a cooperative.
SisterLove worked with the South African government, on behalf of that cooperative, to purchase a 700-acre dairy farm. They then transferred it into the trust and trained those individuals to work it -- from the chickens and cows to the management and marketing.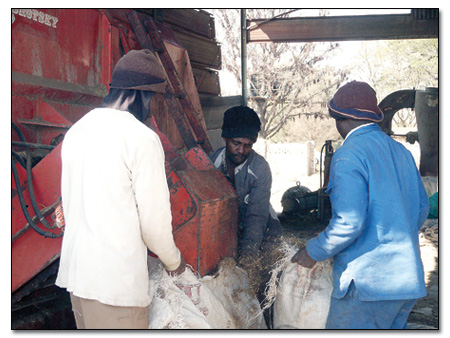 "It is an HIV/AIDS project," Dazon says, "but it involves land ownership, income generation, economic empowerment for women, and making sure that the people, in this community at least, have access to all the care and treatment that they need."
The project has ignited a spark for the Department of Land Affairs there, as they are trying to figure out how their efforts at land redistribution might have a lasting effect on alleviating HIV/AIDS and poverty as well. The Thembuhlelo Trust Cooperative has been named a pilot project for them, with SisterLove helping to re-create it in different areas throughout the country.
"This is really important stuff," Dazon says with great excitement. "It's returning the land back to the people from whom it was taken illegally. And it's about being innovative with how you approach HIV/AIDS beyond healthcare."
Thembuhlelo has also been successful at helping to diminish the stigma that is associated with the disease. The farmer from whom they bought the farm initially tried to sabotage it, telling people in the community that it was being run by "those AIDS people." The people in the community, however, are very poor. And because there is such a demand for necessities as basic as milk and eggs, they could care less about who's running the farm. They come to purchase these goods there for nearly half the price that they would pay for them at any of the nearby stores and, at the same time, learn how HIV is and is not transmitted, as well as how to access services.
Back Home
While she is fully invested in the work that SisterLove is doing in South Africa, Dazon is always thinking of ways to transfer what she's learning and doing there to assist with curbing the epidemic here in the U.S.
"The problems are not that different," she says. "[In both locations,] you have women who are vulnerable or who are not able to get the treatment and care that they need because they are economically dependent or depressed."
At press time for this issue, SisterLove was in the process of establishing a women's focused cyber center for low-income women and their families in Atlanta.
"How do people get their information these days?" Dazon asks, and then answers herself. "Through e-mail. And so what happens if you don't have e-mail? Or if you can't read, for that matter? You miss out."
With the cyber center, she hopes to eliminate the "digital divide" barrier, while continuing to create safe spaces for women to learn and grow and to take charge of their own lives, always staying true to her original purpose for becoming involved.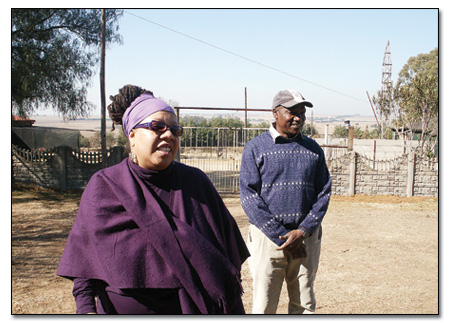 In her spare time, she teaches in the MPH program at Morehouse School of Medicine. She is also a member of the adjunct faculty at Spelman College in the Women's Studies Program. As if she doesn't have enough to keep her busy, Dazon is also the producer and host of a weekly Black women's radio program known as Sista's Time, which she affectionately calls an "audio magazine featuring the life, health and cultural issues of women of African descent and those who love us."
With so much sistalove exuding from this woman and others like her, who in their right mind couldn't love them.