David Gold Speaks Out on the Need for an HIV Vaccine
The following article appeared in the Fall 1997 issue of The AmFAR Newsletter and is reprinted here with the permission of the American Foundation for AIDS Research (AmFAR). The premiere of AmFAR's HIV Experimental Vaccine Directory is included in the newest edition of The AIDS/HIV Treatment Directory (Vol. 9 No. 1).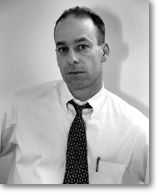 "An activist friend of mine who recently visited India was talking to some HIV-infected people there. He told me that they were talking about protease inhibitors, and it was heart-breaking because the people were extraordinarily knowledgeable about the different products. They knew which companies were developing which drugs and what the side effects were, yet there was no chance that any of them could obtain any of these drugs. And, with 30 million HIV-positive people throughout the world, many of them in countries where the per capita healthcare budget may be $30 per year or less, the idea that we're going to be able to afford $15,000 per patient per year worth of therapy and diagnostic tests is silly. Certain populations of patients benefit tremendously from combination antiretroviral therapy. People with AIDS can extend their survival. That's clear from the studies. Over 90% of the world's population, however, will have no opportunities to use any of these drugs. The fact that we will never be able to stop this epidemic using the therapies that we have now, given what they cost and unfair healthcare delivery systems, means that the only way to stop the HIV epidemic is with a vaccine, and hopefully also a cure, and hopefully one that we can afford to distribute around the world."
-- Activist David Gold, Editor of the IAVI Report
A graduate of Boston University School of Law, David Gold became involved with the AIDS epidemic in 1985, volunteering as a lawyer with Gay Men's Health Crisis (GMHC) of New York and soon working with them as the Director of Medical Information and Editor of Treatment Issues. He has also been a member of the Treatment and Data Committee of ACT UP. "While working in treatment advocacy and information, I was disturbed at how little attention was really being focused on the area of AIDS vaccine research and development," said Mr. Gold.
In 1992, when the New York Blood Center engaged in preliminary preparations for HIV vaccine trials, they came to GMHC. As a result, eight local community organizations got together to review the issues, and out of that came a paper, which was edited by Mr. Gold, on some of the questions currently raised by vaccine trials. "That was really the first time that any community effort had taken place in this area," said David, "but it was still not enough. There was no sustained effort in this regard between 1992 and 1996."
In 1996, David became a founding member of the AIDS Vaccine Advocacy Coalition (AVAC), the first community-based AIDS organization focusing on the need for an anti-HIV protective vaccine, or "AIDS vaccine." In that same year, the International AIDS Vaccine Initiative (IAVI) was incorporated [see end of article]. David currently works as Editor of the IAVI Report, a quarterly newsletter with a global orientation that focuses on AIDS vaccine research and development. The only publication of its kind, the IAVI Report is distributed to subscribers in 92 countries.
AmFAR recently spoke with David Gold and asked him the following questions:
1. Why do we need an HIV vaccine?
The need for an AIDS vaccine is an international issue. In a country like Uganda, for example, if you take a hundred women and follow them for a year, seven of them will become newly infected during that year. That equals a rate of new infections of 7% per year. If you look at India, up until a couple of years ago, almost none of the commercial sex workers (the population in which you can assess the severity of an epidemic due to a sexually transmitted infection) were infected with HIV. Now, in some parts of India, up to 50% of the commercial sex workers are HIV-infected and it's estimated that India has anywhere from 2 to 5 million HIV-infected individuals in the whole country. By the year 2000, India may have a total number of cases of HIV infection larger than all of sub-Saharan Africa. So you have huge numbers of new HIV infections occurring in much of the world. This is particularly so in developing nations such as India, China, Cambodia, and Viet Nam. That speaks to one of the reasons why we need a protective vaccine.
But even here in the United States, there are, each year, significant numbers of new infections. A major epidemic is occurring in a number of communities, including the Latino and African-American communities, and among gay men. I personally have stopped counting friends who have become newly infected within the last few years.
Everything that I read and hear tells me that we can make significant progress in reducing the number of new infections, but, by and large, because HIV disease is a sexually-transmitted infection, it will ultimately be impossible to stop this epidemic without a protective vaccine.
2. Why is the timing right for developing a protective vaccine?
We've made progress in developing therapies that help people with HIV and AIDS, so we're at a point, now, where we have established a base of scientific accomplishments in this area. Yet, paradoxically, these accomplishments are pointing out the horrible inequalities in the healthcare system, not only in the world, but also here in the United States. And, as effective as some of the educational prevention campaigns have been, they will never stop the epidemic, neither in the developing world, nor in the United States. We may as well face up to it: "harm reduction" strategies are not "AIDS prevention" or "HIV prevention" because we cannot prevent all new infections. A vaccine will be the only way to stop the epidemic from spreading.
One psychologist in the gay community pointed out that sometimes we flippantly assume that no one's going to get infected anymore because all we have to do is use a condom for the rest of our lives. Well, imagine if we said to every married couple in the United States, "No big deal: just use a condom every time you have sex for the rest of your life." It certainly might make sense, but it's not so easy. We can tell that by the number of unplanned pregnancies there are. We don't want to accept the fact that, until we have a vaccine, it is very likely that we will have a sustained HIV epidemic in the United States.
So even with advances in treatment, the only way to truly stop this epidemic is with a vaccine. I think we're also making greater progress in general in understanding the pathogenesis of HIV disease and that, I think, gives us more hope that a vaccine is possible.
As those who support AmFAR know, it's important to focus resources where we think we can make a difference. For me, there are three key areas of the epidemic where we need to focus these limited resources: (1) helping those people who are infected stay alive and lead healthy lives; (2) finding a cure; and (3) prevention.
Preventing new infections is critical. One way is obviously behavior modification. The other way, the one that seems to be the most efficient and the one we've used to eliminate many other diseases, such as polio, small pox, and now, hopefully, Hepatitis B, is a vaccine. So, it seems logical that we should be spending more money on AIDS vaccine research and development. Total spending in this area was estimated two years ago to have been less than $135 million worldwide, private and public. You could argue that perhaps general AIDS research may have implications for a vaccine, but basically, for research and development specifically targeted to an HIV vaccine, that's all we're spending. When you consider that the making of the new movie, Titanic, reportedly cost $280 million, it really gives you an idea of our priorities as a society.
3. What scientific breakthroughs give us promise that a vaccine can be developed?
First, I should point out that AmFAR has provided critical support for the AIDS Vaccine Advocacy Coalition. In December 1996, we issued our report, Industry Investment in AIDS Vaccine Development, which was really the first comprehensive look at the reasons why the pharmaceutical and bio-technology companies were not investing in AIDS vaccine research and development. We looked at the entire area, interviewing scientists and leaders of over thirty different companies. These companies were either currently in the business of developing an AIDS vaccine or had been at one time. We asked what was missing, i.e., why were they not in the business of developing an AIDS vaccine, or why they thought other companies were not. Clearly, there were some very important findings. It was acknowledged that the science of HIV vaccine research is difficult, that it wasn't an easy game, and that really spoke to the need for funding the type of projects that AmFAR has supported in terms of basic research. There is also a need to create a better scientific environment so that companies know how to proceed in developing an AIDS vaccine. So we put this report together, and AmFAR helped fund that report.
Industry Investment contained several key overall recommendations, one of which was that the President declare making the development of an AIDS vaccine by the year 2007 a national priority. We considered it extraordinary that, fourteen years into the epidemic, no one had even bothered to look at the reasons why AIDS vaccine research was floundering so badly. The President did make such an announcement and we were pleased to have such an impact.
As for scientific difficulties, we don't know exactly what type of immune reaction a vaccine should induce: Do we want antibodies? Or do we want cell-mediated immunity, known as a cytotoxic T lymphocyte, or CTL, response? We're still not sure. We probably need both.
Also, we don't have a perfect animal model. Monkeys get AIDS through SIV, which is similar to HIV, but it's not exactly the same. Chimpanzees can get infected with HIV, but get sick from it only after a long period of time. And both of those animals are expensive; chimps are extraordinarily expensive. So a good animal model is lacking.
On the other hand, there have been some breakthroughs. We know that certain people are genetically resistant to HIV, which became known through some of the chemokine research. The genetic mutations, the homozygote mutation that some people have, seems to protect them from at least certain strains of HIV.
There are also some HIV-positive individuals who have had perfectly intact immune systems for a very long time. There may be some defect in the strain of virus they carry that protects them. How do we take that information and develop a vaccine perhaps that mimics that type of protection?
A group of Australians who were recipients of a common HIV-positive blood donor appear to have remained well for a very long time. Their virus had mutations in the same key gene as that used, also in a mutated form, by Dr. Ron Desrosiers of Harvard to vaccinate monkeys against SIV. That was very exciting, seeing that coincidence in nature and in the lab. But we now know that some of the monkeys have developed simian AIDS from the vaccines. Nevertheless, one group has proposed the initiation of a pilot study of a live attenuated HIV vaccine in human volunteers. However, many researchers believe that such a trial would pose far too great a risk to participants at this time.
One way to learn more about the safety of live attenuated vaccines would be to conduct very large and long-term animal studies of attenuated vaccines, i.e., studies of the kind being proposed for humans. We should also study why the attenuated virus is protective, at least for a certain time. And, of course, we need to study the immune response to HIV in people who are long-term nonprogressors.
Overall, there are reasons for promise, particularly with our better understanding of the pathogenesis of HIV disease. With a well-focused, well-funded and well-conceived effort, we can have a shot at developing an effective HIV vaccine.
The International AIDS Vaccine Initiative (IAVI) was launched with the support of the Rockefeller Foundation, the Sloan Foundation, the World Bank, the United Nations Joint Programme on AIDS (UNAIDS), and the 'Until There's a Cure' Foundation. It was established after a series of international conferences, convened by the Rockefeller Foundation, concluded that, given the scope of the worldwide epidemic, very little resources were being targeted to AIDS vaccine research and development. IAVI was established as a vehicle for channeling funds into this area and also to provide advocacy on a global level for the development of a new vaccine.
Back to the March 1998 Issue of Body Positive Magazine.