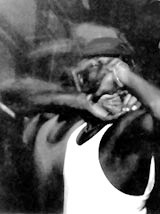 AIDS killed all of the really good dancers . . . .
Or at least that's what was running through my mind one summer in Massachusetts. I was on Cape Cod to perform in Hyannis, but that night found me in Provincetown, at a "Disco Night" somewhere on Commercial Street.
At first, the club was nearly empty--a ghost town, with Vicky Sue telling only me and a few wallflowers exactly what we should do with that beat--yeah, yeah, yeah. But by midnight, the place was full, with people stomping and dancing so hard that I was sure the floor would cave in. We'd be found in the morning, under the rubble, crushed, but with little dancin' smiles on our faces.
The music was pumping. The lights were flashing. The bass was pounding. Cocktails were flowing. Shirts were coming off all around. It began to feel like 1982 all over again. Began to. But as I looked closer, I realized the dancers, gosh, they didn't really know what they were doing. The arms and legs were flying, but without the grace and style that I would watch for hours when I was a teenager. Where were the Jimmys and the Davids? The Erics? The Roberts or Tonys who could move and twist and twirl as if angels had descended from heaven, thrown on their jelly shoes and painter pants, and joined the mortals for a moon-dance in the Twilight Tone? Where was Bobby, who could disco with not one but two men swinging, spinning, pulling, and turning from both arms? Where were the dancers?
---
Gone. They're gone. Some are older, but heck, I'm still able to go out and I was there. No, that night made it clear to me; they're not doing the Bus Stop at a nursing home. They're dead. In some weird twist of statistical probability, AIDS took the dancing queens while leaving those of us with at least three left feet.
Of course, the epidemic has taken lots of beautiful people, but this is the first time--with no techno, house, industrial, whatever beat to mask it--I realized it had stolen all of the really good dancers, the beep-beep-hey-toot-toots, the bad girls.
As memory fades, it's hard to believe they were even here at all. Men who were more powerful than gods to me. No faith required; they were real--and anyone with eyes could worship at the temple of their boogie-oogie-oogie.
The boys at the club in P'town tried, but they could only manage a meager step-left, step-right to music that was meant for soaring flamboyance. Impossible for them to match the men who once would writhe and sex their way through song after song after song--sharing poppers, singing the words, waving to their friends, and never missing an important lyric that screamed "drama!"
---
I remember going with my parents to one of "their" dances some years ago. There was a band, playing "Misty," "The Chattanooga Choo-Choo," "Don't Sit Under the Apple Tree." There were my parents and their friends, twisting and dipping, doing moves I couldn't follow, much less name. Then there were the rest of us--on the dance floor, walking on each other's feet, bumping into other couples, and, yes, finally reducing our lame efforts to the simplest step-left, step-right. But we tried, and they encouraged us. I never quite got it, but, eventually, I could dip my mom, turn, spin, and make her giggle, "Son . . . slow down!" as we cut that rug.
Now, my mom is dead and my father is old. Their friends are gone, along with the majority who knew their music when it was fresh. I listen to an occasional big band, and I work to remember how they moved. I rock back and forth, and try to call forth those spirits made wild by Tommy Dorsey.
Just like the boys did in P'town last weekend. I see that now, too. In fact, after a few hours, and more than a couple of cocktails, I think I might have actually caught a glimpse of sweet Bobby in the strobe, patiently showing someone how to make his tummy do that sexy "wave" thing that always made me sweat. An angel in the flesh.
---
Later, I stood in a parade and observed a moment of silence to remember those lost to AIDS. Everything stopped and the street grew quiet and edgy, with that tension only total silence brings.
But not completely. As I closed my eyes, the beat played and the boys danced on clouds. The rhythm took over, and I felt a rush of familiar joy.
A rush. No tears. A rush.
. . . And in my dancing feet, I felt the disco.
Singer, songwriter, and recording artist Deian McBryde lives in New York with the telephone numbers of several ex-boyfriends.
Back to the May 2000 Issue of
Body Positive
Magazine
.