Introduction
"Eleven o'clock Sunday morning is the most segregated hour, and Sunday school is still the most segregated school of the week."
Those words from Martin Luther King Jr. remain true; even today, African-Americans generally worship in congregations and churches mainly or entirely composed of black people.
Throughout our history, blacks in the U.S. have sought safety within the walls of the physical church. It is a place to plan, to share our resources, experiences, and hopes, and it provides an economic base of operations. It offers a safe haven for speech on the larger issues of the day and has been a venue to feed our need for biblical perspective and direction. It is also a gathering place to organize ourselves around issues of safety, economic empowerment, and familial unity, and where we conduct many types of political activities.
"The African-American church" as such does not exist as a strictly religious entity. What does exist are many, very diverse people who choose various forms and places of worship, organized in different ways and to varying degrees. African-Americans worship in a variety of ways, as do members of most other racial and ethnic groups. Most frequently, African-Americans worship as Baptists, Protestants, Methodists, Muslims, Catholics, Seventh-Day Adventists, and Jehovah's Witnesses. They also worship as Scientologists, Episcopalians, and Jews. Nevertheless, for purposes of discussion within this article, we will continue to refer to the phenomenon of places of worship utilized mostly by African-Americans as "the African-American church."
Although frequently misunderstood and sometimes misrepresented, the African-American church plays a crucial role in our nation's response to the ongoing decimation of African-American communities by HIV. That said, we must also acknowledge that the African-American church has been slow to respond to this challenge of truly epic proportions and that there is much work yet to be done.
The Early Years
During the 1980s, black churches did not address AIDS since many blacks believed the disease was not a threat for them. Most often, African-Americans believed that AIDS occurred only in gay white men. As the years passed, many in our communities began to see their friends, families, and associates become ill. Often the nature of their illness was misrepresented or not discussed above a whisper.
A pattern of denial exists in middle- class and working families on this issue; many do not want to admit that they are affected by it at all. Many leaders preach and congregants feel that those who have HIV somehow deserve their condition or are being punished by God because they "did something wrong." More education is needed on how HIV is actually transmitted, and on the relationship of factors like mental health, substance abuse addiction, and power in relationships, and how to manage life stressors. Our communities need information and support not only to obtain treatment but act as self-advocates in health care. We must go further than simply providing correct information. We must become empowered to own the issue by organizing ourselves beyond our labels as Baptists, Protestants, Jews, Methodists, etc., to address this common foe -- a disease called AIDS. We need to devise strategies that will enlighten our "walk" and give life to our religious "talk," moving us forward, empowered to navigate health care access and treatment and to engage in preventive health and health maintenance.
Leaders can move their churches from a closed structure to an open one. I have personally witnessed this transition taking place in church after church over the last several years. It is in large part a shift that occurs first within the leadership and is then manifested through "The Word." This is evident in churches where the leaders have come to accept their own differences from the traditional thinking and practices of their parent churches. They then are less apt to interpret oppressive political and religious ideas rigidly.
New Churches
Many African-American churches arose from the need to create a separate, independent place of worship for black people that was free from the scrutiny and influence of whites, and responding to racial oppression is a common priority. Similarly, new religious institutions are rising in response to the AIDS epidemic, providing a safe space for gay, bisexual, and transgender communities of color. But there is little similarity between these new African-American churches and their more traditional predecessors beyond having a predominantly African-American base. Even the racial demographics differ, with more traditional churches consisting of almost all African-Americans while the newer ones usually include a small but not insignificant proportion of Latinos and whites. Most often, the more traditional churches tend to have working-class and middle-class congregations who are, presumably, more educated than their counterparts and less economically impoverished. The contrast between facilities and resources is tangible evidence of these differences.
"Religious leaders fail to address AIDS at all in their Sunday sermons, and they also avoid frank discussions of sexuality and intravenous drug use, the behaviors traditionally linked to HIV/AIDS."
Most African-American churches represent a male-centered, heterosexist culture, reinforcing gender and sexual hierarchies. Pamela Leong, author of the study "Sexuality, Gender, HIV/AIDS, and the Politics of the Church: A Comparison of Two Churches," shared her findings: "Moreover, while the church does address the AIDS problem, it only does so peripherally -- by focusing on the more acceptable 'victims' of AIDS -- heterosexual women. Religious leaders fail to address AIDS at all in their Sunday sermons, and they also avoid frank discussions of sexuality and intravenous drug use, the behaviors traditionally linked to HIV/AIDS. Frequent references to guilt, sin, and the 'devil' suggest likely stigmatization of those affected by HIV/AIDS and/or those who engage in HIV-related behavior. These conservative tendencies then have the unfortunate effect of oppressing and further marginalizing the community members who are in most need of assistance."
Churches and Political Action
The black church is an agent for social action by and for African-Americans. It offers meaning, hope, and love -- all important for everyone, and particularly for inner-city and rural African-Americans, who are often marginalized in the U.S.
Most traditional churches are led by older persons and heavily influenced by generations of family groups that can date back to the founding of their churches. This phenomenon does not bode well for newcomers who wish to introduce more inclusive approaches to building the congregation. Traditional churches are also usually conservative. AIDS may not be discussed at all from the pulpit, there may not be HIV ministries in the church, and there may be few instances where HIV prevention messages are integrated into the churches' programs. Usually, a church's involvement may be limited to aligning itself with an organization that will introduce the church leadership to the issue of AIDS and provide helpful hints on establishing an AIDS ministry. This may be promoted as legitimate engagement on the issue of HIV, but is normally not a sustained effort.
While many churches are capable of delivering HIV prevention and treatment services, this is not a requirement to be effective at educating their congregations and integrating messages that discourage judgmental attitudes in their communities. The only requirement is a determination against exclusion.
Few studies have explored religion and its impact on political action. This is especially true of African-Americans, who have been stereotyped as having an "otherworldly" religious orientation that deflects attention away from "worldly" concerns, such as politics. But using the 1987 General Social Survey, Frederick C. Harris argues that religion among African-Americans serves as both an organizational and a psychological resource for political action. He demonstrates how individual religious beliefs affect political action like voting as well as collective action, and how this differs between black and white Americans.
Each of us decides how to combine or separate our roles as congregants and citizens. Many people fear that religious controversy in politics may result in polarization and extremism. Perhaps the more dangerous concern is that fundamentalism will define gray areas as black or white, oversimplifying cultural and religious issues.
Black churches could use congre-gational organizing to take on poverty, unemployment, lack of housing, and racism -- and many have done so. This approach could also include the sick and those who are on the outside looking into our church windows?they too are worthy. If God opens doors and windows for the least of us, who are we to close them to those who seek what has been given to all? The factors that feed HIV disease -- poverty, unemployment, lack of housing, addiction, community economic decay, decades of poor health habits -- must be addressed, for AIDS is a disease of the body, not the spirit.
The spiritual assault occurs when stigma is perpetuated. Many people with HIV are distressed that their church considers theirs a "special" issue that must be separated from the issues of other congregants. More churches must answer the call just as they did in the fight for civil rights. These institutions are beginning to respond, but must normalize their conversations around HIV so that congregants begin to own the truth that HIV has already hit home.
Although the churches are well positioned to affect the degree to which AIDS affects African-Americans, their leaders continue to face multiple constraints. The African-American church is one of the most conservative institutions in the U.S. After distancing itself from the moral issues around the behaviors that feed the disease, the church finds itself caught in a quandary. How does it justify continued silence in the face of its biblical call to acknowledge God's sovereignty? How does it claim its place as the self-pronounced cornerstone of the African-American community when it has failed to stand on behalf of the least of us? This amounts to a second marginalization of society's least "desirable" community members (which, depending on the day of the week, could be any of us).
Taking Action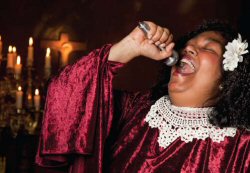 The foundation has been laid for African-American churches to wage a massive assault that will galvanize our people around a movement to end HIV among us. We are the people who survived slavery, Reconstruction, and Jim Crow -- our vigilance has been unceasing. HIV is another opportunity to put our faith into action, and this is happening. Balm In Gilead in New York City and Gospel Against AIDS/Global Research Education and Training Networks in Michigan support excellent faith-based initiatives. The Maryland and D.C. Departments of Health are helping churches to organize themselves and identify the resources that they need to move forward with providing services. Churches in both states are working to establish all-denominational, interracial, nonpartisan coalitions of churches, community-based organizations, governmental agencies, and businesses working together to serve their regions.
In 2007, the National Black Leadership Commission on AIDS conducted the First National Conference to End HIV/AIDS Among African-Americans. Co-chaired by Bishop T.D. Jakes of The Potter's House and Rev. Dr. Calvin Butts of Abyssinian Baptist Church, it brought together government, education, health care leaders, and clergy in an historic meeting. In 2009, the first annual HIV/AIDS Conference to Engage and Support Faith Communities was held in Washington, D.C., sponsored by the Trinity Development Corporation, Black Leadership Commission on AIDS, D.C. Places of Worship Advisory Board and the D.C. Dept. of Health and offered workshops on engaging youth, women, men, and senior citizens in faith communities.
While these efforts are important first steps, they are just that: first steps. The fight against HIV cannot be and is not an activity -- it is a movement! There has to be actual connection, on a grassroots level and using a myriad of approaches, to people as diverse as the stereotypical drug addict and the functioning sex addict, to the people who engage in multiple "monogamous" relationships, to the aging adult in a long-term relationship who may be infected but mistakes HIV symptoms as signs of aging. The shroud of secrecy and mystery must be removed from this disease, and this must be done boldly so that there is no doubt that our leaders believe that "We Shall Overcome."
Some churches are successfully integrating prevention messages into their ministries. Women's support groups like Life Support, Older Women Embracing Life, and public gatherings such as the fundraising walk Sista Stroll provide venues to talk and put real faces to the disease. Food banks and clothing closets that connect with housing facilities serving people recently released from prison can open the door to conversations about HIV testing. Events like Testing for Turkeys, in which people who return for their HIV test results get vouchers they can redeem for holiday turkeys, have been very successful in many urban settings.
Some churches have formed interdenominational coalitions that set out to accomplish ambitious goals, including training community care workers and connecting with public training sources to prepare volunteers as HIV testers and care navigators for community members. Still other churches have gone further and established care centers of their own. All these activities and efforts provide the relationships that are essential to influence people, especially people of color. Since HIV is a preventable disease, our role must begin by pulling down strongholds of fear.
Faith-Based Organizations
There is no official federal definition of a faith-based organization (FBO). Whoever declares themselves to be "faith-based" are, de facto, faith-based. The intent is to encourage any organization that has a faith-inspired interest in providing services to apply for government funds and that faith-based charities should be able to compete on an equal footing for public dollars to provide public services. It is not uncommon for a church to establish separate community-based organizations -- often they are community development corporations established to develop economic programs and provide financial support for a community.
The decisions of the Obama administration and Congress will have a substantial effect on the continuation and expansion of the Faith-Based Initiative, which allows government funding for social services to be channeled through religious organizations. Rulings in the courts will also shape the course charted by the new White House Office of Faith-Based and Neighborhood Partnerships.
Several studies have estimated the replacement costs of the social services offered by churches. An Urban Institute study of FBOs in five cities estimated they spent between $2.4 million and $6.8 million on employment-related services annually per city. The Census of Philadelphia Congregations study calculated the replacement value of social services provided by congregations in Philadelphia -- taking into account the value of paid and volunteer labor and the use of buildings and services as well as monetary contributions -- at $246 million annually.
But the Roundtable document "Taking Stock: The Bush Faith-based Initiative and What Lies Ahead" contains no mention of the word "HIV," and no mention was made of HIV prevention as a service being provided by FBOs. There is a reference to a Baltimore treatment study that focused on understanding the role of religion in substance abuse treatment programs. In fairness, there is a high likelihood that people with HIV are represented in the study -- certainly individuals at high-risk for infection are represented -- but there is no specific mention of HIV prevention and treatment in this exhaustive and influential study. And this is the case even though HIV is devastating African-American communities with a church on almost every corner.
The question of whether better results come from encouragement of FBOs as providers of public services is still open. Many well-meaning institutions grapple with issues such as:
"Where is the line of our involvement?"
"We want to help, but we don't know what to do."
"How will taking on this issue be perceived among the congregation?"
"Is this something that we should be doing, since there are already service providers doing this work?"
"Will we lose members because of our decision to become involved in HIV prevention?
It is important that we acknowledge that churches are already involved in HIV prevention to the extent that they feed the hungry, provide premarital counseling, clothe the needy, and provide meaningful social connections for our people. But the only answer that can be offered to any of the questions here is yet another question: "What would Jesus do?"
Conclusion
Whether they choose to address HIV by integrating prevention and care messages into sermons and church activities or by establishing organizations to offer more formal programs, the takeaway point is that African-American churches must do more on this issue. The opportunities to engage as community partners in reducing the impact of the disease are limited only by the imagination and commitment of faith leaders and congregants.
This article represents the perceptions of an African-American Christian who is also an HIV-positive person, a lay leader, a mother, a sister, an aging adult, a student, an entrepreneur, a health advocate, and an activist. It is vital that, as African-Americans, we speak, engaging in dialogue and frank exchanges about HIV in our communities and how we can reduce its impact. It is especially important that those of us with HIV join in those conversations. Without our collective voice, we will continue to be a people silent in the face of our fears, caught in the grip of misinformation, and traumatized by stigma.
Carolyn Massey is Director of POSITIVE IMPACT Ministry of New Samaritan Baptist Church, Washington, DC.