"Don't do anything that might give you this disease of AIDS. Find out how the illness infects people and then follow the right path ... I am here hurting maybe because someone needed to use needles to feel better. Please have the courage to share yourselves instead."
-- Gail Farrow, in a letter written to her four sons before her death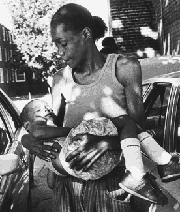 Contents:
The Harvard AIDS Institute cosponsored the Leading for Life summit along with the National Minority AIDS Council; the Balm in Gilead, Inc.; and the W.E.B. Du Bois Institute for Afro- American Research at Harvard University. The Henry J. Kaiser Family Foundation provided primary funding for the Leading for Life summit. Additional support was provided by the American Express Company; the Charles Hotel; Glaxo Wellcome Inc.; Merck & Co., Inc.; and the Metropolitan Life Foundation.
In addition, Porter/Novelli provided guidance; the Centers for Disease Control and Prevention provided research and epidemiologic assistance; Aaron Foster and Marcello Pagano of the Harvard School of Public Health provided epidemiologic assistance; and a number of African American faculty members at Harvard University served as advisors. Finally, the organizers would like to thank all the participants of the first Leading for Life summit.
For more information about Leading for Life, contact Tonya Adams, Leading for Life Outreach Coordinator, Harvard AIDS Institute, 651 Huntington Avenue, Boston, Massachusetts 02115; phone: 617-432-4400; fax: 617-432-4545.
Photo credit: David Binder
The Harvard AIDS Institute produced this report. © President and Fellows of Harvard University, 1997