Body Positive recently caught up with Steve Nessleroth, Director of the AIDS in Prison Program. In addition to all the other work Steve does, he has been supervising the final work on the soon-to-be-released updates of two books which compile a lot of the collected wisdom and recommendations of the Osborne Association staff -- their Transitional Planning Manual for Prisoners and Former Prisoners Living with AIDS/HIV in New York State and Directory of Programs and Resources for Prisoners and Former Prisoners Living with AIDS/HIV in New York State. (To find out more about how to get these, call the AIDS in Prison Project at 718-842-0500.)
When we talked to Steve, we asked for key recommendations that help someone make a successful transition back to the community. Here were Steve's thoughts:
1. Start visualizing/thinking about coming back.
"Really spend some time thinking through every step of leaving prison -- not just the fun parts, like eating your Mom's fried chicken. Spend some serious time walking, almost minute by minute, through what you will do the day you leave, how you will leave, etc."
"If you are in recovery, think about what could trigger you to pick up again. Despite your best intentions, before you know it, you'll end up in your old copping spots. Think about parts of the city that you should avoid for a while." The Big Book talks about "people, places and things," and it's real easy to slide back into something that will get you back inside.
Professional athletes are trained to visualize every second of a particular goal, or game. They break down their movements, breathing, etc. Going through it time after time keeps a distraction (or their nerves) from tripping them up. Things to include: going to see your parole officer, finding a case manager to help with an apartment and entitlements, avoiding people who may try to pull you down. Really let yourself get into the moment -- see what you will see, smell what you will smell, hear what you will hear, etc.
2. Build flexibility into your visualization.
When you get back, things may be different than you pictured them -- you may have to do things in a different order or people may treat you differently. Don't let that throw you. Be thinking "If A happens, then I'll do . . . . but if B happens instead, this is how I'll handle it." Remember "When Life Hands You Lemons, Make Lemonade."
3. Frustration is part of the process -- be ready for it.
If you are returning to New York City, you will be coming back to one of the largest, and most challenging cities in the world. There are millions of people here, and it often seems that they all want what you want -- and are in front of you in line. Workers will be rude to you, lose your paperwork, tell you to come back tomorrow, won't be in the office when you need them to be in. This can make you feel dumb, stupid, angry or a whole mixture of emotions. This is normal. Frustration is part of life for every person living in New York City, not just those coming back from prison. Figuring out a good way to respond when all you want to do is yell at someone or rip the door off the wall will be vital.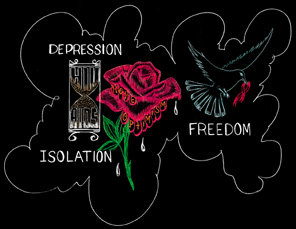 Illustration by Celso Montero
4. Drug use.
If you are still using, it is very important to avoid getting additional strains of HIV that are resistant to the new drugs. Get in touch with the local needle exchanges (see box for numbers), get your own works and don't share. If you must share, clean with bleach and get your own set as soon as possible. Think seriously about quitting -- a drug-related arrest can send you back to prison.
If you are working a system of recovery, make a meeting as soon as possible, and share in the meeting. See the box for the numbers for AA and NA. Get a local sponsor if you don't have one. Be on the alert for relapse triggers -- drugs and alcohol will be ready to trip you up at every opportunity.
Twelve-stepping can be a good way to get support and help to resist the urge to pick up. Your sponsor or home group is likely to suggest "90 in 90" which means making 90 meetings in 90 days, or one a day for the first three months.
Every meeting has its own character, and if you dislike one, go to another at a different location or time. Meetings are held literally around the clock, in all sorts of places, in many different locations throughout
New York.
Staying sober can be one of the most important things you do to stay out of prison.
5. Be ready to be overwhelmed with the options.
When you were in prison, you may have had only a few choices to make each day -- most of them were made for you. But in the community, just the sheer number of choices can cause you to feel stunned. Get an apartment, a job, go to school, date, buy a car, visit friends, there are many, many choices to make. You will feel overwhelmed, and that's okay -- the important thing is not to feel rushed into a bad decision or stay in bed all day to avoid making any decisions at all.
6. Life is faster outside prison.
Maria said, "When I got out, everything was moving so fast that one day I grabbed onto a lamppost to make it slow down." You will be expected to make decisions, go places, show up, etc. the same day or in a matter of hours. Most people adjust fairly quickly, while others take a little more time to get used to the faster pace when there are more choices available.
7. Take things one step at a time.
When you first get out, you will have a lot of things to get organized, and you'll have to decide what to tackle first. For example, you may decide to get your entitlements lined up before you hit the job market. In order to get your benefits, you will need a case manager who can help get all the paperwork together and filed for you. So your first priority becomes getting a case manager. Don't try to get a job, case manager, apartment, relationship, your kids back, enroll in school and buy a car all in the same week.
Shandra said: "When I got out of Bedford Hills, I moved to my sister's couch, got a job but then found out that since I slept in the living room, I went to bed last. I was always late for work, and got fired. I should of waited on the job until I had a good place to sleep, or taken a second shift job so I could sleep after the kids left for school."
8. Usually parole won't come down hard if you don't get a job immediately.
They've seen a lot of people come out (and go back to) prison. Often their perspective is that if you are working closely with a case manager, you are working on staying out. Your parole officer will want updates on what tasks or entitlements you are working on, what support groups you're going to, etc. He or she wants to see activities in your schedule that are aimed at staying out of prison. Getting a job will be one of these, but many P.O.s know it is best if you get settled first.
9. Seek assistance.
You are engaged in a difficult process, and with all large jobs, you will need help to successfully accomplish it. Successful athletes rely on whole teams of experts -- from the people who design their shoes and equipment to trainers, coaches, advisers. This is a bigger challenge -- talk to transitional planners, find people outside who have successfully returned, involve yourself with the agencies and resources that can help. They have helped literally hundreds of thousands of people in the community -- why deny yourself all that knowledge?
10. Respect the advice of professionals.
You don't have to act on it, or accept it blindly. Respecting it will smooth your way. You may think only someone who has been in your shoes can give worthwhile advice. But that person can only offer you their experience. A transitional planner or case manager may have helped thousands of people successfully return from prison even if the case manager never served time themselves. They can give you the lessons they learned from seeing so many people succeed.
11. What seems desperate to you may not be to someone else.
Don't assume that just because the worker or case manager isn't looking upset, that they aren't going to help you, or they don't understand. They might be waiting for you to finish talking before telling you where to get the help you need.
Sometimes they know that what you need may take some time to apply for or find.
12. Getting angry and creating a scene will not always achieve your goals, it could even make it harder.
Assume that you'll have to wait most places you'll seek help. Keep in mind that some of the things you'll need can only be supplied by one or two agencies. Politely ask how soon you can be seen.
Remember when you were inside? People who annoy prison guards wait longer for anything they want. If you yell at someone, or create a scene they might help you that one time right away, and then bar you from ever getting help at that agency again. Or they might just throw you out.
Feel ignored? Feel your needs aren't being taken seriously? Hold on to anger as your last weapon, because once you've used it, you may not be able to go back to that agency again. Don't burn bridges before you even get to them.
13. Agencies and staff are busy.
You are not the only one who needs help. Sometimes this is easy to see, especially if there are a lot of people in the waiting room. Other times you may be the only one waiting, but the staff is always answering the phones, or writing stuff down and not dealing with you.
Non-profit agencies run on very little money and limited staff. The best have lots of clients needing help. Politely ask the receptionist when she or he thinks you'll be seen. Sometimes they know, often they have no way of knowing. Always come with a book, a friend or something to do while you wait.
14. If you are truly in need, don't let barriers keep you from getting what you need to survive.
If you are hungry, don't have a winter coat or shoes, don't have the medications you need, don't have a place to sleep, get help.
These needs are what social service agencies deal with daily. Even if you are dirty, smell, have been sleeping in the subway, are coming off a drug run, etc., call the Osborne Association at (718) 842-0500. The most important thing is to survive -- if you are alive, you can get help to rebuild your life.
15. Don't decide too fast something isn't working out.
Tony said "When I left Riker's, DASIS put me in an SRO in Queens. I've only lived in Manhattan and I got lost finding it. I had six months sober, the manager sold crack, and every night was party time. I went to my case manager early the next morning. He said I could have better housing in six months or I could go to the shelters. I stayed, and in six months I got a shot at a clean, sunny, apartment to share with one guy, but in Staten Island! I took it, and saved enough in a year to move to Manhattan. Looking back if I'd gone into the shelters, I would have ended up strung out and probably back inside."
16. Everything about you is not in the computer.
There is no central file in the computer with everything about you. DOCS, Medicaid, your doctor all have separate files in their computers, but their computer systems are not linked together, and each has information that they can't share with the others. Ordinary people who have a computer can't access information about you from DOCS, Medicaid, etc. These are all private systems and aren't shared with the public.
17. Keep an appointment book.
Pocket-sized books can be purchased cheaply at news stands and stationary stores. You will have many appointments to remember -- it will be impossible to keep them all in your head.
18. Keep appointments when they are made.
Want a way to make yourself remembered among all the others waiting for services, applying for jobs, etc.? Show up on time for appointments. Can't be there on time or have to cancel? Call to notify the person you were scheduled to see. Appointments are a way to honor YOUR time -- otherwise agencies would make you wait hours and hours. At your parole office and for job interviews, appointment times are tests to see if you are serious about following through.
19. Show up as neat and clean as possible.
If you can, shave, shower and wear clean clothes. At the very least, wash your face and hands and comb your hair. Staff of agencies have seen people living in desperate circumstances, but they will be more likely to help you if you are at least trying to make a better appearance.
Malcolm X (who successfully rebuilt his life after prison) said "by any means necessary." If there is a person, support group, tip, hint, etc. that can help you get out and stay out, grab it and use it. The rest of your life is waiting to happen.
Karin Timour, M.A., M.Ed. is a freelance trainer and writer in New York City and a longtime contributor to Body Positive and other HIV/AIDS publications.
New York State Authorized Needle Exchange Programs

New York City
ADAPT
718-782-2-80, 212-289-1957

Bushwick Community Service Society
718-573-3358

CitiWide Harm Reduction
718-292-7718

FROST'D
212-924-3733

Housing Works, Inc.
212-966-0466 ext. 286

Lower East Side Harm Reduction Center
212-477-6863 or 212-228-7734

New York Harm Reduction Educators Inc.
718-842-6050

Positive Health Project
212-465-8304 or 212-465-8305

St. Ann's Corner of Harm Reduction
718-585-5544

Mid-Hudson
Urban League of Westchester
914-428-5407

Buffalo
Kalieda Health/Project Reach
716-845-0172

Rochester
AIDS Rochester
716-454-5556

Your First Five Steps after Release

(from The Osborne Association)

Report to your parole officer.

Find a case manager to assist with entitlements, referrals for services, medical care, food, clothing, and documentation.

Your case manager will refer you to a sister agency in New York City. You are likely to have a number of needs, and have to fill out forms and go through a lot of intake procedures once you are on parole. Be smart and get case managers to help with this process -- you'll save time and energy by getting a lot of help. Case managers are located in AIDS organizations, housing agencies, and drug treatment programs. They are paid by their agencies to connect you with services. Case workers in public assistance offices, the DASIS office and Social Security Administration office are paid by the government to establish whether or not you are eligible for their office's services. Some of these people are dedicated professionals who want you to get the help you need, while others may be much less helpful.

Find and maintain support, either through Narcotics Anonymous, Alcoholics Anonymous, HIV groups, or relapse prevention programs. In New York City there are NA and AA groups around the clock, seven days a week. To find a meeting call the following numbers:

Narcotics Anonymous: (212) 929-6262. Volunteers staff this line, and generally someone is available from the afternoon into the evening. If you call when no one is available, leave a message and a phone number where you can be called back. You'll only have 20 seconds to leave a message, but it will be returned when volunteers are in the office, usually within 24 hours.

Alcoholics Anonymous: (212) 647-1680. Volunteers also staff the AA line. You will be able to reach a person from 9 am to 2 am the following morning. If you call after 2 am, you can leave a message, and they will call back the following morning.

Maintain sobriety. Find a sponsor and call him or her. Go to new places, make new friends.

Remain calm and be assured. If the wait at the Welfare office takes half the day, or the whole day, stay calm. Be assured that things will work out with patience and persistence. If you need help, call: The AIDS in Prison Project's AIDS/HIV Hotline for Prisoners, (718) 378-7022, Tuesday, Wednesday or Thursday, 3 pm to 8 pm. English or Spanish. All collect calls are accepted.
Back to the
May 2001
Issue of
Body Positive
Magazine.