NIAID's sustained commitment to basic research continues to yield breakthroughs that, although still in their early stages, are likely to culminate in significant medical benefits. The story of chemokines and HIV coreceptors is an example of how years of basic research in seemingly different fields can rapidly and unexpectedly converge to produce insights with profound implications for future research and treatment. By uncovering the role that chemokines and their receptors play in HIV infection, investigators at NIAID have greatly advanced our understanding of how the virus enters immune cells. Continued work in this area has the potential for uncovering new strategies for preventing and treating HIV infection.
Since the discovery of HIV in 1983, scientists have been looking for the answers to two critical, but apparently unconnected, questions about the virus. The first question focused on finding substances produced by the immune system that could suppress HIV replication. The second question involved the identification of additional receptors or other mechanisms that play a part in HIV entry into immune cells.
The Search for HIV Suppressor Factors
One step toward answering the first question was taken in 1986, when NIAID-supported basic researchers found that immune cells called cytotoxic T lymphocytes (CTLs) secrete substances capable of suppressing HIV replication in cells grown in the laboratory. The same researchers supported this discovery with the finding that persons with HIV infection who did not develop symptoms of the disease for long periods of time had relatively high levels of CTLs in their blood. However, 10 years passed before the specific molecules or factors responsible for this suppression were identified.
In 1987, scientists studying basic immunology discovered the first of a family of molecules, collectively named chemokines, that play a role in activating the immune system's response to infection. These signaling molecules attach themselves to specific binding sites (receptors) on immune cells, trigger the cells to respond to infection, and call more immune cells to infected areas to fight invading microbes.
It was not until December 1995, however, that the connection between chemokines and HIV infection became clear. Researchers at NIH's National Cancer Institute (NCI) discovered that CTLs secrete certain chemokines that can suppress HIV activity. Three specific chemokines -- RANTES, MIP1-alpha, and MIP1-beta -- were found to work together to block HIV replication. Scientists at NIAID determined that other substances, or suppressive factors, secreted by CTLs also must be involved in HIV suppression. Since this discovery, researchers have found additional chemokines that suppress HIV replication and continue to work on identifying still other suppressive factors.
The Search for HIV Coreceptors
As scientists continued their endeavors to better understand the role of CTLs in HIV suppression, other investigators were following a very different path of inquiry. For more than a decade, AIDS researchers had known that a specific molecule, or receptor, on the surface of immune cells allowed HIV to enter cells. Studies in animals, however, indicated that this molecule, called CD4, alone was not sufficient -- some other molecule or molecules were involved in HIV infection of immune cells.
In 1994, researchers at NIAID developed an innovative test for studying HIV fusion with immune cells. Information obtained from this test led to the discovery in April 1996 of a second receptor needed for the entry of HIV into cells. Researchers named the newly identified receptor "fusin" (CXCR4) because it enables certain strains of HIV to fuse with and enter immune cells called T cells. An analysis of the structure of fusin revealed that it was a receptor for chemokines, the family of signaling molecules that includes beta-chemokines, which the previous December were shown to suppress HIV activity.
Just one month after the discovery of fusin, researchers from two collaborating NIAID laboratories found a second chemokine receptor, called CCR5, that was necessary for the entry of HIV into immune cells called macrophages. This receptor was already known to be the binding site for the chemokines recently found to play a pivotal role in suppressing HIV infection. The new findings suggest that the three chemokines suppress HIV replication by binding to the same receptors needed by certain strains of HIV to enter immune cells.
Chemokine Blockade of Coreceptors for HIV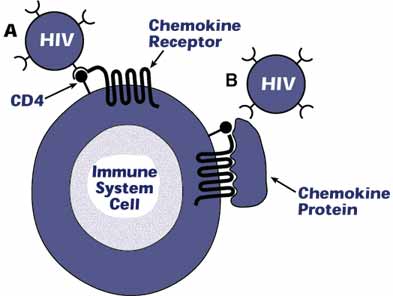 To enter a cell, HIV must attach to a CD4 molecule and a chemokine receptor on the surface of the cell as depicted at A. When the chemokine receptor is occupied or defective, HIV cannot attach to the cell because the second interaction ins physically blocked as depicted at B.
Insights on Resistance to HIV Infection
The discovery of these and other HIV coreceptors by NIAID researchers gave investigators new information that would allow them to tackle another longstanding question about HIV. Scientists have questioned for years why some individuals do not become infected with HIV despite repeated exposure to the virus. NIAID-supported researchers were spurred by the coreceptor breakthroughs to analyze blood samples from persons at high risk of contracting HIV, probing specifically for molecular differences between those who were infected and those who had been repeatedly exposed but somehow remained uninfected. These investigators quickly discovered that seemingly resistant individuals received two mutated copies (one from each parent) of the gene for CCR5, resulting in the lack of a functional CCR5 binding site on their immune cells. Without this coreceptor, HIV could not enter their cells. Researchers also found that HIV-infected individuals who had received a copy of the defective CCR5 gene from only one parent progressed more slowly to AIDS than those who had two normal copies of the gene. Because these mutations do not account for all cases of resistance to HIV infection, scientists are looking for other possible factors, including genetic defects involving other coreceptors.
Future Anti-HIV Strategies
Scientists already are exploring innovative treatment and vaccine strategies based on the leads provided by NIAID researchers. For example, it might be possible to treat HIV infection by developing drugs that block the coreceptors needed for HIV entry. Vaccines that trigger the activity of immune cells that inhibit the binding of HIV to coreceptors may be able to prevent infection. Although still in its early stages, the development of therapies and vaccines based on chemokine receptors promises to strengthen a growing arsenal of weapons for use in fighting HIV.