At the Vigil at Pride on June 25, 2004, lesbian activist and historian Maria Helena Dolan delivered a moving and highly informative speech on Queer history. We here at AIDS Survival Project believe it is worth publishing so that more people can be aware of the proud past of the gay and lesbian community and the effect AIDS has had on it, and be motivated to the kind of action that made great advances possible and that continues to be needed for the work that still must be done. After delivering her opening remarks in Spanish, Maria Helena began with her belief in the power of history.
I'm the kind of person who believes that the past informs the present and points the way towards the future. Our community is at a truly historic moment, and it behooves us to see this moment in context.
When I think about AIDS and the past, I think about two very close friends I lost to this disease and to the uncaring inability of the healthcare industry and the government to help them survive. Fortunately, things have improved, but I remember what it was like in the dark days.
I'm thinking now of Charlie St. John. He applied for the very first permit for a Pride march here, in 1972. On the application for the permit, the City anxiously asked, "How close will the marchers be to each other?" Not exactly a standard question. Thinking this absurd, Charlie wrote "very close." He was working as a copy boy for The Atlanta Journal Constitution, and when they got wind of his nefarious activities, he got fired. Some Queers protested this in front of the AJC building, but the paper didn't cover it.
Charlie worked on Pride and began the first lesbian and gay film festivals in the city in the '70s. He worked at Christopher's Kind, a gay bookstore that opened shortly after Charis Books, the still-existent lesbian feminist bookstore. Christopher's Kind featured, among other things, coffee table books with naked men, and poor Charlie was arrested several times on obscenity charges. Now, those were the days of Fulton County Solicitor Hinson McAuliffe, who hated all things Queer and who succeeded in shutting down all of the bookstores.
In recognition of all of Charlie's pioneering efforts, he was feted as Pride's first grand marshal in 1992. And he died shortly thereafter, as an indigent patient at Grady Hospital, after lying on a gurney in the emergency room for 14 hours. I know, because I had to go claim his body. That's how it was in those days -- not enough beds to go around, no drugs that would really keep you going. We don't always remember how things used to be.
Queer history didn't start in 1969 with Stonewall. Yes, the Stonewallers were brave, but that bravery couldn't match that of their forebears. And forebears there were.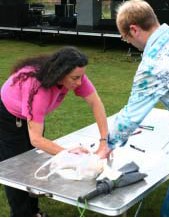 Maria Helena Dolan adds the names of those she honors to a remembrance ribbon at the Vigil at Pride. Photo: Chris Stark/Stark Photography.
Maria Helena then spoke in detail about the key events in the gay rights movement from the end of the 19th century until the Stonewall Rebellion: the early gay rights movements in Germany and France; the Queer flavor of the Harlem Renaissance of the 1920s; the first awareness of other Queers that people from all over the U.S. experienced when they were thrown together for service in World War II; the founding of the Mattachine Society by Harry Hay in 1948; the establishment of the first openly lesbian social and political group, the Daughters of Bilitis, by Del Martin and Phyllis Lyon, who were married this year in San Francisco after more than 50 years together; the first gay rights demonstrations in the U.S. in 1963 and 1965 in which a handful of brave people picketed against discrimination in the military; and the establishment of the first Queer book shop, the Oscar Wilde Memorial Bookstore, in New York in 1967, which is still operating. Putting all these events into the perspective of determined and courageous individuals banding together and effectively organizing for progressive social change, she then brought us up to Stonewall and the Queer rights movement here in Atlanta.
Atlanta managed to get our first Pride march in 1971 (not 1970, as has been reported), with a few dozen brave souls circulating on downtown Atlanta streets with signs. This was a first for the South. In 1976, Maynard Jackson declared "Gay Pride Day," another first in the South. He'd gotten elected to Atlanta's mayorship with the help of the Queer community, and he was essentially a progressive Black politician who believed that people should have basic civil rights. But a real firestorm erupted, with a furious bunch calling themselves Citizens for a Decent Atlanta demanding Maynard's head -- in a full-page ad in the Constitution. The anti-gay group was fueled by Cecil Day of Day's Inn and Magik Market fame. Maynard backed off the next year, proclaiming "Human Rights Day."
An interesting term, as this was the time of Anita Bryant. In 1977, Dade County (Florida) included "sexual preference" in a nondiscrimination ordinance, and Anita revived her flagging career with a money-raising and publicity-sucking machine called "Save Our Children." Apparently, children could only be saved by denying any protections to gay people, feeble as they might be. When she came to Atlanta as the star of the Southern Baptist Convention in '78, we were ready for her. We had 4,000 people march in front of the World Congress Center, where the Baptists were holed up. The upshot was that we got more people to take an interest in our movement and more people came out to Pride and other activities.
We held the fabled March on Washington in 1979, with hundreds of thousands of Queers taking over the town, at least equal in size to the famed 1963 March for Civil Rights. People were radicalized there, seeing our numbers and our strength and our determination. They went home and agitated and organized, and we all had a sense that the train of freedom was rolling down the tracks and had become unstoppable.
And then the CDC identified something called Gay-Related Immune Deficiency, or GRID, in 1981. That changed everything. Young, vital, creative Queers started dying suddenly and horribly, and no one would help. It became clear that we would have to build our own support networks and organizations -- and we did. A lot of us soldiered on. We started caring for each other and began the long, painful effort of getting the healthcare system to take our lives and our deaths seriously. It's hard to imagine now how it was back then. People would get sick and be dead inside a few weeks. No one knew what caused it. It was terrifying. And it wasn't lost on us that when some middle-aged veterans at a convention took sick, the government threw tons of resources into determining what was responsible for Legionnaires Disease.
Oh, we still had Toys for Tots drives at Christmas and bloodmobile donations outside gay bars, proving that we were good citizens (not so wise in retrospect). Drag queens still gave up their tips in June to help fund our local Pride march, and I was still getting kicked out of bars for leafleting for Pride, sometimes accompanied by bitter Queens hissing, "What's that fish doing in here?" Solidarity forever, boys.
In 1982, Michael Hardwick was arrested right here in Georgia in his own bedroom for sodomy. When the Supreme Court upheld this nefarious decision in 1987, we decided it was time to return to Washington, so we had that year's March for Lesbian, Gay, Bisexual and Transgendered Rights. Our movement had grown a bit more inclusive. This was the first display of the Quilt, which I think only had about 5,000 panels then. I remember a Native man who spoke about how, in his history, there was a time when people were dying of smallpox and no one knew where it came from or what caused it -- only that it killed mysteriously and horribly. But his people survived, and we would, too. It was moving, and heartening. ACT UP was formed a few years after the Gay Men's Health Crisis had come into being. Direct action and refusing to play nice made a difference.
I'm afraid that there just isn't time here and now to detail how we here in Atlanta formed AIDAtlanta, Brother to Brother, the Atlanta Lesbian Cancer Initiative, the AIDS and Privacy Committee and the Gay Rights Chapter of the ACLU of Georgia -- a whole host of things to make our lives better. But when recalling that '70s/'80s time period, I must mention my friend Ray Kluka. In the both the '70s and '80s, he was in the thick of political work within the city, cultivating politicians such as John Sweet and Mary Davis as allies for our community.
Ray was the first Director of the nascent Gay Center, and later an editor at ETC magazine. He was part of the group who eventually persuaded the AJC to stop using the word homosexual and instead use the word gay in its reporting. Ray worked on Pride and was one of the organizers both for the very first March on Washington and the 1987 March -- both wildly underreported by the media. Ray waved and watched me being arrested for being civilly disobedient on the steps of the Supreme Court protesting the Hardwick decision the day after that march.
Unhappily, he was diagnosed shortly thereafter. Those were the days of bactrim and AZT, not the most effective of treatments. When he died two years later, I wound up with all of his papers. Instead of letting them stay in my house and have the cats sleep in and piss on them, I and a small group formed The Atlanta Lesbian and Gay History Thing, specifically to preserve evidence of our lives and our heritage. Our collection is in the Atlanta History Center, the first such entity in the Southeast.
I charge everyone here with making similar kinds of efforts. Donate your historical items to the History Thing, check with Dave Hayward and the group "Touching Up Our Roots," work with Dr. Saralyn Chestnut at Emory and her oral history project, save your t-shirts and buttons and magazines and books and papers and newsletters and flyers and bumper stickers and everything which shows the rich spectrum of our existence. It's the only way to resist vanishing and to ensure that Queer culture is preserved for future generations. You can't be a people unless you have a history. And no one will or can do it for us.
Please be mindful of this very important moment. Some of us might think AIDS is simply manageable, that it's not a big deal any more, that a "cocktail" makes everything fine. Or they might think that the same-sex marriage debate "doesn't have anything to do with me, I don't want to get married." That kind of thinking is delusional. Progress only happens when people step up and put our shoulders to the Karmic Wheel; when we tell the truth about our lives; when we feel that our lives have inherent value and meaning.
Our history is full, rich, multi-hued, varied and ongoing. And it's up to us to take it into our hands and ensure that our history, culture and lives are acknowledged, valued and preserved. We need and deserve the same rights as anyone else in this country. The Constitution guarantees that. It's up to us to see that we gain access to them. Don't roll over. Fight the anti-marriage amendment, fight the bigotry and fight the hate. Take heart, and know that we are on the train of freedom, and it is gathering speed ... it is rolling down the tracks ... and it is unstoppable.