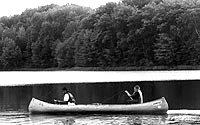 Imagine you are surrounded by towering trees. The sun's rays feel warm across your face, and each breath is filled with the scent of wildflowers. There are no honking horns, no sirens or squealing brakes--only occasional bursts of laughter and the steady, hypnotic chirping of songbirds.
Get the picture?
This year thousands of children with HIV, and often their siblings, parents, or caregivers, will be going to camp. Summer is peak camping season, and the number of camps geared toward families and children affected by HIV/AIDS is on the rise. While the biological, social, and emotional issues of living with HIV/AIDS are important aspects of the experience, most of all these camps offer a myriad of activities and a great escape filled with fresh air, a compassionate, informed staff, and tons of fun!
The Many Benefits of Camp
Everyone needs a respite from the pressure and stress of daily life, and children--especially children affected by HIV/AIDS--are no exception. Camp Heartland, founded for this purpose by Neil Willenson in 1993 and located in Willow River, Minnesota, is in many ways like thousands of other camps for kids. It offers three seven-day sessions in July and other year-round programs. Its West Coast sister, Camp Pacific Heartland in Malibu, California, provides two additional camping sessions in August. Activities at both camps include fishing, swimming, archery, and arts and crafts, among other kid favorites. "What differentiates us is the fact that all of the children are somehow touched by HIV/AIDS," says Willenson. "They're either living with the virus, have a parent or sibling with the virus, or have lost a loved one to the disease."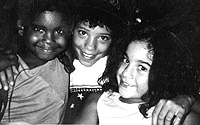 Camp Heartland, which encompasses eighty acres and serves 7- to 16-year-olds from across the United States, is the "world's largest camping and outreach program of its type." "What's most important," Willenson says, "is that everyone here understands. The first day of camp, we do a skit where we say, 'If you want to scream, "I have AIDS!" you can do it, or if you want to whisper, "I have AIDS," you can do it, or if you don't want to say anything, that's okay too.'" Willenson believes that for many children liberation is important. "For them to know that they are no different from anyone else, that they can be hugged and give hugs and that no one will be afraid of them, is what we strive for," he says.
There is no doubt that camp provides an educational venue for children and teens alike. Bob Lawson of the AIDS Foundation Houston is a Director of both Camp Hope, a week-long residential camp for HIV-positive children ages 7 to 17, and Camp H.U.G. (Hope, Understanding and Giving), a weekend family camp for positive children and their siblings and caregivers. "With the teenagers," Lawson says, "we do a series called Teen Talk where there are discussions about being HIV-positive, dating, and sexuality. Teens can ask questions and get an informed response."
The camps, located near Brenham, Texas, are collaborative efforts among AIDS Foundation Houston, Baylor College of Medicine, and Texas Children's Hospital, all in Houston, Texas. "Camp Hope definitely has a medical goal," says Lawson. "It enables the kids to learn more about their meds and how to take care of themselves." To ensure that adherence goals are met, post-evaluations are performed by Texas Children's Hospital and Baylor College of Medicine.
Another benefit of camp is the opportunity for children to make new friends and socialize with other kids. Theresa Aldape, a staff member at Camp Hope and a social worker at Texas Children's Hospital in Houston, says, "Prior to camp, many of the kids don't know each other. Camp offers them a network of children who are dealing with the exact same issues, such as meds, symptoms, and side effects." She adds that after camp is over, many of the children, who reside in Florida and throughout Texas, strengthen their friendships via e-mail and letter writing. This lasting benefit is especially important because, far too often, HIV can be a devastatingly isolating illness.
Family camp, a twist on residential children's camp, allows caregivers and parents the opportunity for a reprieve. "Everything from doctors' visits to cooking to shopping is taken care of by the volunteers," says Kathleen Donnelly, Director of the Birch Family Camp. The campsite, only 75 minutes from Manhattan in Putnam Valley, New York, offers a comfortably rustic environment with a lake and cabins. Birch is one of the programs offered by Herbert G. Birch Services and is staffed by 250 to 300 volunteers from the United States, Canada, and Europe.
The Birch Family Camp is unique in its approach of embracing entire families. "Theoretically, we could have a baby who is 2 months old with a custodial grandmother who is 77," says Donnelly. In August of this year, the Birch Family Camp will offer two one-week sessions, which will accommodate approximately 65 families from the New York City area, all of which have at least one member who is HIV-positive.
Pat Dozer, Director and Co-Founder of Sue Kuhlen's Camp for Kids near Columbia, South Carolina, has also made it a mission to assist caregivers and parents affected by HIV. "One of our goals is to give them some peace and quiet at home and a break from giving meds," she says. "Many of our caregivers are grandmothers who have paid their dues to society and should be in a position to sit back and relax. Instead, because of very sad circumstances, they're dealing with young children, homework, and not enough money to buy proper clothing or food."
Dozer co-founded the Camp for Kids in 1995 after losing her beloved son Dennis to AIDS. Before his death, Dennis challenged his parents "to make their time without him full of awareness and education, for both themselves and the community." That is exactly what Dozer has set out to do. The Camp for Kids is not a traditional week-long camp, but meets for one event a month, sometimes a day-long activity and sometimes an outing that lasts an entire weekend.
"We take the children to a different location every month," Dozer says. For example, Dozer and Camp for Kids volunteers supervised 87 children during a fun-filled weekend in Myrtle Beach, South Carolina, over the Christmas holidays. "We saw the Rockettes, and in the afternoon we went to the Aquarium," she says. "That night we went to a seafood buffet." The following day, a local bar owner sponsored an outdoor barbecue where all of the children received special stockings. "It was just awesome," Dozer recalls.
One of many goals at Camp Heartland is to give all of its children "a break from the discrimination and hurt" of AIDS. "They can't have a vacation from AIDS itself, or from the meds," Willenson says, "but we hope to give them relief from some of the pain associated with this illness." The same holds true at the Birch Family Camp, where love, acceptance, and connection with others set an admirable standard for the new millennium. "The networking between the families," Donnelly says, " is absolutely wonderful."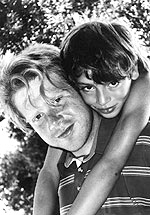 Medical Facilities and Professional Staff
Most residential camps concerned with HIV/AIDS issues have medical staff available 24 hours a day. Camp Hope, for example, has a complete medical facility with doctors, nurses, and an emergency room. This enables adherence to the various medical regimens each child must follow. Aldape of Camp Hope says, "We can set up anything these children need at camp, including breathing treatments, IVs, around-the-clock meds if necessary." The Birch Family Camp also has an on-site infirmary, as does Camp Heartland.
Since the Camp for Kids in South Carolina has no designated campsite, there is no infirmary, although Dozer emphasizes that there is a medical professional on duty at all times, and complete medical records are maintained. "We have only had one medical situation," she says. "A child cut her lip on the swimming pool, and the nurse thought she might need a stitch." Dozer immediately notified one of the doctors on the camp advisory board, who advised her to take the girl to the emergency room. As it turned out, the child did not need a stitch, but one of her ears was infected. "The emergency room doctor wrote out a prescription. We handled the cost, and that was all."
Camp Volunteers and Confidentiality
It is worth mentioning that camp volunteers must adhere to a professional code of conduct and spend hours and hours training for their volunteer positions. Jason Brollier is a bright and compassionate high school student and camp counselor at Camp Hope and Camp H.U.G in Texas. Last summer, Brollier supervised children who were in the 8- to 9-year-old age range, all of them HIV-positive. To become a volunteer with AIDS Foundation Houston, he attended an initial eight-hour session that included classes entitled "Intro to HIV" and "AIDS 101." "I had so many different classes with different teachers," Brollier recalls. "When I signed on as a camp counselor, it was another full day of class where psychiatrists from Texas Children's Hospital taught us new things about dealing with the kids." The quest for knowledge does not end with orientation, though. When camp is in session, Brollier and the other counselors meet daily to stay apprised about any unexpected condition that may arise.
When asked what qualities are important in a counselor working with children who are HIV-positive, Brollier quickly responds. "Patience." he says. "The counselor has to get into the child's shoes and understand." In Brollier's cabin, one of the boys--not surprisingly--never wanted to take his meds. "He was taking ten pills a day, and half of them made him feel awful," Brollier says. "I wouldn't want to take them if I were a 9-year-old kid either." Fortunately, though, there was a meeting of the minds. Following a mix of understanding, patience, and compassion, Brollier successfully convinced the child that taking his medicine was in his best interest, and they were off to the "meds room."
For protective reasons, most camps mandate a lengthy lesson on confidentiality in the orientation for new volunteers. At Camp for Kids, Dozer requires that each volunteer sign an oath that forbids revealing the names or any identifying information about a child or family associated with the camp. "That pledge involves no picture-taking," Dozer says. All of the camps recognize the issue as one of utmost importance. Donnelly, of the Birch Family Camp, says, "We have a very closed environment here. We don't accept a lot of visitors, so people feel extremely comfortable." Lawson of Camp Hope stresses that even the soda truck drivers are not permitted on camp premises without first signing a pledge of silence.
Camp Hope: A Typical Day
"A typical day is not so typical," camp counselor Brollier says, referring both to the complex regimen children with HIV face and to the rainbow of activities Camp Hope offers. Each day before breakfast, Brollier accompanies campers to the meds room, where doctors and nurses are in charge of dispensing. Then it is on to breakfast. "One of the children in my cabin always got sick to his stomach after the meds and breakfast, so I would take him to the bathroom, then make sure he brushed his teeth. After that, we would catch up with the other kids," Brollier says. Next it is time for the first activity of the day, such as archery, creative writing, or swimming. Afterwards, everyone takes time out for Canteen, another name for water break.
A second activity, such as arts and crafts, cooking class, or horseback riding is then chosen; during these morning hours the activity is the children's choice. Later it is cabin time, when all of the kids return to their respective cabins and play cards or color or just hang out before their next trip to the meds room. Then lunch is served in the dining room. "None of my kids got sick after lunch," Brollier observes.
In the afternoon, there are two more activities and a break. "These activities are group focused, with an emphasis on team-building and socialization," says Director Lawson. These group activities include team sports such as baseball, basketball, kickball, and soccer. Canoeing is another option at Camp Hope, as is something called "ropes challenge," which involves pulleys, ropes, and climbing walls of various heights in keeping with each child's physical ability.
As evening sets in, it is time for dinner, then on to yet another activity. "One night we had a dance, one night a carnival, or maybe a movie," Brollier says. Before retreating to the cabin, there is another round of meds, followed by more cabin time. At last it is time to drift to sleep to the gentle chirping of crickets.
---
Fresh air and new friends are wonderful ways to boost the spirit. Camp is a great way to experience both. Maybe it's time for you or someone you know to become a happy camper!
Cost and Contact Information
All of the camps mentioned in this article are free of charge. In most cases, transportation is provided by the camp. For information regarding the application process:
Camp Heartland and Camp Pacific Heartland: Augie Acevedo, 1845 North Farwell Avenue, Suite 310, Milwaukee, WI 53202; (800) 724-4673; pre-registration has already begun for Summer 2000.
Camp Hope and Camp H.U.G: AIDS Foundation Houston, 3202 Weslayan Annex, Houston, TX 77027; (713) 623-6796.
The Birch Family Camp: Kathleen Donnelly, Herbert G. Birch Services, 275 Seventh Avenue, Nineteenth Floor, New York, NY 10001; (212) 741-6522, ext. 208.
Sue Kuhlen's Camp for Kids: Pat Dozer, P.O. Box 1374, Lexington, SC 29072; (803) 957-7814; aidsmom@aol.com.
For information about other camps, visit the American Camping Association's website, www.acacamps.org.
Bliss Foster is an attorney and freelance writer who lives in Texas. This is her second contribution to Body Positive.
Back to the
April 2000
Issue of
Body Positive
Magazine.