It All Started With AIDSWatch
On Thursday, May 5, some 3,500 people living with HIV and their advocates from around the country asked our nation's leaders to walk a mile in the shoes of the AIDS community. The spirited demonstration made its way along Pennsylvania Avenue to deliver 8,500 pairs of shoes, representing the number of people who still die each and every day from AIDS, to the White House. Although many in the crowd were ACT UP veterans, it also was the rallying cry of a new generation of activists who are stepping up to claim their place in history through the launch of the Campaign to End AIDS.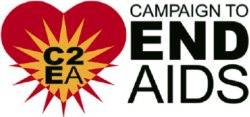 The march and rally was the culmination of a week of events marking the largest AIDSWatch ever held in D.C. The annual event, sponsored by the National Association of People with AIDS, brought nearly 600 people from every state in the union to Washington for a series of workshops on current issues and how to speak with members of Congress. There was also a congressional prayer breakfast, organized in part by Bob Gibeling of the Atlanta Interfaith AIDS Network.
Five people from Georgia joined their colleagues from around the country to take the message directly to Congress that the AIDS crisis is far from over and in many places, is only getting worse.
The message delivered to Capitol Hill included the following points:
Fully fund the U.S. global AIDS efforts at $4.6 billion. Both the President's Emergency Plan for AIDS Relief (PEPFAR) and the Global Fund to Fight AIDS, Tuberculosis and Malaria are needed to address the pandemic. We have an obligation to support both of these efforts.

Fully fund and reauthorize the Ryan White CARE Act at $2.6 billion. The CARE Act is the most important discretionary funding mechanism for the comprehensive care and treatment of HIV in this country. The AIDS Drug Assistance Program (ADAP) is one important part of the CARE Act, but it's the only portion that has had any increased funding over the past four years. Our system of care is beginning to weaken without the funds necessary to sustain it.

Fully fund the Housing Opportunities for People with AIDS Act (HOPWA) at $385 million and don't allow funding to be raided. HOPWA received a $14 million cut this year, and this important program cannot survive any more cuts. Furthermore, proposals such as moving HOPWA funds to ADAP should be opposed because people living with HIV should never have to choose between housing and medicine.

Domestic HIV prevention funding must be increased by $387 million to reduce new U.S. infections by one-half. If we can increase our level of funding to a total of $1.5 billion for the CDC's efforts to fight HIV/STDs and TB, we stand a real chance to reduce the number of new infections to less than 20,000 per year. We know that our prevention efforts work, but they cannot reach their goals without adequate funding.

Fight any cuts to Medicaid spending. Medicaid provides 55% of all publicly financed AIDS care and treatment and 90% of all AIDS care and treatment for children. Broad bipartisan support exists to protect Medicaid from budget cuts. We urge members of Congress to resist balancing the budget by cutting the essential safety net for hundreds of thousands of people living with AIDS.
While our message was well received, members of Congress will need to hear from more people before they begin to take action on these issues. In both Democratic and Republican offices, we were told that if they hear from their constituents, they will find ways of supporting these requests. You can always find the contact information for your member of Congress on the AIDS Survival Project web site.
We Will End AIDS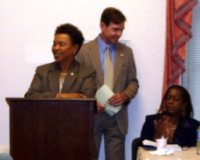 Rep. Barbara Lee (left) was introduced by Atlanta Interfaith AIDS Network's Bob Gibeling (center) at the AIDSWatch prayer breakfast. Photo: Tracy Bruce.
Of course, one successful lobbying event and one well-attended march will not end AIDS. That is where the Campaign to End AIDS (C2EA) begins. While there has been some talk about the campaign since the first of the year, the real power and promise of the campaign are only now coming to light. Perhaps the best way to understand what the campaign is, is to quote from the campaign training kit:
"There was once a time when we did not have the capacity to end AIDS. We did not know how it was transmitted, we did not have any idea how to treat it, and we had no inclination of the widespread pandemic it would become. But even when we had no capacity to end AIDS, we knew we had to fight AIDS.
"Back in 1983, before we even knew what HIV was, people gathered together in Denver and put together a statement of principles that still speaks to us today as we continue to fight AIDS. They gathered together and wrote, 'We condemn attempts to label us as victims, a term which implies defeat, and we are only occasionally patients, a term which implies passivity, helplessness and dependence upon the care of others. We are People with AIDS.'
"The authors of the Denver Principles invented themselves as people with AIDS, and helped invent the movement that allowed many of us to be here today. This movement has forever changed the relationship between doctors and patients, between researchers and subjects, between governments and people facing a life-threatening illness the government would rather ignore ... and is working to change the relationship between the wealthy world and the rest of the world where 95% of people with HIV today live, most without access to treatment or prevention tools.
"We can no longer say we do not have the capacity to end AIDS. We do not have a cure. We cannot prevent every single case of infection. But we have the capacity to end the epidemic that is raging out of control. We have the knowledge of how to treat HIV. We know how to bring effective prevention information and tools to people so they can protect themselves. We have the ability to house people so they can stay healthy and give them the support in our communities so they can stay whole.
"What we are lacking is a vision. Because we know we can end the epidemic, we know that we will. If we develop a road map to end AIDS, and commit ourselves to taking it on the road until we reach our destination, we can find the vision. It is a journey that was started before Denver in 1983, and that will go far past Washington, D.C., in 2005. And together with a vision and capacity, we will end AIDS."
Join the Campaign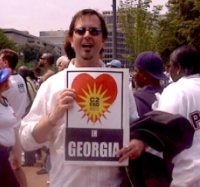 AIDS Survival Project Executive Director Jeff Graham at AIDSWatch 2005. Photo: Tracy Bruce.
Plans are already underway for a strong campaign in Georgia. A central component of the campaign will be the creation of nine caravans which will crisscross the country beginning in mid-September and culminating with five days of action and awareness in Washington, D.C., between October 8 and 12. Georgia will have two caravans passing through our state, stopping in the following cities: Columbus, Macon, Augusta, Savannah and Atlanta.
Graduates of the Positive Action Network are already working to raise the funds necessary for people living with HIV to participate in the caravans. You can donate directly to this scholarship fund through AIDS Survival Project, or provide general support to the campaign on their web site: www.endaidsnow.org.
For those unable to make it to Washington for all or part of the week, the caravans themselves will offer an opportunity to create local events that raise awareness of the ongoing needs of people living with HIV and those at risk of contracting HIV in local communities.
If you would like to join these efforts, please sign up with the campaign by visiting their Web site and then contact Georgia state coordinator Jeff Graham at JGraham@aidssurvivalproject.org.