In 1989, two years before receiving his HIV-positive diagnosis, poet and writer Dennis Rhodes wrote a series of candid letters to New York psychotherapist Daniel Bloom. They remain relevant today.
Dear Dan,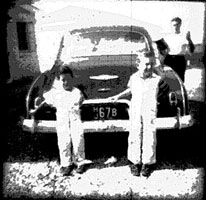 When I was in second grade, I was terrorized by an armless man, who was the living, breathing, balding, glowering stuff of a child's worst nightmare.
"Worst" is the operative word. The monster's name was actually Mr. Worsthorn. He had lost his arms in the war. And he was the Assistant Superintendent of Schools in West New York, New Jersey.
The reason I was sitting in front of his massive desk being terrorized had nothing to do with me. Not with anything I did, I mean. It was because of Freddie, my brother. Pugnacious, defiant Freddie. My polar opposite. As much a reflection of me as a funhouse mirror. Already a rising star in West New York's juvenile delinquent underground. Freddie, whose well-behaved, well-mannered, sweet little brother was the perfect foil for his pranks and atrocities.
AWOL
When my brother decided to play hookey from school, I had to play hookey too. In those days, truant officers were formidable figures, forces to be reckoned with. West New York had a corps of embittered, frustrated, middle-aged women who clearly hated children and who relished hunting them down.
I will never forget the morning my brother announced that we both had the flu and commanded me to stay in bed. Working his usual charms on my tender, pliable mother, he convinced her to call up Harry L. Bain School and declare us sick.
I lay there sick with fear. Sure enough, barely thirty minutes later, a decisive, wrathful knock assaulted the door. The OUTSIDE WORLD! God only knew what terrible sort of female was out there!
My brother, in the next bed, turned to me, the threat to my very life crystal clear in his face. Either I was sick now, or I'd be dead later. A woeful choice. Such is the tyranny of a malevolent big brother.
The apartment was hushed. My mother went to answer the door. Instantly, in our bedroom doorway was not a truant officer at all but, astonishingly, the principal of Harry L. Bain, Mr. Lodabole.
Good God.
I can see now the contemptuous esteem in which they held my brother. Mr. Lodabole was Elliott Ness coming to fetch Al Capone -- and his kid brother -- back to school. I know the only clear, unfevered thought I had at that moment was a thankfulness to God that my grandmother wasn't there for this. She hadn't yet come to live with us.
True to form, Freddie got away with it. He looked sick. He acted sick, masterfully. And anyone could see that I looked stricken.
Ever since that morning, Lodabole had it in for my brother. Not for me, mind you. Everyone knew that I was the patsy, the unwilling passenger along for the bumpy ride.
Shrinkage
They knew, practically from the first day of school. They sent me to the school psychologist. I vaguely remember him, but I clearly remember his dollhouse. He had this huge, enchanting dollhouse with four floors of rooms and tons of furniture. And a few people. I guess he was sure interested in how I configured those little people. I spent what seemed like hours playing with that house.
If he was a perceptive man, he saw the forces pulling at me -- my devotion to a loving but weak and passive mother, and my love, hate, and fear of a strong, domineering big brother.
When my grandmother came on the scene, I must have done some number on his dollhouse!
Hot Goods
It was the leather jacket that was very nearly my brother's undoing. The leather jacket from Robert Hall. A jacket that any kid in West New York would kill -- or at least beat up a Cuban kid -- for.
The jacket that one day Freddie came home wearing. Proud as a peacock. And I knew in an instant that he and his hoodlum friends had stolen it. Brothers know things like that.
I don't know the series of events that transpired once Freddie started sporting that jacket around town. What I do know is that in short order I found myself summoned before Mr. Worsthorn. Mr. Worsthorn who knew that I was a patient of the school psychologist. Who knew that I was half an orphan. Who knew that I was sensitive, vulnerable, innocent.
Mr. Worsthorn, who knew that I knew that my brother had stolen that jacket!
There was Freddie sitting next to me, in front of Mr. Worsthorn, the armless horror.
Worsthorn, with his sudden preemptive strike yanking us both from our classrooms, was going to put the squeeze on me to send my brother to reform school.
I did the only thing I could do.
I cried.
I cried so wrenchingly, so plaintively, so thoroughly, that my brother's heart went out to me and he was indignant, livid, at how the heartless -- and armless -- authorities were using his little brother.
I knew at that moment he loved me.
I never would have betrayed him.
---
I wish he had felt the same about me, later, when the crunch came. But that, perhaps, is for another letter.
Sincerely,
Dennis