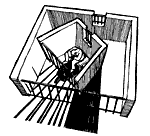 Prison isn't meant to be a pleasant place, and it's not. Freedom and privacy are nonexistent. Brutality, boredom, and isolation are constant.
Prisoners with HIV and AIDS serve even harsher sentences. They receive their medical care through the prison health system, which provides little in the way of specialized AIDS treatment or chronic care. Access to the latest drugs -- or even information about them -- is limited or nonexistent. Confidentiality is routinely violated.
For many, the worst part is the isolation. A prisoner with HIV cannot go to a PWAC or Body Positive support group, cannot even call a hotline at a time of crisis. Recent issues of both Body Positive (January 1999) and PWAC's Newsline (July/August 1998) that dealt with AIDS in prison were reportedly withheld from prisoners in many facilities.
Pen Pals
The Prison Pen Pals Project, a PWAC project that is moving to Body Positive as part of the consolidation, is an attempt to help alleviate the isolation so many prisoners experience, and to provide them with the information and support they need while living with the virus behind bars.
The People With AIDS Coalition has a long history of commitment to the needs of prisoners living with HIV/AIDS, and Newsline has been giving voice to incarcerated PWAs since it began publication in June 1985. Because they saw a need for real, hands-on support in the spirit of self-empowerment, some of the people at PWAC began corresponding informally with prisoners. The Prison Pen Pals Project was born.
The first official program began in January of 1990, with volunteer Carol Smyth as coordinator. Occasionally called Penfriends for Prisoners, the project's goal was and is to join HIV-positive inmates with caring pen pals outside of prison walls. The ability to share feelings and experiences about living with the virus with another HIV-positive person can mean the difference between hope and total despair for an individual in the custody of the prison system.
Garrett Donovan wrote to the project in December of 1990. "Being a PWA prisoner myself," he said, "I feel obligated to speak for us all. You know how difficult it can be at times dealing with this virus -- try putting yourself in our position. Many of us are here because we didn't know how to deal with our serostatus, we had no one to talk to about it and therefore turned to drugs to try to escape -- we didn't know any better at the time. We were filled with misconceptions. Many of us have been abandoned by our families, lovers, and friends, to face this virus all alone. We have no option as to what medical treatment is best for us -- we must settle for what the system allows." Garrett was released from prison, and in April of 1991 he came to PWAC to take charge of the growing program.
Volunteers
As is the case in most grassroots AIDS organizations, volunteers have always been the backbone of PWAC's services. The Prison Pen Pals Project is no exception. Throughout the years since the first letters were exchanged, the project has depended entirely on volunteers to recruit pen pals and to match them with the prisoners who need their help and support.
Our volunteers have come to us for many different reasons, by many different routes. Dennis Farrell, a long-term survivor who has been in prison several times, joined us in 1993. His own history led him to volunteer for the Project. "I know how hard it is in prison, period -- the isolation, the loneliness, the despair, the hopelessness of being behind walls and the feeling of no one caring can be overwhelming. And being in prison with HIV is double trouble."
John Ide, who came to us in 1994, was drawn to the project for different reasons. John is a minister who was working at a hospice in New York City at the time. Most of his work had been with people in the final stages of AIDS or cancer. John had visited a friend in prison 25 years before, and the impression of living behind walls never left him. He thought about how much harder it must be to face that as a PWA and immediately volunteered for the project. His job was to match HIV-positive inmates with pen pals and to send resources and treatment information to incarcerated PWAs. "I feel the most supportive people are those in the same shoes as people in prison -- people who have been there," he says. "However, anyone can be a great source of comfort to a PWA inmate simply by being there for them, just letting them know you care enough by writing."
The Pen Pals Project has been through many incarnations, and being a volunteer-run program has had its ups and downs. Paul Muller, who later became PWAC's Outreach Coordinator, wrote to ask for a pen pal some years ago while he was incarcerated. He finally got a letter five months later -- on the day before his release.
Kim Williams has been acknowledging the project's letters since October of 1998. "It gives me a sense of pride to be able to help someone who is living with the virus in prison," he says. "I just came home from prison last year in May, and I know how cold and unfeeling the system is about the virus."
Kim is vocal in his encouragement of people on the outside to volunteer for the project: "When I first started working here I wasn't getting any mail addressed personally to me. It was addressed to the Pen Pals Project. After about two months I started getting mail addressed to me at PWAC. Then I got mail from people who had heard about me from a friend. I try to answer all the mail on the same day that I read it. And a lot of guys thank me for responding so quickly. I do my personal pen pals first before taking the new mail coming in. I like doing it. It's really not a lot of work, just writing."
Going Forward
The need today is as acute as it was when the project began. The incidence of HIV in United States prisons has been estimated at many times that of the population as a whole, and it is increasing at a frightening rate. And the situation behind the walls has not improved. As an inmate in Arizona wrote us just last month, "I lost my family when they found out I had AIDS. They don't want anything to do with me. I don't have any friends in the prison here, so I don't have anyone to help me out or even write me a short letter. Please, if you could get me some people to write who would be willing to write to me as well."
The Prison Pen Pals Project has worked for over nine years now with no funding, and the demand has always been higher than the supply of nonincarcerated writers. Correspondence with other inmates is not allowed in most facilities, and where it is allowed it requires a tremendous amount of red tape. Project volunteer Lenore Aubry expresses her frustration at having to make people wait for pen pals. "We send them response letters letting them know that we have their letters and have them on our waiting list. A lot of these inmates are very impatient when I don't have anyone for them."
Carmen Navarro, Body Positive's Co-Director of Community Outreach and Education and the new supervisor of the Prison Pen Pals Project, is working on ways to speed things up. She plans to enlist the aid of the agency's peer educators to respond to those prisoner letters asking for information or referrals at the same time she explores ways to recruit new ongoing pen pals. Anyone, infected or affected by HIV/AIDS, who is interested in volunteering for the Project should call her at (212) 566-7333.
Corresponding with an HIV-positive inmate can make a huge different in that person's life, and in your own. The rewards are immediate. Spiritual satisfaction is guaranteed. One nonincarcerated participant explains the experience as, "so rewarding. I have two prison pen pals and they have truly enriched my life. It's amazing how a page or two can have such a profound effect on my life and the life of my pen pal. I wait anxiously for my next letter and I know my friend does too. Dealing with my virus, here in freedom, seems less troublesome when I read about the lives of my friends in captivity."
Cheryl Whittier is the former Managing Editor of Newsline, the English-language magazine of the People With AIDS Coalition. She joins Body Positive as Managing Editor of the Resource Directory.
Illustration by Phil Graziano.
Back to the July 1999 Issue of Body Positive Magazine