When I first found out I was HIV positive, I felt completely alone -- nowhere to turn, no one who understood. Finding Body Positive and the peer support they offer changed my life and helped me gain the confidence to live with the disease. Now I am helping others maintain control over their lives by leading a BP support group.
The help and support that Body Positive client received at the time he learned he was HIV-positive was not available in the early years of the epidemic. It was not until 1987 that a group of volunteers, recognizing the need for -- and distinct lack of -- services designed specifically for people who were newly diagnosed yet asymptomatic, came together to form Body Positive and begin this agency's history of service to communities affected by HIV and AIDS.
Through the early and middle 1980s, a comprehensive network of health and social services for people with AIDS had grown up in New York City. Agencies had been formed to provide case management, housing, and support for the growing number of people facing severe illness and death. By 1987, there were 15,432 people in New York City who were living with an AIDS diagnosis, the official stamp that provided entrée to this service network.
At the same time, however, there were tens of thousands more people whose condition had not yet progressed that far. They had tested positive on the HIV-antibody test. They had sat through the pre-test counseling, checked off their calendar waiting for the test result, and heard the news they did not want to hear. But they had not yet developed the opportunistic infections or very low T-cell counts that defined AIDS. Individuals who had just tested positive for HIV faced significant medical and emotional challenges, but without an AIDS diagnosis they lacked that official stamp that opened the doors of the service agencies.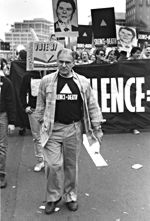 Meeting the Needs of the Newly Diagnosed
Into this void stepped Michael Hirsch and Paul Wychules. Connected to the community of people living with HIV and AIDS and to the larger gay community in New York City, Michael and Paul recognized the need for services specifically aimed at this affected group. And so, being activists, they acted. Body Positive was born.
Initially housed at the offices of the Community Health Project, Body Positive began life as a totally volunteer organization. Our peer-led method of providing services was based on the idea that people who were themselves living with HIV could best assist and support others living with the virus. Michael, Paul, and the volunteers began conducting educational seminars and later that year set up the BP Helpline.
The primary goal of these first programs was to provide information and address the fears of people who were just learning, or just coming to terms with, the fact that they were HIV-positive. Over time, it became apparent that a personal support network was important to a person with HIV. We began to offer services aimed at educating families, lovers, partners, and caregivers about the virus and the needs of people with HIV so that they were better equipped to assist their HIV-positive loved ones.
The following year, 1988, was a year of growth and change. Michael Hirsch left to pursue other activism. We moved out of the CHP office into our own space in the Rutgers Church House. New support groups expanded on the original idea of peer-led services. These groups, led by professionally trained and supervised volunteers, took the traditional group approach of discussing mostly emotional issues related to living with HIV.
That same year, we published the first issue of Body Positive magazine. With the dual purpose of providing information and spreading the word that services were available for people learning to deal with their serostatus, the magazine marked a significant expansion in BP's ability to reach people. Available in doctors' offices, HIV testing sites, community-based organizations, and elsewhere, the new magazine offered concrete information for people living with the virus. Early articles included "The New Yorker's Bill of Rights for HIV Antibody Testing," "Spiritual Support for People with HIV," "Fear of Disclosure," "Homeless with HIV," along with regular columns on treatment options and policy issues.
The simple concept that "You Are Not Alone" was adopted as the agency's creed. It conveyed the message that Michael, Paul, and the host of volunteers tried to communicate to everyone who called upon the agency: Being HIV-positive need not mean isolation and the end of a full, productive life. Help is available from the community connected to BP and from others in your personal life, to answer your questions, give you information, and provide you with support and assistance. So important is this philosophy that it is spelled out in an article that still appears in every issue of Body Positive.
Clarifying Our Mission Through Expansion
With Paul Wychules now leading the agency, Body Positive continued to grow in 1989, and it was during that year that we received our first government grant. The New York State Department of Health AIDS Institute, recognizing the impact of our peer-provided services, hired us to reach out to communities just becoming affected by HIV and to provide our services in those emerging communities. Increasing numbers of women, people of color, and people with histories of injection drug use were testing positive, and our challenge was to meet the new needs these people with HIV presented.
And how would BP, an agency that was formed by white gay men and that historically had served white gay men, reach these new communities? The answer lay in the peer-based system we already used: Have community people -- peers -- provide services to members of their own communities.
By recruiting new peers from emerging communities in the Bronx and Brooklyn, paying them stipends to provide services, we were able to help the newly diagnosed in those communities understand and use their power to make their own choices about how to live with HIV. Thus we were able to adapt our programs to meet the needs of both our old and our new constituencies.
This was actually a dual expansion, not only to new constituencies but to boroughs outside Manhattan, and it led to the development of a second basic tenet underlying BP's programs: Not only do people respond best to their peers, but they are more likely to utilize services when the programs are brought to them. To this day, we bring our programs to the neighborhoods where people live, throughout the five boroughs of New York City, rather than expecting people to travel to our office in Manhattan.
As our services expanded and our constituency diversified, BP's tasks became clearer: Provide information and support. Use peers -- people living with or affected by HIV -- to deliver these services. Make our services accessible and bring them to communities in need. The result has been empowering people at the time of diagnosis, a time when they may otherwise feel powerless.
Also in 1989, recognizing another aspect of the isolation that the newly diagnosed may feel, we began producing social events for people living with HIV. Specifically designed for distinct communities, these activities offered an opportunity for HIV-positive individuals to socialize in a warm, welcoming, and safe environment. Our annual River Cruise, a floating party on the Hudson River, began at about this time, as did the Gay Social. "Positive Connections," personal ads for people living with HIV, became a regular feature in the magazine. This social programming has become a BP staple, reinforcing our basic philosophy that an HIV diagnosis does not leave someone alone.
That same year, Michael Hirsch died. Michael's energy, vision, and commitment to using peers to provide services have left a lasting impression on the culture of BP. This commitment remains a cornerstone of the agency's work as it seeks to empower people with HIV and AIDS to make their own choices.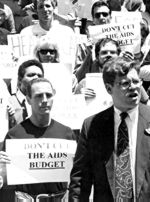 The '90s
There were 35,503 cases of AIDS in New York City in 1990, when the federal government finally entered the HIV/AIDS service delivery arena. With the passage of the Ryan White CARE Act, dollars to support services for people dealing with HIV and AIDS began to flow into the city.
Against this backdrop, BP continued to expand to meet the growing service needs. New staff and new funding enabled us to enhance our ability to produce written material. As the first step toward producing treatment, prevention, and support information for the Latino communities, a Spanish section was developed for Body Positive, with support from the New York City Department of Health.
That same year, the United Hospital Fund recognized our role as a source of information and awarded BP a grant to begin production of what was to become Positive Options, a manual for people living with HIV and AIDS. Addressing such topics as disclosure, spirituality, safer sex, discrimination, disability, and feelings in the first year of being HIV-positive, Positive Options is about life -- not death -- with HIV. As with the agency's educational workshops and support groups, Positive Options was designed to put concrete information into the hands of the people who need it most. Its purpose is to help people living with HIV and AIDS and the people who share their lives to make their own choices about which medications to take, what type of sex to have, and how to control information about their health.
The early '90s saw a continued expansion of BP's staff and programs. By 1992, when the staff had grown to twelve, we launched our Heterosexual Social. Similar to the Gay Social, this event provides opportunities for HIV-positive heterosexuals to socialize in a welcoming environment. In response to the growing needs of people of color in Harlem, Washington Heights, and the South Bronx, these socials are held in uptown Manhattan.
The following year saw the first of BP's popular Sunday Tea Dances for gay men, yet another demonstration that "You Are Not Alone." We expanded our services for Spanish-speaking communities by beginning to publish El Cuerpo Positivo, a quarterly magazine addressing issues of importance in Latino communities. Through this publication, the growing number of Latinos living with HIV could read concrete information about the virus in their language of origin. They could learn about HIV in their communities, rather than depending on translations of English publications dealing with issues that might not be their own.
As the decade progressed and the scope of the HIV epidemic in communities of color became clearer to the general public, we have continued to target those neighborhoods in need. With the support of the AIDS Institute, we have been able expand our peer-based services to the Bronx, Brooklyn, East Harlem, and Staten Island.
BP-trained peer educators from these communities provide information and referrals through street outreach and by conducting groups. Different from the traditional groups established early in BP's history, these meetings are specifically designed to address issues relevant to communities of color. Unlike the more traditional groups, with their focus on emotional issues, these groups focus on concrete needs, brought to the groups both by participants and by peer group leaders: How do I negotiate safer sex with my partner? How do I talk with people about being positive? What effect does stress have on my HIV, and what can I do to reduce it?
The latter part of the '90s has brought many changes. In response to a dramatic rise in infection among women, BP began its Women's HIV Prevention Initiative in 1997. This program brings woman-specific HIV information to women of color in Central and East Harlem. Again utilizing peer-led groups, it provides information about sexuality, health issues, and pregnancy and childbirth. The groups enable women to form support networks and to address their fears and concerns about asking partners to use condoms, domestic violence, and newborn screening. They help women regain a sense of control and power over their own lives. They remind women that they, like other communities, do not have to face life with HIV alone.
One of the most important developments of this decade has been the approval of protease inhibitors. The "cocktails," as the new drug regimens are called, have changed the way we all look at HIV disease.
For those people who have access to the drugs and who respond well to them, the results have often been dramatic. Life with HIV seems perhaps manageable ... with a catch. To succeed with these treatments, people must submit to complex regimens involving forty or fifty (or more) pills every day -- some taken with food, some without, some with certain foods but never with others, some that cannot be taken together.
Adherence to these regimens is critical to the success of protease inhibitor therapy. Not only has BP integrated these issues into its peer-led groups, we have also recognized the need to educate providers about the challenges of adherence.
In May of 1998, BP sponsored its first one-day meeting targeting both consumers and providers. Bringing more than 300 doctors, nurses, social workers, case managers, substance-abuse counselors, and consumers together marked yet another expansion of the services we offer. Nationally recognized experts presented information about the state of protease inhibitor research and the psychosocial aspects of adherence. Health and social service providers joined consumers on panels to lead discussions about the practical challenges of combination therapies.
The 1998 conference on adherence was the first of what is to be an annual BP-sponsored meeting that brings consumers and providers together to address important issues. This year's conference, scheduled for October 1, 1999, will deal with complementary and alternative therapies, particularly as they can be used to alleviate the side effects of protease inhibitor therapy.
BP has also taken advantage of another '90s phenomenon, the information explosion fostered by the growth of the Internet. We now have a website, www.thebody.com/bp/bp.html, that features every issue of Body Positive since April 1997 and selected articles from previous issues, excerpts from Positive Options, and information about agency events and programs. In 1997, BP launched the Electronic Treatment Education Program, through which consumers and providers can learn how to find treatment information on the Internet and how to evaluate it. Teaching people to harness the power of the Internet is yet another way to put the power to make decisions into the hands of the people those decisions affect.
Poised for the New Century
A lot has happened since the early days of Body Positive. New programs, new staff, and the evolution out of organizational infancy have allowed us to remain responsive to the ever-changing needs of the diverse communities affected by HIV and AIDS. Last year, BP programs reached more than 16,000 people. Our educational workshops address such varied topics as treatments, social support, and legal/policy issues. Body Positive magazine has grown to a readership of more than 75,000 people monthly.
Some things, however, have remained constant. The notion that the power to make choices about living with HIV must remain in the hands of the individual living with the virus remains the foundation of BP programming. We are still committed to using peers to provide information and support. These constants have served BP well and have enabled us to prepare for a future of continued service to the community.
As the century draws to a close, the environment in which BP and other agencies deliver services has changed dramatically. Treatment advances have helped some people with HIV and AIDS live longer, more active lives. The distinctions between being HIV-positive and having an AIDS diagnosis -- differences that led to the creation of Body Positive -- have become less important. Changes in the way health care is delivered and the onset of managed care have forced community-based organizations to reexamine how they operate. Finally, raising money has become increasingly more difficult.
What does the future hold for BP and for the thousands of you who rely on us for information, education, and support? We have decided to meet these challenges head on by consolidating our services with those of the People With AIDS Coalition of New York. Our aim is to ensure that the message of empowerment -- the message that people living with HIV and AIDS have the ability and the right to speak for themselves and make their own decisions about how they choose to live their lives -- lives on. While BP and PWAC have historically served people at different stages of HIV disease, changes in the epidemic have made it possible for our two agencies to join forces. Political and economic changes have made the most efficient possible service delivery a necessity. Our consolidation with PWAC is an affirmative response to both this possibility and this necessity, and will prepare Body Positive to meet the future challenges of the epidemic by providing relevant, accessible, and empowering services.
Scott Cotenoff is Executive Director of Body Positive.
Photos by Richard C. Wandel, Courtesy National Archive of Lesbian and Gay History; and Dan Luhmann.
Back to the July 1999 Issue of Body Positive Magazine