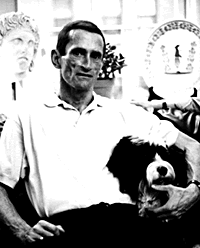 "I guess you could say that Madison keeps us alive," said Bob Chapman, a 43-year-old Upper West Sider, referring to his dog, a four-year-old Tibetan Terrier, who sat next to him on the couch, shamelessly demanding that his stomach be stroked.
Bob's story is not only that of a man's five-year battle with AIDS, but also the story of his support system -- his lover, family and friends, his knowledgeable doctor and his dog. Bob is a portrait of quiet strength with an acceptance of the emotions that come with the disease.
"I try to keep my attitude strong and work on beating fatigue. I try to stick to as normal a routine as possible," said Bob, a banking executive who retired on disability four years ago. "I still go to the gym when I can."
Bob was working in Chicago when he was first diagnosed with HIV in 1988. "I sort of expected it," he said. "The man I'd broken up with then told me he was positive. I had an acceptance of it, but I felt horrible for bringing pain on my parents."
Bob was born in a tiny Illinois town of 900 people, went to the state university and married his grade school sweetheart. After 18 months of marriage, Bob realized that his interest in men was more than a passing phase, broke up with his wife and came out.
After years as a banking executive in Houston and Chicago, Bob was transferred to New York by First Chicago five years ago. "A guy who went to my doctor knew that I was lonely, and he set up a date for me with Bill." Their attraction was immediate, and they quickly became a couple.
Soon after Bob and Bill got involved, Bob's health fell apart. "I was in Illinois visiting my parents for Christmas. I was hospitalized with a rare bacterial lung infection. I was in a coma for several days." When Bob came out of his coma, the first thing he asked Bill to do was to promise to follow through on plans to get them a dog.
Bob and his lover, Bill Gehron, make an interesting couple in their combination of personal styles. Sitting in their beautiful West 80s apartment on a quiet side street, the walls are covered with family photos. Bob is a plainspoken son of the Midwest, with steady blue eyes and a dry wit. Bill is a more gregarious man, with ready stories of his large Irish family and their long history in New York..
It is Bill who provides Bob with his spiritual anchor. "You have to find passion in things, in your interests," said Bill, who is 44 and tested positive in 1990. He has remained reasonably healthy. "It helps if you are lucky enough to have a companion, and the support of family and friends."
Bill is a former high-level hotel executive. "I get additional strength volunteering," which includes work for Body Positive. "For me, it is a win/win situation."
"In 1994, I thought I couldn't go on," said Bob matter-of-factly. "I would be dead if it weren't for Bill. I am alive because of his caring and feelings for me."
"My family was very supportive when I came out to them about my HIV," said Bob. "My father was angry at first because there was nothing he could do about it."
Bob also credits much of his survival over the past five years to his strong physician, Dr. Howard Grossman, an infectious disease specialist at Roosevelt Hospital. Bob had been Grossman's patient for less than a year when he came down with PCP. "I was at Roosevelt, and I'd been very emotional, crying and crying. Dr. Grossman came in my room and said, 'You've got two choices -- you can be a cry baby, or you can fight this disease and go on.' He's trying to make me strong, a better person."
"Dr. Grossman has made all the new drugs available to me," said Bob. "I benefit for a short while, then I slide back. The newest drugs -- Sustiva and Abacavir -- are the most intolerant for me."
When the drug regimen gets really rough, Bob succumbs to Bill's culinary sustenance. "Bill's an excellent cook, really inventive. My favorite is pasta -- anything with a red sauce."
The last year has been rough for Bob. "I've been in the hospital five times. I've been having trouble breathing, and that's scary -- I don't feel safe in my own home."
To distract himself, Bob turns to sports. "I love to watch basketball, especially the Bulls, who make me proud to be from Chicago. Why? Because they win," he said with a wide grin. :
Back to the July 1998 Issue of Body Positive Magazine.