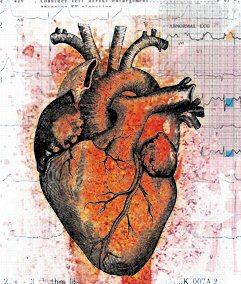 Joyce Turner Keller stumbled onto a meeting on heart disease in HIV while attending the Ryan White conference in Washington, D.C. in August. As a woman in her 50's living with HIV for more than 10 years, and taking HAART (highly active antiretroviral therapy), it made her wonder -- what should she know about protecting herself from heart disease?
Turner Keller stood up in the audience and asked the panel of experts at the roundtable that question. Given her age, given her virus, given her HIV therapy history -- what should she discuss with her doctor and what advice do they have for her?
HIV specialists Dr. Steven K. Grinspoon of Boston and Dr. Julian M. Falutz of Montreal along with cardiologist Dr. Ann Bolger of San Francisco were in agreement -- make sure your doctor is thinking about your risks for heart disease.
"The last thing a doctor thought of was a patient's glucose and insulin when they were fighting to save your life from PCP," said Falutz, an assistant professor of Medicine at Montreal General Hospital and McGill University. "Now that these drugs are available we need to think in a different way. Obviously at that time we were completely focused on measuring and treating opportunistic infections. We've come a long way and it's a different world now."
Grinspoon added, "HIV is very important, but it's important to focus on risk factors for atherosclorosis. Doctors see HIV on the [patient's] chart and everything else drops off that chart. Now that's not acceptable."
A New World
Thanks to HIV therapy, people with the virus are much less likely to die of AIDS-related causes. Instead, they are dying in greater proportion of common conditions that strike the general population, such as cancer, diabetes, and heart disease. Part of this has to do with simple aging -- the longer you live, the greater your risk of these and other diseases. For example, death from coronary heart disease (CHD) in particular may not be surprising considering that it's the leading cause of death in this country (as well as Europe).
Last year, the American Heart Association (AHA) and the American Academy of HIV Medicine (the Academy) collaborated on a State of the Science conference to look at what's known -- and what's not known -- about cardiovascular disease (disease of the heart and its blood vessels) in people with HIV. Earlier this year, the collaboration simultaneously published its findings in the association's journal Circulation (June 20) and in the Journal of Acquired Immune Deficiency Syndrome (JAIDS).
Note: The conference was funded (and the report was funded in part) by an unrestricted educational grant from Bristol-Myers Squibb, a pharmaceutical company whose products include HIV medications. The AHA, the Academy, and the resulting Initiative stress that the funding did not influence their work in any way.
Key Points
The risk for heart attack is 70 to 80% higher among people with HIV compared to those who do not have HIV, but the actual (absolute) risk is still low for younger patients.
The virus itself is associated with two important risk factors for heart disease: low levels of HDL (the "good" cholesterol) and increased levels of triglycerides (a type of blood fat). (There are other HIV effects as well.)
Large studies suggest that the increase in cardiovascular disease being seen is also associated with HIV therapy, including metabolic abnormalities such as diabetes and increased triglycerides, among others. Research also shows that even children are affected. There is a large variation in risk, however, seen among the medications within the HIV drug classes.
Both HIV and its therapy are also associated with heart disease that is not atherosclerotic (narrowing of the arteries), such as pulmonary hypertension (high blood pressure in the lungs) and pericardial disease (inflammation of the membranous sac surrounding the heart). All in all, there are several ways in which HIV and its therapy are thought to have a negative effect on the heart.
At the same time, one large international study (SMART) found that having people delay or go on and off their HIV therapy was actually associated with a higher risk of heart disease and other serious illnesses compared to those who went on meds and took them continuously.
New HIV treatments may be associated with fewer metabolic effects.
HIV-positive people on therapy who experienced heart trouble often tend to be those who also had traditional risk factors such as smoking, high blood pressure (hypertension), and family history of cardiovascular disease.
Whether the greater risk of heart disease comes from HIV therapy, traditional risk factors, or from a combination of the two is not yet known.
Doctors can use current tools to determine risks that were developed in an HIV-negative population, such as the risk assessment from the Framingham Heart Study, which measures the probability of having a heart attack or death from coronary disease over the following 10 years. Framingham, however, may under-predict the risk of heart attacks in HIV-positive people who smoke. Also, although the tools seem to work well in people with HIV, the testing of these measurements need to include HIV-positive individuals in order to be validated for this population. (Take the Framingham risk assessment for yourself, available at www.nhlbi.nih.gov/about/framingham/index.html. The conference report points out that Framingham looks at risk, and people can still experience a heart attack even if their score finds them at low risk.)
"The members of the initiative [to decrease cardiovascular risk and increase quality of care for patients living with HIV/AIDS] recommend that strategies to prevent cardiovascular disease in HIV-[positive] patients should focus on reducing traditional risk factors, as well as HIV and ART [drug]-specific risk factors," said Grinspoon, co-chair of the conference, in a press release. Grinspoon is professor of medicine at Harvard Medical School and Massachusetts General Hospital in Boston. "In essence, it means practicing good preventive medicine with all patients, including those who have HIV."
What Role Does HIV Therapy Play in Heart Disease?
The effect of the virus and of traditional risk factors is one thing, the effect of HIV therapy is another. People with HIV are especially concerned with the effects of antiviral therapy, some of which have been associated with an increased risk for heart disease.
One of the five working groups created at the conference was dedicated to this concern. Grinspoon said that three studies in particular were thought by the conference to answer this question. Each of these studies looked at thousands of individuals.
There's a twist, however. As usual, the studies are now outdated. Newer HIV drugs that are kinder on the heart are used more today. Still, the HIV specialists at the conference, along with patients also participating, say that more needs to be known.
The first of the three studies reported 127 cardiovascular events in 7,542 individuals with HIV. Dr. Iloeje and colleagues, reporting in 2005, found that having a protease inhibitor in your HIV regimen increased the risk of cardiovascular disease by 71% (see Positively Aware's Annual HIV Drug Guide, January/February issue, for the different classes of medications and their components).
The other two reports came from the DAD Study. The research team for DAD I last year reported that there's a 16% increase in heart attack for each year of taking a protease inhibitor. The study found 345 heart attacks in 23,437 individuals. DAD II reported, also in 2007, that there is a 24% increase in heart attack for each year of being on HIV therapy period. It found 40 heart attacks in 10,002 individuals. Grinspoon pointed out that many of the cardiac events were in young patients, which is of special concern because it's unusual for this age group.
It takes years, however, for researchers to publish their findings. In this case, that means that the results are at least in part outdated. To some extent, they looked at drugs that were being used before, but are rare today. Partial funder Bristol-Myers Squibb, for example, has the newer protease inhibitor Reyataz that's known for not increasing lipid levels, unlike most of the other drugs in its class.
Still, doctors are cautious about assuming that higher lipid levels caused by HIV therapy increase the risk of heart disease. They want solid evidence -- from studies that may never be conducted. As usual, the researchers point to a depressing fact: you would need to do a study with a whole lot of people over a very long time in order to get definitive answers. That's just not easy to do. They would also need a control group -- people without HIV but with similar characteristics in order to compare the two populations. That would be difficult too.
What Else Is Known About the HIV Medications?
According to the report summary, "Numerous effects of HAART, both class-specific and non-class specific, have been reported with respect to lipids, glucose [blood sugar], and body composition [increased belly fat is co-related with heart disease]."
Among protease inhibitors, Norvir (ritonavir) most significantly increases triglycerides.
Increased triglyceride levels may also occur with the nucleoside reverse transcriptase inhibitor (NRTI) Zerit (stavudine) and the non-nucleoside reverse transcriptase inhibitor (NNRTI) Sustiva (efavirenz).
"LDL cholesterol increases modestly with initiation of most forms of HAART; this increase is not due to direct effects of specific antiretroviral drugs, but whether it relates to immune effects or restoration of health remains unclear. Significant increases in LDL cholesterol among HIV-[positive] patients are more likely to be due to genetic and dietary causes."
"Although [NNRTIs] increase HDL cholesterol, most other antiretroviral therapies do not, and low HDL cholesterol levels may contribute to coronary heart disease in HIV-[positive] patients."
Insulin resistance may be caused by specific drugs, including indinavir [Crixivan] and other PIs, but is less likely to occur with newer PIs.
"Changes in renal [kidney] function due to HIV may contribute to increased cardiovascular disease. Microalbuminuria is five times more common among HIV-[positive] patients than among non-HIV infected subjects in the current era of HAART and is associated with black race and other cardiovascular disease risk factors."
"Importantly, smoking rates are higher in HIV-infected patients and also contribute significantly to increased risk."
"Other traditional risk factors such as male sex and [older] age, as well as diabetes mellitus [the technical term for diabetes] and dyslipidemia, also contribute to CHD to a degree similar to that seen in non-HIV infected patients; however, rates of dyslipidemia and diabetes appear to be higher among HIV-[positive] patients."
"Because HIV-[positive] patients live longer owing to the success of HAART, these factors may become even more important. Rates of non-traditional risk factors such as inflammation have not been well evaluated in terms of cardiovascular disease risk in the HIV-infected population."
Future research needs to determine whether increased risk is related to HIV or its therapy, or whether the presence of HIV infection is an indication (a "marker") of populations at greater risk. For example, several reports have found a much higher rate of smoking in HIV-positive people.
"Measurement of fasting glucose and lipids at least yearly in HIV-infected patients and with changes in antiretroviral therapy is critical."
Recommendations and Guidelines for Screening for Cardiovascular Risk Factors in HIV-Infected Individuals, from the Infectious Diseases Society of America, HIV Medicine Association
Fasting lipid levels should be monitored before and within 4-6 weeks after starting HAART.
Fasting glucose levels should be measured before and during HAART; currently, routine monitoring of insulin levels and/or oral glucose tolerance testing are not recommended.
Routine measurements of body weight and patient self-report of body shape changes are sufficient for clinical practice.
Note:
recommendations from two other authorities are given in the AHA report.
More recently, after the conference was held in August 2007, controversy has risen in regard to heart disease associated with Ziagen (abacavir, an HIV medication also contained in the drugs Epzicom and Trizivir). See page 43 for a report on this topic.
Whatever the risks, there's comforting news as well. The prevention working group of the conference noted that, "continuous use of antiretroviral therapy for viral suppression is associated with reduced mortality and less cardiovascular disease than intermittent antiretroviral therapy, which suggest that these agents may also be protective by unknown mechanisms potentially related to reduced inflammation or effects on lipids if used continuously. Nonetheless, it is important to consider the known metabolic effects of individual drugs in choosing an antiretroviral regimen, particularly in those patients with preexisting CHD risk factors."
Recommendations and Guidelines for Screening for Cardiovascular Risk Factors in the General Population, from the U.S. Preventive Services Task Force
Strongly recommends that clinicians routinely screen men ages 35 and over and women ages 45 and over for lipid disorders.
Clinicians should routinely screen younger adults (men 20 to 35 and women 20 to 45) for lipid disorders if they have other risk factors for CAD (coronary artery disease).
Screening for lipid disorders should include measurement of total cholesterol and HDL-C (HDL cholesterol).
Evidence is insufficient to recommend for or against triglyceride measurement as a part of routine screening for lipid disorders.
Evidence is insufficient to recommend for or against routinely screening asymptomatic adults for type 2 diabetes, impaired glucose tolerance, or impaired fasting glucose.
Adults with hypertension [high blood pressure] or hyperlipidemia [high cholesterol or triglycerides] should be screened for type 2 diabetes.
Strongly recommends that clinicians screen adults 18 or older for high blood pressure.
Evidence is insufficient to recommend for or against routine screening for high blood pressure in children and adolescents to reduce the risk of CVD (cardiovascular disease).
Note:
The report also gives the recommendations of the National Cholesterol Education Program -- all adults over 20 should obtain a fasting lipoprotein profile (total cholesterol, LDL-C, HDL-C, and triglycerides) once every five years.
The Prevention Working Group Reported That
"Cigarette smoking is highly prevalent among patients with HIV (41-71% [depending on the study being cited]) and is more prevalent than in the general population. Aside from having a history of CVD, current cigarette smoking is the most powerful predictor of CVD events among patients with HIV."
"Smokers with HIV have higher total mortality and are more likely to develop pneumonia, chronic obstructive pulmonary disease, cancers, and decreased quality of life than non-smokers."
"The best evidence suggests that ART may be associated with a modest increase in blood pressure and the prevalence of hypertension; however, these relationships may be confounded by increases in body mass index and other risk factors for the development of hypertension, so the effect of ART on hypertension is unclear. The prevalence of hypertension is expected to increase as the age of patients with HIV infection increases and the prevalence of HIV increases among patients in ethnic subgroups at increased risk of developing hypertension."
"Adverse dietary habits are common in patients with HIV and contribute to dyslipidemia; therefore, a trial of dietary modification may be appropriate before initiation of drug therapy."
Pharmacotherapy [treatment] for dyslipidemia powerfully reduces CVD risk in non-HIV infected patients.
Guidelines for the effective diagnosis and management of dyslipidemia have been widely adopted and are the basis of the general approach to the patient with HIV; however, current pharmacological strategies for treating dyslipidemia in patients undergoing ART are limited by drug interactions, relative lack of efficacy, and, potentially, pill burden, as well as consideration of comorbidities [other illnesses].
In addition to ART exposure, risk factors for insulin resistance and type 2 [adult] diabetes mellitus in patients with HIV include male sex, increasing age, increasing body weight, and increasing waist circumference, as well as ethnicity and hepatitis C co-infection.
Impaired fasting glucose and impaired glucose tolerance are best treated non-pharmacologically with lifestyle interventions such as dietary changes and exercise, although medications can be considered.
Metformin and thiazolidinediones tend to improve insulin resistance in patients with HIV; however, the long-term effectiveness of these [drugs] for the prevention and treatment of diabetes mellitus in patients with HIV is not known.
Some studies also suggest insulin resistance is increased among children undergoing ART.
Patients initiating ART should be screened for impaired fasting glucose and diabetes mellitus by measurement of fasting glucose levels at baseline, annually, and after changes are made to ART regimens.
Measurement of insulin and hemoglobin A1C as screening tests are not recommended by current guidelines.
Oral glucose tolerance testing may help to identify and distinguish between patients with impaired glucose tolerance and those with diabetes mellitus.
[While HIV therapy may increase risk of heart disease], there are compelling data to support an increase in total mortality and possibly CVD risk when HIV is inadequately suppressed or ART is withdrawn. Indeed, one study demonstrated that use of ART was associated with short-term decreases in CVD risk and overall mortality.
Treatment of HIV may improve some CVD risk factors while exacerbating others.
Mechanisms by Which HIV Infection and Antiretroviral Therapy (ART) May Adversely Affect the Vasculature
HIV Infection
Endothelial dysfunction
Lipid disorders associated with HIV infection
Viral protein-related endothelial cell activation
Systemic inflammatory cytokine-chemokine dysregulation
Direct HIV infection of endothelium and vascular smooth muscle cells
Enhanced atheroma formation by activated macrophages
Prothrombotic state
ART
Endothelial dysfunction
Increased endothelial permeability
Increased oxidative stress
Increased mononuclear cell adhesion
Insulin resistance
Accelerated lipid accumulation in vessel wall
Persistent inflammation and immune activation
Impaired response to vascular injury
ART-associated lipodystrophy leading to metabolic disorders, increased systemic inflammation, and reduced circulating adiponectin
The working group concluded that, "As the population of HIV-[positive] patients ages and accumulates CVD risk that is, at least in part, related to ART, efforts to appropriately recognize and manage CVD risk will be necessary. Lifestyle medication, including smoking cessation, increased physical activity, weight reduction for those who are overweight or obese, and education on healthy dietary practices are the cornerstones of CVD risk reduction. These strategies, combined with appropriate management of dyslipidemia, disordered glucose metabolism, and hypertension, will help maximize the long-term health of persons living with HIV."
Ironically, the conference report notes that the success of various smoking cessation drugs and programs in people with HIV is not known and needs to be investigated, along with the best strategies to use given their age, sex, ethnicity, and socioeconomic status. The report also notes that "clinicians may mistakenly attribute signs of cardiovascular abnormalities to pulmonary [lung] or infectious causes, an error that can delay appropriate treatment." The conference working group on the effects of HIV and its therapy on the heart concluded that, "A high degree of suspicion and early screening may allow appropriate intervention and improved quality of life in those affected."
Details for Calculating the Pretest Probability in Patients Suspected of Having Coronary Heart Disease
Variable
Choose Response
Sum
Age (male/female)

Under 40/under 50

3

40-54/50-64

6

55 or older/65 or older

9
Estrogen status
Positive = -3

Women only

Negative = 3
Angina (heart pain) history
Typical = 5

Diamond method

Atypical = 3
Nonanginal = 1
Diabetes?
2
Hyperlipidemia?
1
Hypertension (high blood pressure)?
1
Smoking (any)?
1
Family history of CAD (first degree*)
1
Obesity (BMI greater than 27**)
1
Total Score
The pretest probability associated with a score of 0 to 8 is low, 9 to 15 points is intermediate, and greater than 15 is high. The data here were published in 2003 and do not reflect the more recent findings of estrogen replacement and cardiovascular risk. Cardiac risk may worsen with use of estrogen. Reproduced from Morise A.P., Jalise F., Journal of the American College of Cardiology, 2003; 42:842-850.

* First-degree family history of coronary artery disease indicates an immediate family member, such as mother or father, brother or sister.

** Body mass index is easy to calculate using your current height and weight; many websites provide online BMI calculators.