Balancing Act: The Ultimate Balance Nutrition Consulting Center
Note from Body Positive: Ultimate Balance manufactures and markets a line of nutrition supplements designed for people with HIV, and the company advertises its products in this magazine. This article deals only with the company's toll-free nutrition consulting service and is neither an endorsement nor a review of the company's products.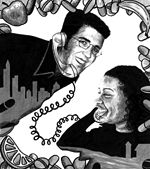 We've learned a lot over the years about HIV/AIDS, how the virus works, and how to help people stay healthy longer and slow the progression of the disease. Nowhere is this more the case than in the area of HIV nutrition. We've gone from simply trying to stave off HIV wasting any way we could to trying to build lean body mass, and we've increasingly recognized the importance of high-quality nutrition intervention early in the disease process.
As we've learned more, nutrition issues have also become more complicated. Each new drug that is introduced seems to bring with it a new set of dietary requirements and taboos and a new set of side effects, often gastrointestinal, to deal with. Certain nutrients enhance or inhibit the action of certain medications. Certain medications can cause problems with the absorption of certain nutrients. As medications are combined in different ways, the range of possible nutritional problems -- or benefits -- increases. And, of course, no two people are alike, and no two people have the same reaction.
As the need for good nutrition information and advice has become more apparent, the number and variety of responses to the need has increased. Funds awarded under the Ryan White CARE Act include funds for nutrition services. AIDS service organizations, both with and without Ryan White money, have set up nutrition counseling programs.
These programs, while they follow a fairly standard routine, offer counseling that is tailored to the individual PWA and his or her needs. In the nutrition counseling program at Gay Men's Health Crisis, for example, services are provided by Registered Dietitians who are HIV nutrition specialists. These nutritionists advise clients about diet or nutrition supplementation on the basis of the clients' own reported symptoms, their lab work, food diaries that they are asked to keep, medical histories, ethnic or religious food preferences or requirements, and other factors that affect their nutritional health and what they eat. Counseling is followed up, and recommendations are adjusted according to what is going on with each client's nutritional and overall health.
The Ultimate Balance Nutrition Consulting Center
Ultimate Balance, a Canadian company that is currently introducing into the United States market a line of nutrition supplements designed for people with HIV, has instituted what may be the first telephone HIV nutrition consulting service.
The nutrition counseling offered by Ultimate Balance seems to mirror the familiar format offered by not-for-profit AIDS service organizations -- and, for a price, by nutritionists in private practice -- except that it does it by toll-free telephone.
Your initial call may be taken by Karri Koach, the service's Registered Dietitian, or by one of three nurses who have received specialized dietary training. The telephone consultants also have access to a pharmacist with experience in HIV.
According to Karri Koach, the first call is mostly for the purpose of getting information and setting up a timeline for future consultations. She points out that most first-time callers do not have a large block of time to spend on that initial contact, and they may not have all of the relevant information at their fingertips. At this call, the consultant will get the caller's name, mailing address, and the name of the caller's doctor, and will arrange for the caller to consent to the release of information by the doctor to Ultimate Balance.
General background information that the consultant asks for includes both medical and lifestyle information. The R.D. or nurse will ask the caller to supply, then or in a subsequent call, information about his or her diagnosis, CD4 count, and viral load; the results of lab tests; whether the caller has AIDS or HIV; whether he or she has a history of hepatitis; what medications the caller is or has been on (this information is given to the pharmacist to review); whether the caller uses food supplements; and any use of recreational drugs.
Koach says that the consultation deals in depth with the caller's symptoms and history of HIV-related illness, in order to get a head-to-toe picture of the individual and her or his nutrition status and needs. Diarrhea, for example, is one of the most common complaints of people with HIV or AIDS, and it can be devastating to an individual's overall health. But there are a great many possible causes of diarrhea, some relating to the virus or HIV-related illnesses, some to medications, and some to diet or food-borne illnesses. Successfully dealing with diarrhea, whether medically, nutritionally, or through a combination of the two, requires understanding its cause.
In developing a nutrition profile of the caller, the consultant will inquire about weight and weight history, with an emphasis on the percent of any change. The percent of lean body mass, as opposes fat, is important, and obviously is something that the consultant cannot determine over the telephone. If it appears indicated, the consultant may suggest bio-impedance analysis, a rather new method of determining body composition, and may make a referral to someone in the caller's community who can perform the analysis.
Another important area that is investigated is the caller's eating habits and how they are affected by a variety of factors. How often does the caller eat? What does he or she eat during a 24-hour period? What about food security: Does the caller have facilities to prepare and store food properly? Are there social factors, such as isolation, that may discourage good eating habits and result in malnutrition.
According to Koach, the Ultimate Balance Consulting Center's approach is to work with each client to develop achievable nutrition and lifestyle goals that will help her or him maintain a good nutrition status and stay healthy. She asserts that the consulting service is separate from the company's marketing effort, stating that at no time does the consultant try to sell Ultimate Balance's product. Only at the end of the consulting session, she says, will the call be turned over to a company salesperson, if the caller wants it.
Related Ultimate Balance Services
Ultimate Balance has prepared a variety of materials on nutrition and lifestyle issues in HIV. Besides fact sheets on such topics as exercise, weight, food safety, and various gastrointestinal problems, sample diets for both symptomatic and asymptomatic HIV are available through the Internet or by mail if requested at the consulting center number.
In addition, the company is developing a workshop-style component to provide HIV nutrition information to PWAs and others. The one attended by the author in September was definitely not for novices, dealing with such issues -- important in HIV nutrition, but not in everyone's vocabulary -- as glutamine deficiency, how to increase glutathione levels, and the function of carnitine. But many HIV-positive people have educated themselves to expert and near-expert levels on subjects that affect their health, including nutrition. Several such self-schooled individuals attended the session, and they asked probing and sophisticated questions that engaged and challenged the company's representatives.
Is The Consulting Center's Service Valuable?
It depends on whom you talk to, and apparently on the circumstances.
Edwin Krales, Nutritionist/Outreach Coordinator at the Momentum AIDS Project, has reservations about whether a nutritionist who works for a company that manufacturers supplements can be neutral, as compared to someone who provides nutrition consultation through an AIDS service organization. "I give my clients the best and most up-to-date information I have, period," he says, "and I get my salary whether or not the guy eats his vegetables."
Krales cites an example: Like most HIV nutritionists with whom the author has spoken, he prefers that people get the nutrients they need through diet, not supplementation. Selenium deficiency is common among people with HIV, and it can be corrected with a supplement containing selenium. But Krales tells his selenium-deficient clients to eat two Brazil nuts every day. It meets their needs and corrects the deficiency, he says, "and it tastes better and is a whole lot cheaper."
Maria Baldo, a nutritionist who advised clients of Gay Men's Health Crisis for over four years, sees both drawbacks and benefits to the service. In reviewing some of the information that Ultimate Balance was offering to PWAs, she disagreed with the company's emphasis on wasting as a problem in HIV nutrition. "That's old," she says. But she is glad to see that the service refers people to places where they can get bio-impedance analysis.
Baldo also points to a sometimes overlooked problem. "We're spoiled in New York," she says, "where every agency has its Ryan White nutritionist." But what about parts of the country where every AIDS service organization doesn't have a nutrition program ... or where there aren't even any AIDS service organizations? According to Baldo, a telephone consulting center such as that run by Ultimate Balance could be a PWA's best source of HIV-related nutrition information.
The Ultimate Balance Nutrition Consulting Center, 1-888-550-5350, is open Monday through Thursday, 9:00 a.m.-8:00 p.m., and Friday, 9:00 a.m.-6:00 p.m., Eastern time. For those with Internet capabilities, the company's information sheets and meal plans are available at www.bioadvantex.com.
Illustration by Benjamin Rinehart
Back to the November 1998 Issue of Body Positive Magazine