Introduction
Over the last decade, it has been evident that the health issues faced by people who are infected with HIV are not the same as those of other people of the same age, gender, or ethnicity. While that is not necessarily news to you, it may surprise you that it goes much deeper than that. How much deeper, you wonder? How about "to the bone," as the expression is commonly used.
What am I writing about? Osteoporosis -- the disease everyone used to think only occurred in little, old, thin ladies has been showing up in HIV-positive people for quite some time now. This article will provide insight into what this complicating condition of HIV is, how you might be able to lessen the chance of it occurring, and if it does, what you might be able to do about it.
Bones and Your Body
Our bones are constantly being broken down and rebuilt by specialized cells within our bodies. "Osteo" simply means bone, so the cells that work on the bones are called 'osteo'-something depending on the job being done. To simplify this as much as possible, I am going to focus on two of the cells involved in this process. The cells involved are called osteoblasts (bone construction) and osteoclasts (bone breakdown). When there are more cells (osteoclasts) engaged in destruction activity than the construction cells (osteoblasts) can keep up with, you get small breaks, and holes begin to appear in your bones. When this condition continues for long enough, you can be diagnosed with a condition called "osteoporosis." In this case, "osteo" refers to bone again and "porosis" means just what it sounds like -- pores in the bone. Put together, osteoporosis is most easily defined as a condition where bones that are supposed to be fully formed and hardened (as they usually are in adults) are, instead, less dense, may have developed holes, or are weaker than they should be. When osteoporosis is present, the person with it is at a much higher risk for breaking bones with falls or trauma that may not break in persons without osteoporosis. Osteoporosis is a diagnosis made when special types of tests are done and the score of those tests show a certain number.
Bones in adults are generally kept strong and healthy by having adequate intake of vitamin D, calcium, and taking part in weight-bearing exercises.1 Therefore, a good diet, being healthy, keeping your weight in a normal range,2 and routine exercise all help to keep your bones as strong as they can be. Also, in men especially, but also in women, the density of their bones (called bone mineral density or BMD) is kept normal by having adequate amounts of testosterone present.3 HIV, it turns out, can not only effect how well the osteoblasts (construction cells) work, but also seems to affect how much testosterone is being produced.4
Osteoporosis and HIV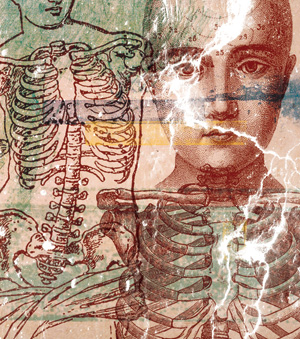 How often do we find people with HIV also having osteoporosis? Too often. Many amazingly brilliant doctors and scientists have explored how often it is happening to HIV-positive people, when it occurs after they are infected, and how it is related to their HIV disease. Their work is far too great to discuss in this limited space I have today, so I will hit a few highlights.
Just how common is it to find a person who has HIV to also have osteoporosis? According to the most recent HIV treatment guidelines put out by the Department of Health and Human Services' HIV Expert Panel, only 2%?27% of people with HIV have osteoporosis.5 Now, this is a huge range, but no large, national studies to determine a more definite answer have been done to date in the United States. In a group in France, however, a controlled study found that about a third (34%) of the men had osteoporosis and over half of both men and women were on their way to having it (didn't reach the "score" yet for osteoporosis).6 The average age of men in this group was 43 (all were under the age of 50). So, how does this compare to HIV-negative people? The most up-to-date information is available via the National Osteoporosis Foundation's website (www.NOF.org), but even they don't have statistics on persons under the age of 50. What is known is that it occurs more frequently over their lifetime in women (80%) than men and in about 55% of Americans over the age of 50.7 The American College of Physicians' most recent recommendations do not even call for screening for osteoporosis until the age of 50 and estimate that this occurs only in 2%?7% of men.8
Testing
Okay, so it happens. It happens more in people who are HIV-positive than negative. It happens more in men and women at a younger age than is even being screened by non-HIV physicians. This we can't change. How do you know if you have it? Not to sound like a television commercial, but your HIV care provider can order some tests to be done. There are some specialized blood tests that are mostly used in research environments, so most doctors use what is called a DXA scan (non-dual-energy x-ray absorptiometry -- see, DXA is easier to say). This scan is basically a hi-tech x-ray. There is no pain involved (that's good) and the images can tell your doctor how dense your bones are. A scoring system is used based on what the images show. If you score low here, you are at greater risk (lower scores mean lower density -- that's not good). There is not much guidance on how often these should be done, but talking to your doctor at your next visit to get a baseline scan is worthwhile. There are generally no symptoms of having osteoporosis, so too often it is diagnosed after someone breaks a bone after minimal trauma that would not cause a fracture in a healthy person.
What You Can Do
What can be done to reduce the chances of it from happening to you or, if it is already present, prevent it from getting worse? Earlier I mentioned a balanced diet, keeping your weight in a healthy range, and weight bearing exercises. These are still critical to keep what you have and lessen the chances it will happen or get worse. Nutritional supplementation with vitamin D (milk ? it does a body good!) and calcium (about 1,000 mg per day) have been shown to reduce the number of fractures that occur.9 This only helps if (just like your other medications) you are able to take the supplements over 80% of the time! If you and your doctor choose the calcium and vitamin D route, be sure to talk to your pharmacist about the possible drug interactions. Calcium (like in antacids) is used to alter the amount of acid in your stomach and can decrease how much other medicines are absorbed. There are non-drug things that can be done too, especially if you can do them routinely. Weight-bearing exercises (like walking, running, weight-lifting, playing basketball, etc.) have been shown to reduce the number of fractures. Not to nag you, but if you quit smoking and reduce your alcohol intake, these will also lower your risk. If you really want to do what you can to prevent this as much as possible, do all of the above -- regularly and only after discussing these with your doctor!
Treatment for Osteoporosis
So what if you talk to your doctor, get the test done and you learn you do have osteoporosis? The good news -- there are several treatment options out there. The bad news -- not too much research has been done with these drugs specifically using HIV-positive people. I am sure that comes as a shock (sarcasm). There are some researchers looking at this though. It is very important to follow the recommendations above about diet, exercise, and healthy changes (stop smoking and reducing alcohol intake) in partnership with any medicines your doctor starts. Only by combining these will you gain the full potential of the medicines, gain as much bone density back as possible, and keep the risk of breaking a bone as small as possible.
Got more questions? See the National Osteoporosis Foundation's website at www.NOF.org for many, many more details on this condition. While the foundation doesn't specifically have information on persons who are HIV-positive, they have great questions and pictures to help you understand what I have only begun to paint a picture of in this column.
Patrick G. Clay, Pharm.D., FCCP, CCTI, is currently an Associate Professor of Pharmacology/Microbiology in the College of Medicine at Kansas City University of Medicine and Biosciences. He is Director of Clinical Research for the medical school and the Dybedal Center for Clinical Research (www.kcumb.edu). Dr. Clay has earned a Bachelor and Doctorate in pharmacy, going on to complete post-doctoral training, primarily in HIV research and has served as principal investigator for over 30 studies. Dr. Clay serves as a scientific reviewer for a variety of Department of Health and Human Services National Institutes of Health grant panels, professional organizations, and over 15 medical journals and is a voting member of the United States Food and Drug Administration's Center for Drug Evaluation and Research's Antiviral Advisory Panel (2008-2011).
This article is supported by funding from Merck.
References
Bolland MJ, Grey AB, Gamble GD, Ried IR, Low body weight mediates the relationship between HIV infection and low bone mineral density: a meta-analysis. J Clin Endocrinol Metab 2007;92:4522-8. Conclusion in abstract. Available via free text from www.PubMed.com.
Harkonen MH, Vaananen HK, Hentunen TA. Estrogen and testosterone use different cellular pathways to inhibit osteoclastogenesis and bone resorption. J Bone Miner Res 2005;20:2224-32. Not available via free text, but statement can be found in online abstract.
Bhasin S, Cunningham GR, Hayes FJ, Matsumoto AM, Snyder PJ, Swerdloff RS, Montori VM. Testosterone therapy in adult men with androgen deficiency syndromes: an endocrine society clinical practice guideline. J Clin Endocrinol Metab 2006;91:1995-2010. Available free text through www.PubMed.com. Page 12/16, citing pivotal references but used here as it reflects a consensus statement from a well respected medical society.
Reference, DHHS Antiretroviral Treatment Guidelines, November 3, 2008, last row on page 101 and first row on page 102, Table 13.
Cazanave C, Dupon M, Lavignolle-Aurillac V, Barthe N, Lawson-Ayayi S, Mehsen N, Mercié P, Morlat P, Thiebaut R, Dabis F. Reduced bone mineral density in HIV-infected patients: prevalence and associated factors. AIDS 2008;22:395-402. Free full text not available, but materials referenced herein can be found in the abstract that is available through www.PubMed.com.
Qaseem A, Snow V, Shekelle P, et. al. Screening for osteoporosis in men: a clinical practice guideline from the American College of Physicians. Ann Intern Med 2008;148:680-4. Free full text available via www.Pubmed.com. Materials cited herein can be found in first paragraph of first page of manuscript.
Ebeling PR. Osteoporosis in men. New Eng J Med 2008;1474-82.. page 1477, Nonpharmacologic Therapy section. Available free full text from www.Pubmed.com.
Got a comment on this article? Write to us at publications@tpan.com.