APLA West to Open Doors in December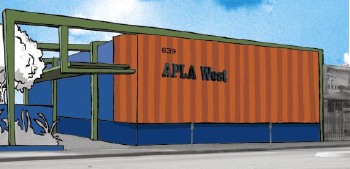 Illustration by Michael Storc
Monday, December 10 is expected to be the first day of business for APLA West, a new venture by AIDS Project Los Angeles that will bring APLA services closer to home for many Los Angeles County residents.
Located at 639 N. Fairfax Ave., south of Melrose Avenue, APLA West is designed to serve as a community center providing a variety of services for people of all stages of HIV disease.
Treatment advocacy, health promotion and prevention services, and nutrition counseling will be stationed permanently at the 5,000-square-foot building. Case management services, benefits counseling and housing services will be offered at the site on a rotating schedule.
On Thursdays, the site will provide access to APLA's Necessities of Life Program. APLA's large Volunteer Resources program will also operate a satellite office at the site.
Services will be delivered at APLA West between 10 a.m. and 7 p.m., Monday through Thursday and between 9 a.m. and 6 p.m. on Friday. The building will be open until 10 p.m. Monday through Thursday.
A large lot next to the building will offer free parking to APLA West visitors.
Please watch upcoming issues of Positive Living for additional information about APLA West.