American Indians and Alaska Natives (AI/ANs) make up 1.5 percent of the U.S. population and comprise hundreds of diverse tribes and cultures.1 Approximately one-half of all AI/ANs in the United States live in just 10 States; California, Oklahoma, and Arizona have the largest AI/AN populations. Historically, AI/AN populations have suffered high rates of a range of health problems, reflecting widespread poor access to health information and care.
Surveillance
Among AI/ANs, 196 new AIDS diagnoses were reported in 2003, the same as in 2002 and a 20.1 percent increase since 1999.2 A total of 1,498 AI/ANs were estimated to be living with AIDS at the end of 2003.3
For AI/AN men living with AIDS at the end of 2003, men who have sex with men (MSM) was the most common exposure category (58 percent) -- lower than for white men (75 percent) and Asian/Pacific Islander men (73 percent), but higher than for other minority populations. Injection drug use (IDU) and MSM/IDU were each the exposure category in 17 percent and 16 percent of cases, respectively, and heterosexual contact was the category in 7 percent.3
At 41 percent, IDU was the exposure category for more AI/AN women living with AIDS at the end of 2003 than for any other minority population. Conversely, heterosexual contact was the exposure category in only 56 percent of cases -- similar to Whites (57 percent), but lower than for all other racial/ethnic groups for which data are reported.3
The estimated AIDS rate (cases per 100,000 individuals) for AI/ANs was 8.1 in 2003, higher than for Whites (6.1) and Asian/Pacific Islanders (4.0) but much lower than for Blacks (58.2) and Hispanics (20.0).4
Critical Issues
AI/ANs experience high rates of comorbidities for HIV infection, such as sexually transmitted infections, mental illness, and chemical dependency. Often, these comorbidities are linked to one another and facilitate exposure to and progression of HIV disease.5-7

From 1998 to 2000, an average of 25.9 percent of AI/ANs lived in poverty -- more than any other racial group -- and an average of 26.8 percent lacked health insurance.8,9 Both lack of health insurance and poverty are associated with poor access to disease prevention and health care services.

The Indian Heath Service (IHS) is charged with fulfilling treaty obligations and Federal statutes to provide health care to recognized tribes in the United States. Although most of the AI/AN population lives in urban areas, IHS providers are located primarily on or near tribal lands in rural areas.10

HIV/AIDS stigma and fear of losing anonymity are major concerns for AI/ANs. Social and cultural mores about sexual activity and substance abuse can make discussion of prevention difficult. They can inhibit utilization of counseling and testing and care services, even among people who know they are at risk for HIV.
American Indians, Alaska Natives and the Ryan White CARE Act
The Ryan White Comprehensive AIDS Resources Emergency (CARE) Act Special Projects of National Significance American Indian/Alaska Native Initiative is funding six grantees (and an evaluation center) to develop integrated mental health, substance abuse treatment, rehabilitation, and HIV ambulatory medical care models. Grantees have incorporated cultural, spiritual, and traditional medicine practices of Native Americans into their approaches. This new initiative, which began in 2003 and will end in 2007, follows on the heels of the Innovative HIV Service Delivery Models for Native American Communities Initiative, which concluded in 2002.
HRSA's report Native Americans and HIV Disease: Summary of Ongoing Special Projects of National Significance, describes successful models for serving the AI/AN population and is available through the HRSA Information Center, at 1-888-ASK-HRSA.
AI/ANs can receive CARE Act services even if they are eligible for care from other sources (e.g., through IHS, tribal, or urban Indian health programs and services). Information about IHS facilities' eligibility for CARE Act grants is available at http://hab.hrsa.gov/law0001.htm.
In collaboration with the African American AIDS Policy and Training Institute, the Asian and Pacific Islander Health Forum, Bienstar, and the National Native American AIDS Prevention Center, HRSA's HIV/AIDS Bureau conducted a research project -- which involved key informant interviews and structured roundtable discussions -- to identify barriers to care for MSM of color and develop solutions. The results are summarized in the publication Improving Care for HIV-Positive Men of Color Who Have Sex With Men: Barriers and Recommendations and are informing the process through which HRSA and the CDC are collaboratively responding to the epidemic among young MSM of color.
To respond to the need for additional minority providers of state-of-the-art HIV/AIDS care in underserved communities, the CARE Act AIDS Education and Training Center program funds a center to expand clinical expertise in minority communities; for more information, go to www.nmaetc.org.
Capacity-building and planning grants have been targeted to underserved communities in order to expand the number of service settings available to vulnerable minority populations.
Estimated AI/AN Males Living With HIV/AIDS, by Exposure Category, 2003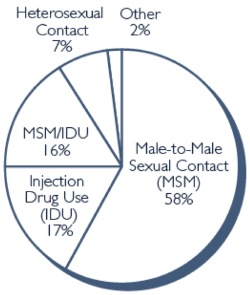 Estimated AI/AN Females Living With HIV/AIDS, by Exposure Category, 2003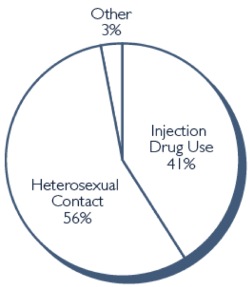 References
Ogunwole SU. The American Indian and Alaska Native Population: 2000. Census 2000 Brief C2KBR/01-15. Washinton, DC: U.S. Census Bureau; 2002. Available at: www.census.gov [PDF]