Agnes Nyamayarwo: A True Fighter
A Ugandan Nurse Teaches Bono and the World Where She Finds Her Courage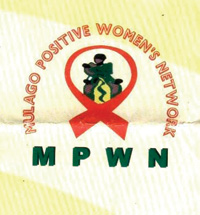 This past September, my partner and I attended our first U2 concert during their recent 360° Tour in Chicago as guests of my brother, who had seen U2 once before. It was probably the most unforgettable concert experience I've ever had, complete with an out-of-this-world, jaw-dropping stage -- a 10-story spaceship that had literally landed smack dab in the middle of Soldier Field -- an impressive sound system, and a spectacular light show like none I'd ever seen.
Halfway through the concert, the image of a woman flashed across the immense LED display for a few, brief seconds. Through a series of perhaps-not-quite coincidences, several weeks later, I found myself speaking with Agnes Nyamayarwo on the phone as she recounted her story of tragedy and triumph, on the very day she was due to head back to Uganda, following a speaking engagement at the 2009 U2 Academic Conference in Raleigh-Durham, North Carolina.
"I was married for 24 years," said Agnes. "It so happened that my husband was sick, and he tested HIV-positive -- and I nursed him until he died. After his death, I went for an HIV test and also tested positive." Agnes' youngest child soon became very sick and tested HIV-positive as well, and that's when Agnes discovered she had unknowingly passed the virus on to her son. He died at the age of six-and-a-half. Her oldest son, who was HIV-negative, was taunted at school and treated as if he, too, had AIDS. Suffering from severe depression, he ran away from home, never to return. "That is what really made me think of the other parents, and how I have to go out and educate them. I wanted them to not have to go through what I went through. Even the young people, who are getting married, to make sure they get tested -- and those who are already married, to get tested, before they decide to have a child."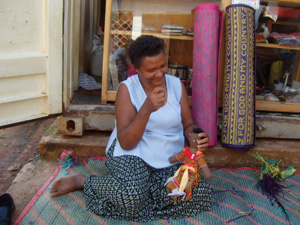 By profession Agnes is a nurse, but she had stopped practicing when she was taking care of her children. Today, Agnes volunteers with The AIDS Support Organization (TASO), which could really be the sister organization of Test Positive Aware Network (TPAN), the support organization in Chicago which publishes Positively Aware. TASO was founded in 1987 by 15 women who were either infected or affected by HIV, and who came together in their living rooms, seeking psychological and social support from one another (TPAN was founded the same year by 17 men who came together in their founder's living room). Agnes volunteers as a nurse for TASO, helping those who are sick by providing care and counseling in their homes. TASO also provides family counseling to help others accept the diagnosis, teach them how to take antiretrovirals (ARVs), and how to remain adherent to the medications.
Agnes also belongs to a group called the Mulago Positive Women's Network, which helps women who, even though their health may have improved, are not able to take care of their families. They help them find ways to earn an income, such as through the making of crafts or providing tailoring. "We also have children who are orphans," says Agnes, "or our own children, and those of single parents, who we bring in every holiday. We teach them how to avoid getting HIV, how to protect themselves from abuse, and help give them what we call life skills." (Visit www.mpwn-uganda.org).
TASO enlists a local drumming group which educates the public through performance art using dance and drums, while Agnes and others share their stories about the risks and realities of HIV. "We have a prevention for positives program," explains Agnes, "because we know that people who have the virus, once they get on treatment, they may forget that they can infect others. We empower the positive people to know that even when their health has improved, they still can infect others -- and with everything we've gone through with HIV, we wouldn't want anybody else to get infected."
Back in June of 2002, Bono visited Uganda with former U.S. Treasury Secretary Paul O'Neill to show him the impact effective assistance could have on HIV/AIDS in Africa. "It was a big day," says Agnes. "There were actors there, and people from the embassy." She and others spoke about the education that was currently being done in their community, and the drummers performed. They then asked Agnes to share her story about HIV and how it affected her family, as her story was sadly like those of so many other families in Uganda.
"So I gave my testimony, and that is when Bono said, 'Oh my God, are you people taking ARVs?'" Agnes said, "No, we don't have them, the organization cannot afford them."
"Where do you get the courage?" asked Bono.
"We want to save as many lives as we can before we die," said Agnes and the others, "because we know it hurts, and we know what they've been going through."
"These are the fighters," Agnes recalls Bono saying, "These are the people we should start on ARVs!"
"So we all got started on ARVs," says Agnes, "and then he invited me to go along with him to the U.S. to talk, so that's how we met, and that's how we started working together."
Once she and the others began treatment, says Agnes, they served as an example of how people in Africa were able to take their pills every day, even though some, at the time, thought that they might not be able to remain adherent. "But we have family support," she explains, "and we provide a medicine companion for individuals when they start on treatment. We help those who are just starting on ARVs who are not sure it's going to work, and we encourage them. We keep counseling them, encouraging them to disclose to their families so that they can support them." They also write memory books with their children, says Agnes, so that "when we die, they'll know that, at one time, we were dutiful citizens of our country. They'll also know where they originate -- they'll know the villages, their grandparents, and so on.
"With ARVs we have more hope," says Agnes, "and we feel that we can live long."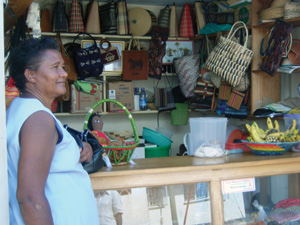 President's Emergency Plan for AIDS Relief (PEPFAR) funding for the organization began in 2004, and was slated to last for only five years. Agnes recounted how funders asked what TASO would do for funding after five years, but, explained Agnes, "We didn't think we would be alive in five years, so when the five years was nearing its end, we started getting nervous." Although it was never definite that PEPFAR funding would be cut from the organization, at that point they approached the ONE campaign for help.
ONE (www.one.org), a nonpartisan grassroots campaign and advocacy organization backed by more than two million people who are committed to the fight against extreme poverty and preventable disease, particularly in Africa, was co-founded by Bono and other advocates, and works closely with African policy makers and activists. ONE's Global Policy Director, Erin Thornton, described how she first met and began working with Agnes in the fall of 2002.
"I had just started at DATA," says Thornton, "I was actually the first D.C. employee." DATA, or Debt, AIDS, Trade, Africa, was the advocacy organization founded in 2002 by Bono, Bobby Shriver, Jamie Drummond, and other activists, and merged with ONE in 2007. "We decided to try this experiment called the Heart of America Tour, and, working with Bono and others, we were trying to get the message across in the U.S. that now was the time to go big on an HIV/AIDS effort in Africa. We were trying to debunk the myth that, 'Well, that's great, but real Americans don't care about that stuff.' Policy makers clearly will only go as far as their constituents want them to go."
So, Thornton said, they loaded up a couple of buses and proceeded to tour through seven states in the middle of America. "It wasn't big audiences -- it was small truck stops, high schools, and town halls. And Agnes really was the show-stopper. I couldn't believe the strength she had -- she told her personal story every day and every night, sometimes several times -- and, as you know, it's not an easy story, and she had to relive that. We had her tell the personal story to people so they could understand the magnitude of the problem, and its impact, but also to see the strength of the people on the ground in Africa. We had a doctor with us who would explain to folks about the virus, and talk about ARVs, and how people in developing countries can stay adherent to the medications.
"So that's when I first met Agnes, and ever since then, the relationship's grown, and we've looked for other opportunities to work with her," says Thornton. "She's always focusing on helping others. She always has another idea -- either with women's crafting, empowering the other women in the community, or trying to help them with income generation. She never rests, that woman. She's followed my life through marriage and children -- she's like my other mom. She's an amazing friend to all of us, and a real hero too."
Actress and humanitarian Ashley Judd, PSI Board Member and Youth AIDS Global Ambassador, told Positively Aware that "Agnes is one of my heroes. When I was introduced to her by Bono, she made real -- vividly real -- the HIV/AIDS emergency, both the shocking devastation and the inexplicable resilience of the human spirit. Her efforts are nothing less than the gold standard for what can ... and will ... transform the world." (Visit www.psi.org.)
Agnes says she was very happy when she was invited to the White House for the signing of PEPFAR. "When President Bush was leaving office, he invited two of us from our organization to see him out of the office," says Agnes. "We were really grateful to the former president for having funded this program. But we learned that the current president also cares about this problem, so we are very hopeful about that, because when America comes through with the funding, other countries join in.
"All the same, the work is big -- we still have a long way to go, but we are working more now on prevention, so the infection rate goes down. The number of orphans in our country is very huge, but if you keep at least one parent alive -- that's really great."
When asked about the recent call for the death penalty for gays in Uganda, Agnes says, "That's the government -- at TASO, we treat anyone who comes in the doorway. We accept anyone who is HIV-positive, and put them on treatment so they can have a better life."
For those in the U.S. who want to help, Agnes says that people can support individual organizations, or go through the embassies, which have programs supporting people living with HIV. "The other issue we have now is the 'brain drain,' where doctors and nurses who are trained in Uganda, once they are done with school they want to leave Uganda, because they are not being paid well -- TASO also has that problem. In addition to medical training, TASO trains providers how to assist people living with HIV through counseling. TASO has a training center that we wish to expand, as many providers come from other African countries to learn from TASO. It was the first organization of its kind in Africa, and we've really been doing good work.
"And whoever wants to help, we always need clean water," says Agnes. "We have a giving program supporting clean water which protects people from getting malaria. If they are not able to find clean water, they get big cans, fill them, and treat the water to kill the germs." (Visit www.tasouganda.org.)
As we wrap up our interview, Agnes very generously offers the use of her story or image for the magazine or in any other way we choose. "I'm willing to be in anything that would support people living with HIV, anywhere in the world," says Agnes, "because my real dream is to see a world free of AIDS."
Special thanks to Brad Berry and Debbie Kreuser for their assistance with this article.
Got a comment on this article? Write to us at publications@tpan.com.