The African American HIV University: Breaking Myths About HIV
According to the Centers for Disease Control and Prevention, African Americans now account for nearly half of all new AIDS cases in the U.S., although they make up 12 percent of the population. HIV-related disease is the leading cause of death for African American males aged 18 to 44, and the second most frequent cause for African American women in that same age group. More than half of all women and children with AIDS in the U.S. are African American.
As a response to this situation, the African American AIDS Policy Training Institute (AAAPTI) near downtown Los Angeles came into being in 1999 as an AIDS "think tank" created by and for African Americans. Its mission is threefold: to engage a broad spectrum of African-American organizations in the fight against AIDS, to improve access to HIV treatment for African Americans, and to improve the quality of life for black people with AIDS. AAAPTI sponsors a variety of programs with these goals in mind, including town hall meetings, the Indaba multimedia AIDS training center, continuing education for HIV health-care providers in correctional facilities, and the Simon Nkoli Exchange/Mentorship Program: a Peace Corps-like initiative that assists non-governmental organizations in Africa. Chief among AAAPTI's programs is the African American HIV University (AAHU), which focuses on training treatment advocates to educate African Americans about AIDS. A two-year fellowship program, AAHU begins with an intensive 30-day, six-day-per-week AIDS Treatment College in Los Angeles, followed by four internships completed in the fellows' different home cities, with updates in Los Angeles every six months. Interns are expected to work one-on-one with clients, as well as recruit and train others in HIV treatment and prevention.
The venues for such community-based training ranges from recovery houses, to correctional facilities, to faith-based organizations, to the more usual AIDS service agencies and medical facilities. Fellows become part of the Black Treatment Advocacy Network (BTAN), which aims to build relationships between AIDS treatment advocates and African American organizations at both the local and national levels.
William Strain, director of AAHU, recently shared some of the organization's strategies for AIDS treatment advocacy.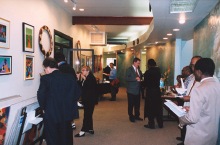 (Photo by Marta Fox)
What is the primary goal of the African American HIV University?
The African American HIV University is designed to increase the number of African American treatment advocates by providing training and support to people who work or volunteer in HIV and who are not linked with more traditional educational mechanisms.
What led you to become involved with AAHU?
Prior to working on this project, I coordinated a regional training program for treatment advocates at AIDS Project Los Angeles. Over the five years I worked at APLA as a treatment advocate, I rarely encountered other African Americans doing the work that I was doing. Though I often spoke to people who were very interested in becoming more involved, they just didn't know how, and there really were few opportunities.
How many have enrolled in AAHU so far?
We enrolled 41 people in the first class earlier this year. The program attracted men and women representing twenty-three cities from all over the United States. Fellows are HIV-positive, HIV-negative, gay, and straight.
Is the program exclusively for African Americans?
While the program is primarily for African Americans, we do invite non-African Americans to participate. We currently have two Latino fellows. The ultimate goal of the program is to increase access to care and education in the African American community, and we recognize that not all people who work with this population are themselves African American.
How did AAHU come into being?
AAHU is a response to an unmet need in the African American community. Through all of the years that HIV treatment advocacy has existed, there were never more than a handful of African Americans who worked at a national level with groups such as the AIDS Clinical Trials Group, the Food and Drug Administration, or independent pharmaceutical companies on issues of drug development, patient access or education. Following the state of emergency in the African American community, federal dollars were finally earmarked for such programs as AAHU.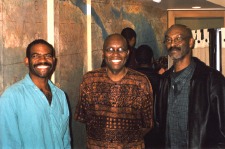 (Photo by Marta Fox)
Apart from lack of funding, have other factors contributed to the scarcity of programs directly addressing the needs of HIV-positive African Americans?
I don't know that lack of funding is an acceptable excuse for the scarcity of programs. Statistics from the Centers for Disease Control and Prevention indicate [the severity of the situation]. When we hear about women with AIDS or babies with AIDS -- and now men who have AIDS, too -- the numbers tell us that those are primarily African American women, African American babies, and African American men. This is in large part because African Americans don't fully realize their risk for HIV infection or the importance of HIV testing [and safe sex] in reducing the progression to AIDS and possible death.
Why do you think that relatively few African Americans have been involved in HIV treatment advocacy at a national level, despite the devastating impact AIDS has had on black people worldwide?
Initially, AIDS was perceived as a problem of gay white men, and they were primarily the ones fighting for research and treatment. To this day, they are still perceived as the leaders in the treatment community -- which is a small community to begin with and can also be a very exclusive club. This, combined with the fact that treatment advocacy involves the understanding of science and medicine, can put off many people, not just people of color. AAHU will teach people the science of HIV treatment and provide them with the skills to participate effectively in government and on pharmaceutical community advisory boards. The next step will be getting them to the table.
Yet some still cling to the belief that AIDS is mainly a gay male health issue, despite overwhelming international evidence to the contrary. Does this lingering misconception have an impact on the rate of infection for other groups?
Unfortunately, the evidence to the contrary is not only [found] in the international epidemiology data. There have been numerous reports in the last year about the impact HIV has had in minority communities in the U.S., especially the African American community. Most of this information details the terrible plight of heterosexual women infected by partners who are, knowingly or unknowingly, practicing "risky behaviors." The days of HIV being primarily a gay male problem are long since over. No community can continue to believe this myth and hope to survive.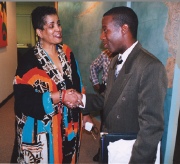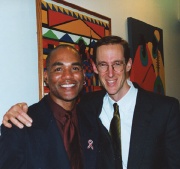 (Photos by Marta Fox)
Are heterosexuals are engaging in risky sexual behaviors out of lack of information, or are other factors at work?
I don't believe that most people intentionally expose others to HIV. Many people remain unaware of how HIV is transmitted. I have several heterosexual friends who honestly didn't know that they were at risk for HIV infection, although they'd had herpes and other STDs. Or they didn't know that oral sex with women is not "risk-free" or that their girlfriends could get whatever STD they had from performing oral sex with them.
Some incarcerated straight and bisexual men contract HIV while engaging in unprotected homosexual sex. Upon release from prison, they return to heterosexual behavior and pass the virus to women. How widespread do you think this mode is?
Several studies document this fact. Given that African Americans are the largest ethnic group in the incarcerated population in the U.S., I'm sure that this problem is very widespread. This is probably the leading factor in the recent rise of HIV infection in African American heterosexual women.
We do currently have fellows who work directly with incarcerated populations in Michigan and New York. Other fellows routinely work with HIV-infected individuals on parole or probation who seek care once released.
What kind of response has AAHU received from the African American community as well as health-care givers and AIDS-service organizations?
I think the response has been tremendous -- from the African American community itself as well as the HIV/AIDS community in general! Health-care providers in particular are very excited about AAHU, because it specifically targets a community that has been left behind when it comes to self-advocacy and education. Also, it provides a mechanism for providing education that is not specific to sexual identity, but to culture.
What does the future hold?
My hope for the HIV University is to help the African American community as well as other people of color recognize the importance of treatment education and advocacy. We really don't have the luxury of waiting around for scientists to find a cure for HIV or a vaccine that works. People are dying because they lack the knowledge and tools to change the outcome. It doesn't have to be this way.
To learn more about AAAPTI and AAHU, visit www.AAAInstitute.org and www.BLACKAIDS.org. AAHU may also be reached at (877) 757-AIDS or by writing to the Registrar, AAHU, 1833 W. 8th St., Suite 200, Los Angeles, California 90057-4257.