It had been a tough year since I decided to move forward with my case seeking political asylum from Ecuador, based on sexual orientation. It was emotionally and financially stressful, and I felt alone in Chicago, not really having any personal contact except for some furtive encounters that I had because I was feeling hopeless. I was working long hours just to make enough money to pay my lawyer, and I was always fearful that if I needed medical services I had no way to pay for them. I was working at a job that didn't offer medical insurance to any employees, much less someone like me who was working "under the table."
After I started the asylum process, I felt a sudden decrease in my energy. I thought it was just that my body was finally feeling all the stress. I hoped I would get better, but it just seemed like I was getting worse. I was coughing, had a fever, and started seeing some white stuff in my throat and on my tongue. I was also losing weight since I couldn't eat properly.
A friend of mine who has HIV noticed and tried to get me to a doctor, but I didn't have insurance and wasn't sure where I could go that wouldn't be expensive. He said at least I should get an HIV test, so I went to a gay health center a few blocks from where I lived. The counselor there thought that it would be a good idea for me to see the doctors there. I told him that I didn't have any way to pay, but he said that if I felt sick I shouldn't hold off. I was stubborn and let him know that I would go to an emergency room if I felt any worse.
I received the results of my asylum case rather quickly. Great news -- I was granted asylum. But a couple of days later I picked up my HIV results, and they weren't so great. I was positive. I was prepared for the results -- my friend had taken the time to talk to me about what he went through, and his experience put me somewhat at ease, knowing that I could receive medical care and treatment if needed. I was diagnosed with bacterial pneumonia and thrush, and told I had a CD4 count of 176 and a viral load of 150,000 -- I was a walking HIV factory. I was told I needed to take HIV meds and said that I would do as needed.
I met with a case manager who began asking a lot of questions. When he asked me for my Social Security number, I told him I didn't have one yet but that I would soon get one. I 'm not sure if he believed me, or if he even understood me (back then I didn't speak English that well). He told me that they couldn't help me and that my case would need to be transferred to Cook County Hospital. I think he thought I was lying about my legal status. In the end, it was best that I walked away from that clinic, because I heard that case manager reported anyone who walked in without a Social Security number to the authorities. Maybe it was just hearsay, but that's a major fear among immigrants. Moreover, the language barrier was a real problem there.
I really didn't like the idea of going to a county hospital -- it was too far away and I wasn't sure about the care I would receive there. And I thought that I would be better served in a clinic that served the gay and lesbian community.
What if I couldn't get the treatment I needed? I had heard horror stories from friends who were not in the U.S. legally and who had not been able to get HIV treatment out of fear of being reported. One was even told that it was time for him to return home so he could die surrounded by family and friends instead of dying alone in the U.S.
Fear began to set in. What if I couldn't get the treatment I needed? What if I was placed on a waiting list? I had heard horror stories from friends who were not in the U.S. legally and who had not been able to get HIV treatment out of fear of being reported. They held off from getting care until they felt that they couldn't work any longer and then returned to their home countries. One was even told that it was time for him to return home so he could die surrounded by family and friends instead of dying alone in the U.S. His case manager was even able to find an agency that would pay for a one-way ticket back home.
I thought this couldn't happen to me -- I had already been granted asylum. But then I remembered friends in Virginia and North Carolina who were put on ADAP waiting lists to receive medications. One friend who was not here legally was never able to receive treatment and ended up leaving when he was unable to work. The other one had gained legal residency, but it took him about a year to receive medication. He didn't have insurance, so he depended on ADAP. I began asking questions about ADAP, and fortunately for me Illinois had an ADAP that would allow me to receive treatment. That calmed me down, but now I knew I had to get more involved to speed up the process. I was told that "if and only if" I was sick enough would I be allowed to receive care via the emergency room. I was still healthy and didn't want to pretend I was sick enough to go to ER. Besides, in the long run I would have had to pay out of pocket -- money that I didn't have.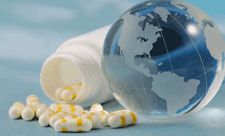 Reluctantly, I went to my first appointment at Cook County Hospital and I was impressed. I found doctors that spoke Spanish, and the providers were immediately able to enroll me in ADAP so I could receive medications. The facilities were impressive and they had a well-established group of medical and social service providers that made sure that I quickly received the attention I needed. They gave me referrals to support groups that served gay and bisexual men, in Spanish, at an agency called CALOR. I met a lot of good people there. The hospital also provided a nutritionist and a mental health counselor in case I needed to talk to someone. I was provided with protein shakes that helped me to gain weight and made eating easier, since I had been diagnosed with thrush. It was a "one-stop shop," and I think they showed concern and care for me as an individual.
I always wondered why the other clinic didn't provide the same service and enroll me in ADAP. I think it was lack of knowledge about asylum and also that the worker wasn't willing to do the work needed. In reality, the process of getting my meds through ADAP wasn't difficult, since I was eligible after all.
I owe my life to ADAP. I still hear stories about ADAP waiting lists in other states. I'm not sure what would have happened to me if I had been placed on a waiting list. I probably wouldn't be alive now.
Since 2001, I have been able complete my undergraduate degree and most recently began a Masters Degree. I don't find myself struggling or living in fear that I will not receive medical care or treatment. I guess I owe this to ADAP, too. To all those that test positive and who need treatment, I tell them to insist on receiving care and treatment. Somewhere and somehow there are systems set up that will allow you to receive the care you need.
Want to read more articles in the Fall 2008 issue of Achieve? Click here.