U.S. Situation Update
Weekly Flu Activity Estimates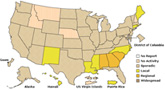 U.S. Patient Visits Reported for Influenza-like Illness (ILI)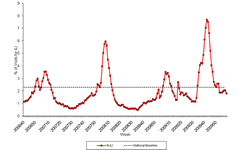 U.S. Influenza-like Illness (ILI) Reported by Regions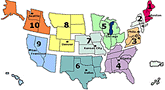 U.S. Laboratory Confirmed Influenza-Associated Hospitalizations and Deaths from August 30, 2009 to February 20, 2010

Posted February 26, 2010, 11:00 AM ET
Data reported to CDC by February 23, 2010, 12:00 AM ET

Cases Defined by

Hospitali- zations

Deaths

Influenza Laboratory-Tests**
40,618
1,994

* Reports can be based on syndromic, admission or discharge data, or a combination of data elements that could include laboratory-confirmed and influenza-like illness hospitalizations.

** Laboratory confirmation includes any positive influenza test (rapid influenza tests, RT-PCR, DFA, IFA, or culture), whether or not typing was done.
International Situation Update
Map of International Activity Estimates
(Including 2009 H1N1 Flu)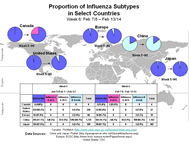 Key Flu Indicators
February 26, 2010, 11:15 AM
Each week CDC analyzes information about influenza disease activity in the United States and publishes findings of key flu indicators in a report called FluView.* During the week of February 14-20, 2010, most key flu indicators remained about the same as during the previous week. Below is a summary of the most recent key indicators:
Visits to doctors for influenza-like illness (ILI) nationally decreased this week over last week and remain low. ILI is also looked at by region and three of 10 U.S. regions are reporting elevated ILI. Elevated ILI was seen in regions 1, 4, and 7. Region 1 is comprised of Connecticut, Maine, Massachusetts, New Hampshire, Rhode Island and Vermont. Region 4 is comprised of Alabama, Florida, Georgia, Kentucky, Mississippi, North Carolina, South Carolina, and Tennessee. And region 7 is comprised of Iowa, Kansas, Missouri, and Nebraska.
Laboratory-confirmed hospitalizations rates have leveled off and very few hospitalizations were reported by states during the week ending February 20.
The proportion of deaths attributed to pneumonia and influenza (P&I) based on the 122 Cities Report remains low. However, three flu-related pediatric deaths were reported this week: one death was associated with laboratory-confirmed 2009 H1N1, and the remaining two deaths were associated with infection with an influenza A virus for which the subtype was undetermined. Since April 2009, CDC has received reports of 329 laboratory-confirmed pediatric deaths: 278 due to 2009 H1N1, 49 pediatric deaths that were laboratory confirmed as influenza A, but the flu virus subtype was not determined, and two pediatric deaths that were associated with seasonal influenza viruses. (Laboratory-confirmed deaths are thought to represent an undercount of the actual number. CDC has provided estimates about the number of 2009 H1N1 cases and related hospitalizations and deaths.
No states reported widespread influenza activity. Three states reported regional influenza activity. They are: Alabama, Georgia and South Carolina.
The majority of the influenza viruses identified so far continue to be 2009 H1N1 influenza A viruses. These viruses remain similar to the virus chosen for the 2009 H1N1 vaccine, and remain susceptible to the antiviral drugs oseltamivir and zanamivir with rare exception. Some influenza B viruses are circulating at low levels, and these viruses remain similar to the influenza B virus component of the 2009-10 seasonal flu vaccine.
* All data are preliminary and may change as more reports are received.
More on the Situation
Background
Background
Learn about the emergence of the 2009 H1N1 virus in the United States and WHO's declaration of a novel H1N1 pandemic.