Diet, Nutrition & HIV/AIDS
Why Is Nutrition Important?
Good nutrition can be a problem for many people with HIV. When your body fights any infection, it uses more energy and you need to eat more than normal. But when you feel sick, you eat less than normal.
-- Nutrition from AIDS InfoNet
Good diets and nutrition help many HIVers feel healthier. The articles below can help you get started. You can also ask expert Nelson Vergel your questions about nutrition and exercise.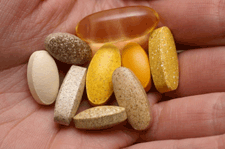 Vitamins and supplements can also help HIVers stay healthy. Read more >>