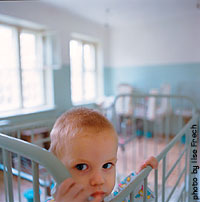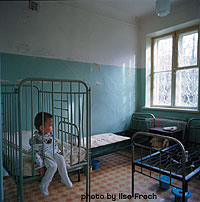 Moscow, Russia 2002. Misjakoetis -- Children's Department at Orechovo-Zoejevo.
Those who have worked in the area of HIV prevention in Eastern Europe and the former Soviet Union (fSU) have spent well over ten years talking about the social, economic, and human factors that make these countries susceptible to HIV. Now, in 2003, we no longer speak of what may be: HIV and AIDS have arrived and, as everywhere else, the virus is causing devastation.
For three years in a row UNAIDS has reported that HIV is growing faster in Eastern Europe and the fSU than anywhere in the world. Today, there are 235,000 registered HIV infections in Russia with the total number of people living with HIV estimated to be much higher -- up to 1.5 one million.1 The situation is equally dire in neighboring Ukraine, where close to 1% of the adult population is estimated to have HIV.2 This is startling in a region where countries had few, if any, HIV/AIDS cases before 1995.
The meteoric rise in HIV/AIDS cases in this region began with an outbreak of HIV in Ukraine and Belarus in 1995, followed by outbreaks in Moldova in 1996 and the Russian Federation in 1998. Although case numbers remain relatively small in other European and fSU countries, growth rates have increased tremendously during the same time period. In 1999, Estonia reported 12 cases of HIV, by 2001 this number increased to 1474; in 1997 Latvia reported 25 new infections, in 2001 they reported 807.3
Advertisement
Unlike in most other regions, HIV in Eastern Europe and the fSU is spreading primarily through injection drug use. Economic despair, social dislocation, and easy access to heroin and other opiates en route from Afghanistan have all contributed to an explosion of drug use in the region. For many of these countries, IDUs comprise the majority of registered HIV/AIDS cases. In the European Newly Independent States (Russia, Moldova, Belarus and the Ukraine) IDUs account for 88% of HIV/AIDS cases, while in the Baltic States (Estonia, Latvia, and Lithuania) they account for 80.1% of all cases. Even in countries with a longer history of HIV/AIDS, drug users continue to be among those most affected. In Poland, a country with one of the most mature HIV epidemics, drug users account for 62.5% of all cases.
4
Repressive drug policies in the region fuel the HIV epidemic. Injecting drug users receive little or no sympathy from the general population and even less from governments that favor confinement over treatment. Drug users are sent to overcrowded prisons where needles are shared and HIV rates are surging at an even faster rate than among the population at large. In Russia alone, more than one-sixth of all registered HIV cases are people in prison.5 Potential for such pockets of infection among drug users both in and out of prison are ripe. In Lithuania, a country previously regarded as having the lowest prevalence of HIV in Europe, 321 cases of HIV were detected between May 1 and August 20, 2002 almost doubling the number of previously recorded cases.6 Of these 321 cases, 284 were located in one closed prison facility.
Halting the spread of HIV among drug users requires entirely new ways of thinking. Clearly these pockets of infection must be addressed. National and local governments must implement flexible and caring health policies that focus on helping drug users, not punishing them. In the context of drug users, harm reduction is the most humane and realistic way to stem the spread of HIV.
One key element of most harm-reduction programs is needle exchange. Hundreds of studies around the world have shown that providing injecting drug users with access to clean needles greatly reduces needle-sharing and thus HIV infection. The World Health Organization (WHO), the American Medical Association, UNAIDS and many others consider provision of clean syringes to be an effective and necessary method of preventing HIV transmission among injecting drug users.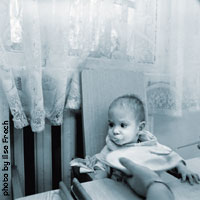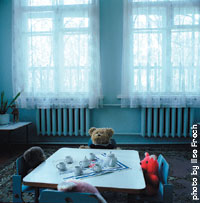 Moscow, Russia 2002. Children's Home #7.
Treatment programs that offer methadone and other substitution therapies are another vital part of harm reduction efforts. Unfortunately, rigid and repressive drug policies in many countries mean that such programs are few and far between. In Russia, for example, substitution treatment is not available. Ukraine, on the other hand, recently took a promising step when they registered methadone.
Along with HIV prevention we must also work with those already infected, including drug users, to provide treatment options. Treatment options in this region are scarce. In 2001, less than 1000 of the estimated 1 million people living with AIDS in Eastern Europe and the fSU were receiving antiretroviral treatment.7 The situation is especially bad for HIV-infected drug users, who are often placed last on the list of those in line for antiretrovirals, are required to stop methadone in order to gain access to HIV treatment, or are denied antiretrovirals altogether.
In this bleak picture there are signs of hope. In the first two rounds of proposals, grants from the Global Fund to Fight AIDS, Tuberculosis and Malaria have approved over US$120 million in funding for the region. These funds will be used for the prevention, treatment, care and support of people infected and directly affected by AIDS and tuberculosis. Projects funded will increase access to health services; provide critical health products including antiretroviral drugs; train personnel and community health workers; conduct outreach and create community-based programs.
While Global Fund resources are much needed in the region, these resources are but a very tiny step in the right direction. Pilot programs are simply not enough. One methadone program in Bulgaria (where methadone has been legal for over five years) is not enough to stem an HIV epidemic. Large-scale interventions must be implemented.
There are no easy solutions to the AIDS epidemic in Eastern Europe and the former Soviet Union -- or in any other region of the world. But this does not mean that people in the region or elsewhere can allow themselves to shy away from making difficult decisions -- financially, culturally, or morally -- about how to address it. Violence at the hands of police, denial of public services, imprisonment that destroys health and breaks the spirit, so-called "drug treatment" that humiliates clients and their families ... all of these human rights abuses experienced by drug users not only make for a repressive society but also fuel the HIV epidemic. If the world is unable or unwilling to turn its attention to this region and offer help in dealing with this looming disaster, the consequences will be horrific.
Reprinted with permission from IATEC UPDATE, the magazine of the International Antiviral Therapy Evaluation Center, located at the University of Amsterdam, the Netherlands. Visit www.iatec.com. Malinowska-Sempruch is director of the International Harm Reduction Development Program for the Open Society Institute, in New York City.
Photographer Ilse Frech is from Amsterdam, and has participated in the World Press Photo's Joop Swart Masterclass. Frech's recent work will be shown on their Web site, www.worldpressphoto.nl, starting November 2003. Ilse Frech can be contacted via e-mail, ifrech@xs4all.nl.
References