The 15th International AIDS Conference (IAC) in Bangkok brought much needed focus to an estimated 10 million impoverished people living with HIV and AIDS in Asia and the Pacific region. The conference's theme, "Access for All," was aimed at exploring the link between the spread of HIV, poverty and affordable treatment options. In bringing the conference to Thailand and Asia, it was hoped that additional efforts to combat HIV/AIDS would shift to the region, as occurred when the 13th IAC was hosted by Durban in South Africa in 2000.
An estimated 38 million people are living with HIV/AIDS worldwide. In 2003 alone, 2.9 million people died and another 4.8 million were newly infected with HIV. There are 14,000 new infections each day, more than 40% are among young people 15-24 years of age. One in four infections last year occurred in Asia.
Thailand was also chosen to host the conference in part because the government is widely acclaimed for its early success in stemming the spread of HIV in the country through innovative prevention efforts. However, in recent years, many AIDS activists have been critical of the government's controversial responses to the intravenous drug-using community. The United States continues to be passed over as a host country for the conference because of discriminatory federal laws that restrict the entrance of HIV-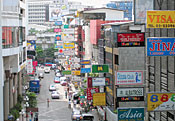 positive people.
Stigma, discrimination and isolation due to one's HIV status are as much a problem in Thailand and other parts of Asia as it is elsewhere. Women are stoned to death, neighbors shun families, and children are ostracized in school. This goes on largely without the influence of media and the politicization of AIDS that has occurred in the U.S. The 15th IAC tried to address this issue. The conference brought people living with HIV and their supporters from all over the world together for one week to share experiences, discuss challenges and exchange ideas, all in the hope of better understanding the condition of HIV-positive people and to prevent millions of children and adults worldwide from dying from the disease, by gaining commitments to improve prevention strategies, providing access to affordable drugs and ending the stigma people living with HIV face on a daily basis.
Advertisement
About 1,000 Thai and international demonstrators protested prior to the opening ceremonies in a call for increased accessed to antiretroviral drugs. The protestors chanted, "Free medication for every nation" and "Access for All," and called for the end of the free trade negotiations between Thailand and the United States. The demonstrators presented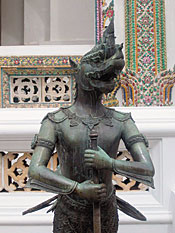 a letter to conference organizers demanding that the Thai government ensure antiretroviral drug coverage and avoid signing free-trade agreements.
At the opening ceremony for the conference, Thailand Prime Minister Thaksin Shinawatra and United Nations Secretary-General Kofi Annan urged international agencies and donor nations to provide more support to developing countries in the fight against HIV and AIDS. Shinawatra, who has been highly criticized by the Thai Drug Users Network for abusing the human rights of users, promised to increase the availability of GPOvir (a generic anti-HIV drug containing Zerit, Epivir and Viramune) to HIV-positive people in Thailand and to expand campaigns on condom use and education for sex workers.
In his speech at the opening, Shinawatra called for treatment instead of incarceration, a long overdue change in policy. Currently, treatment for substance abuse is generally unavailable in Thailand and thus far the government has not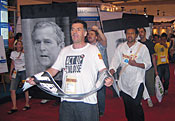 supported needle exchange or methadone programs. Because of past policy, activists, who carried signs saying, "Clean Needles, No More Lies," heckled Shinawatra. The Prime Minister is held responsible for a six-month war on injection drug users last year in Thailand that left more than 2,000 dead. The government-led campaign forced many addicts further underground, instead of seeking support. It is estimated by the Public Health Ministry of Thailand that needles shared with drug injection partners cause 47% of HIV/AIDS cases.
In Thailand, more than 100,000 people are living with advanced stages of HIV and AIDS and require anti-retroviral medicines. Yet, some 70,000 individuals are not receiving anti-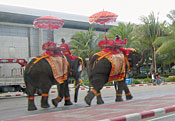 HIV meds. The government plans to provide the "first-line" drug, GPOvir, produced by the Government Pharmaceutical Organization for 50,000 HIV-positive people by the end of the year.
Politics of AIDS
Activists also called for an end to Thailand and U.S. free-trade talks, especially around the issue of the protection of drug patents by U.S. pharmaceutical companies. Activists fear any such agreement will raise the price of anti-HIV drugs in Thailand. Activists maintain that if Thailand's government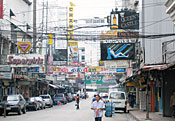 enters into a free trade agreement with the U.S., many second-line drugs will remain under patents currently owned by U.S. pharmaceutical companies. They argue that the costs of these drugs will place them out of reach of HIV-positive individuals when "first line" generic drugs are no longer active against the virus. In daily demonstrations that closed pharmaceutical booths in the exhibition hall during the conference, activists carried banners with slogans such as, "Bush's free trade deals kill generic AIDS drugs," "Greed kills," and "You talk, we die."
Hank McKinnell, the chairman and chief executive officer of Pfizer, was forced to abandon his speech before conference attendees. Mr. McKinnell, who also serves on PACHA (President's Advisory Council on HIV/AIDS), has been very active in domestic and international AIDS policy over the last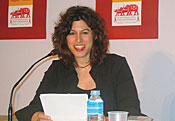 five years. Activists charge that pharmaceutical companies are more concerned about their property rights and profits margins rather than saving lives. McKinnell countered by saying that Pfizer is willing to cooperate with any governments and poorer countries in order to make anti-HIV drugs available to people living with HIV/AIDS.
The Bush administration faced heavy criticism from activists at this year's conference who accused the government of not living up to its commitments in the global fight against AIDS. The main focus of the anger expressed by activists was the administration's failing to provide significant financial support to the Global Fund to Fight AIDS, Tuberculosis and Malaria as promised. Originally, President Bush pledged $15 billion for AIDS relief through the Global Fund. However, the administration has instead decided to move forward with its own plan -- the President's Emergency Plan for AIDS Relief (PEPFAR) -- to provide financial support for governments and community groups in developing countries. Randall Tobias, the U.S. Global AIDS coordinator, stated at the conference, "PEPFAR is an effective mechanism to ensure that small and effective organizations can improve their work and get money fast in order to address urgent needs within communities."
Activists criticize PEPFAR because it allows the Bush administration to handpick governments and community groups whose prevention and treatment policies coincide with the Bush administration. The policies that are favored by the administration are primarily those promoting sexual abstinence instead of condom use and safer sex education and that attempt to block development and access to cheap (generic) drugs in poorer nations.
Although the U.S. continues to be the largest donor to the Global Fund, it is not enough according to many activists. The Global Fund remains about $100 million short of its targeted $1.65 billion budgeted activities for this year.
"The U.S. seemed mystified by its reception in Bangkok -- everyone from the activists to Kofi Annan to Jacques Chirac and Tony Blair was criticizing their policies on
HIV/AIDS," stated Gregg Gonsalves, Director of Treatment and Prevention Advocacy for Gay Men's Health Crisis (NYC). "Despite the President's announcement two years ago that he was mounting a new $15 billion international HIV/AIDS initiative, nowhere near that amount has been asked for by the Administration from Congress and its AIDS program has been perverted by arch-conservatives in the Administration and in Congress who are pushing abstinence-only education (despite the evidence that this kind of stand-alone programming doesn't work), questioning the effectiveness of condoms and generic versions of antiretroviral drugs and shortchanging the Global Fund to Fight AIDS, TB and Malaria. The Administration once again, like they're doing in Iraq, prefers to go it alone and ignore the best advice of its partners and experts in its own country and around the world."
The World Health Organization (WHO) continues to move forward with its "3 by 5" program -- a project to provide treatment to three million persons living with HIV by 2005. Currently about 440,000 individuals are now receiving treatment under the program. With current drug availability, the three million target would not be reached until 2009. Officials say that the goal can still be reached, but there are many obstacles. Funding shortfalls, with a $62 million shortage in the $218 million needed to support the program, has been the major barrier. Another is due in part to the additional time needed to train health care workers and develop standards of care.
Women at Risk
The Global Village was a community project developed for the conference to provide an accessible space for people, many living with HIV/AIDS. The Global Village included meeting and discussion forums, community markets for Thailand merchants, and space for PWAs (people with AIDS) to share experiences and rest.
In the Global Village, I had the opportunity to speak with one young Thai woman living with AIDS. Noi (not her real name) blames the government for failing to provide proper education to the broader community about HIV prevention. Women in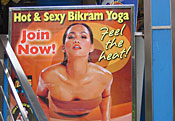 particular, she fears, are not learning how to protect themselves against the virus. Noi married her husband at her family's request without knowing he had HIV. He died three years after they married. "So long as this cycle continues, women will not survive AIDS," Noi stated.
This year's conference also brings focus to what Lucita Lazo, regional director of the United Nations Development Fund for Women (UNIFEM), calls the "feminization of HIV and AIDS." For two decades there has been a noticeable neglect to address gender issues at AIDS conferences. On a global level, 48% of HIV cases are attributed to women and in many regions, including Southeast Asia, women are more vulnerable to HIV because of their economic and social dependence on men. Many women cannot negotiate safer sex relationships with their partners and others are routinely exposed to physical violence and sexual abuse. The 2004 conference included the highest number ever of workshops and panels focusing on gender and HIV.
Challenges and Expectations
The conference organizers, the International AIDS Society (IAS), had high expectations to meet and difficult challenges to overcome this year. The overarching theme of this year's conference, "Access for All," in theory speaks to the expectation that all people living with HIV/AIDS, scientists, community workers and leaders from the public and private sectors, have access to all resources at hand after 20 years of AIDS. As our experience and knowledge of HIV grows each year, our need for access to information from a conference of this magnitude grows as well. This year's conference presented an opportunity to hear some of the exciting scientific discoveries in treatment and vaccines, successes in prevention and expanding access to treatment in developing and developed nations. It provided an expected 17,000 diverse individuals from over 160 countries -- dedicated to the global struggle against AIDS -- an opportunity to discuss their respective challenges and share success.
Speaking at the conference opening on the need for leadership to fight AIDS, United Nations Secretary-General Kofi Annan said, "We need leaders everywhere to demonstrate that speaking up about AIDS is a point of pride, not a source of shame. There must be no more sticking heads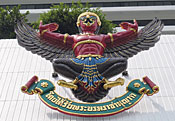 in the sand, no more embarrassment, no more hiding behind a veil of apathy. Leadership means respecting and upholding the human rights of all who are vulnerable to HIV/AIDS -- whether sex workers, drug users, or men who have sex with men."
The conference was divided into three programmatic sections this year. The Scientific Program provided highlights on the new discoveries in prevention and treatment, results of vaccine trials, evaluation of HAART (highly active antiretroviral therapy) in countries such as the U.S. that has had widespread access for many years, and in developing countries that are slowly gaining access to anti-retrovirals.
The Community Program emphasized inventive programs and community-based involvement in the prevention, treatment and care of HIV/AIDS. New to this year's conference is the "Global Village" -- a space for conference attendees to share challenges, ideas and successes.
The Leadership Program brought together leaders from all walks of life committed to fighting AIDS on a global level.
The conference faced difficult logistical challenges, including the shear magnitude of moving 20,000 people daily through a city infamous for its gridlock, air pollution and humidity to an isolated convention center. With over 10,000 abstracts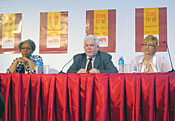 submissions to consider, the conference organizers and reviewers also had difficult decisions to make to attempt to satisfy the needs of scientists, activists, policy makers, people living with HIV/AIDS and other interested individuals.
Vision -- Committment, Leadership and Accountability
At the end of the day, this conference will be judged by the success of the vision outlined by the organizers. However, as a third-time attendee of the International AIDS Conference, I have several concerns that I hope will be addressed in the conference's aftermath. After 20-plus years of struggle, I am concerned about our commitment as a community of scientific, private and public partners in the fight against this pandemic. If we are going to prevail, our success will depend not only on scientific developments, educational programs and community support, but also on a commitment to act locally and globally, and not pit the two needs against one another.
Where is the leadership to combat AIDS? From the highest level of the world's richest nation to the poorest child in a Thailand village, it will take a global effort to develop a comprehensive plan to succeed against HIV/AIDS. At this year's conference the U.S. government was unfortunately under-represented from a scientific and leadership stance. The administration made a conscious decision to not send leading researchers and public health experts to the conference. How does this reflect on the U.S. overall commitment and ability to provide leadership in the fight against HIV and AIDS? A strong presence could have sent a compelling message of solidarity and made the conference more productive.
Who is accountable for recent shortcomings? What has happened to the pledges of monies to address the AIDS pandemic? What are pharmaceutical partners doing to bring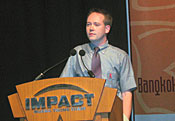 safer and affordable drugs to market and to make existing drugs more accessible to the millions of people in need? What are community members and organizations doing to deal with AIDS complacency? The continued stonewalling by the government, private sector and community groups will not help reduce the incidence of HIV anywhere in the world. As Annan stated in his address to the conference, "AIDS is far more than a health crisis. It is a threat to development itself." These groups need to rethink their approach to each other and they need a broader level of cooperation and communication.
Kofi Annan called on the United States to devote as much attention and funding to HIV/AIDS as it does to terrorism and weapons of mass destruction. Annan told conference attendees, "We hear a lot about terrorism, and we are worried about weapons of mass destruction because of their potential to kill thousands of people. Here we have an epidemic that is killing millions of people. What is the response? America has the natural leadership capacity because of its resources, because of its size."
While weapons of mass destruction and terrorism have the capacity to kill in a moment of violence, AIDS has proven that it can and does destroy the social and economic structure of communities and countries -- slowly and silently. More than 20 million people have died from AIDS in the past 20 years, including six million since the last International AIDS Conference in 2002. Today, AIDS is basically spreading unchecked in India, Africa, China and South Asia.
Those of us on the "frontline" -- at community-based organizations, volunteers, demonstrators, protestors, activists and advocates for people living with HIV and AIDS -- need to re-examine why we are in "it". Apparently some of us, too many of us, are in "it" for the paycheck, in for personal recognition, in it because we like to hear our own voices, in it because we happened to be in the right place at the right time five, 10 and 15 years ago and we're too damn lazy to move on. We scream, we shout, we bitch and moan, but we're not willing to talk about other perspectives and compromises. Twenty years ago AIDS "die-ins" were powerful statements, as were demonstrations at conferences. Today, many protests appear solely to be acts to intimidate others and to destroy property. We no longer seem to be in "it" to make a real difference in the lives of people living with HIV and AIDS. We need to re-examine our resolve.
We need leaders to break the silence that still holds AIDS as a political, social and economic hostage. We need leaders to denounce the status quo that feed stigma, discrimination and violence against individuals living with HIV and those who want to help them. We need leadership that translates into scientifically sound and proven prevention and care interventions. We need leadership that generates substantial resources for testing, prevention and care for individuals living with and impacted by HIV and AIDS. We need leadership that brings government, private sectors, and community to the same table -- to foster effective listening and forging even more effective partnerships. We need a commitment to provide access for all.
We are stronger than we were 15 International AIDS Conferences ago, mainly due to the generation of AIDS activists, scientists, and leaders from all over the world who dedicated their lives to partnering with people living with HIV and AIDS to defeat this disease. I hope that as the 20,000 diverse individuals from across the rich field of HIV/AIDS prevention, research and treatment, including people living with HIV/AIDS, return to their lives that each comes away with a better understanding of what it will take to make "Access for All" a reality, and a commitment to do so, sooner, rather than later.