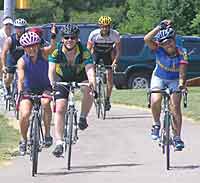 One thing about being diagnosed HIV-positive and always faced with the possibility of death is that it led me to make some badly needed changes in my life. Up to the point when I was diagnosed with HIV in 1991, I hadn't accomplished a great deal with my life. I finished high school, but that was it. I spent many nights partying or looking for one.
I went to college and I obtained some degrees, and I started addressing the substance abuse problem that I had. I never really dealt with being HIV-positive except to see the doctor on a semi-regular basis and to get my medications. I wanted to look and be normal. The medications accommodated that.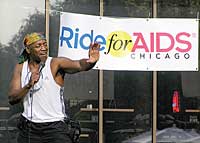 Internally, my way of addressing my HIV status could not have been very healthy. I did not talk about it with anyone except my doctor. It was my dirty secret. I guess that that's what made Test Positive Aware Network (TPAN) so appealing when I saw the classified ad for a position that was offered there. Minorities and persons who were HIV-positive were encouraged to apply.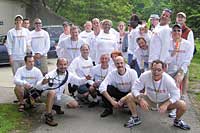 TPAN has many great attributes, but the one that I liked the most is that it is peer-led. This means that most of the staff who are employed here are HIV positive or living with AIDS. Now I could talk about my fears and think positively about the future. TPAN has also been a source of a lot of information. I learned, in detail, what HIV means, the latest treatment strategies, how to advocate for myself as a person who is HIV-positive and how to better manage my health. As a social services agency, TPAN seems to appreciate that there is more to living with HIV/AIDS than the medical aspect. The social aspect of being positive is addressed as well. We talk about relationships and sex, and we hold events to bring people who are impacted by HIV/AIDS together.
Advertisement
The Ride for AIDS Chicago Was One Such Event
Ride for AIDS Chicago was an event to raise funds for TPAN and another AIDS service organization, Better Existence with HIV (BEHIV). It was a bike ride over two days and 160 miles, from Chicago to Lake Geneva, Wisconsin, and back. As soon as it was announced, I signed up. I signed up in part because I bought a bike the year before and I had been riding it and appreciated the challenge. Moreover, it was a way to give back to agencies that had been fighting for me before I knew how to or appreciated fighting for myself.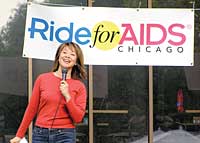 More than 50% of all new infections are in people of color. As a person who is in recovery, I know that drugs and alcohol greatly increase the risk of transmitting HIV or becoming infected, because it lowers your inhibitions and you're more likely to engage in risky behaviors. Lastly, those who are incarcerated are twice more likely to be infected. I am no stranger to the criminal justice system.
I must continue to do my part to spread the word that HIV/AIDS is a war that must be waged on many fronts. My part includes those things that I may do to keep the faces of HIV/AIDS visible. I am remiss in my responsibility if I keep quiet. So, I ride. I advocate.
The physical ride was long and arduous. Many times, I wanted to give up. For people who live with HIV/AIDS, giving up means death. Therefore, it is not a viable option. I finished the ride, but I continue riding.
Ride For AIDS Chicago
TPAN and BEHIV received more than $80,000 in net proceeds from the Ride for AIDS Chicago 2005, held June 4th and 5th. The rider registration fees, sponsorships and in-kind donations allowed TPAN & BEHIV to return 100% of the riders' pledges to the charities. Special thanks to our 90 riders and 31 crew members who participated in the 160-mile, round-trip ride from Northwestern University in Evanston to Lake Geneva, Wisconsin.
The 2006 Ride For AIDS Chicago will mark the 25th year of HIV/AIDS. Ride registration has already begun. The first person to register again was crew member Elvina Moen -- going strong at 87! For further information on the Ride, visit www.rideforaids.org.