The backbone of antiretroviral therapy remains two nucleoside reverse transcriptase inhibitors (also called
nucleosides
or
"nukes"
), whether you are taking a non-nucleoside or protease inhibitor (
Table 2: Antiretroviral Regimens Recommended for Treatment of HIV-1 Infection in Antiretroviral Na?ve Patients
).
How These Drugs Work
Upon entering the cell, all but Viread (also part of Truvada) have to be activated via a three-step process by enzymes within the cells (three phosphate groups are added by enzymes called kinases). Viread only needs two steps for activation. Once activated, these drugs can then bind to an enzyme (reverse transcriptase) within the cell that prevents the virus from making copies. RTIs (nukes) bind to a different site on this enzyme than the non-nucleoside reverse transcriptase inhibitors (non-nukes). Also, except as noted below, each nuke works slightly differently on this enzyme, allowing most of them to be used together safely and effectively.
Metabolism
The "nukes" are mostly metabolized by pathways not used by PIs or NNRTIs. Some of the nukes are metabolized in the liver but by different methods than the PIs or NNRTIs (Retrovir and Emtriva for example). Ziagen has a unique metabolism. It is broken down by the same enzyme that breaks down alcohol. Though no interaction occurs if they are given together, this is
not
a recommendation to enjoy an adult beverage when you take your Ziagen or Ziagen containing-products! Some nukes are not metabolized to any great extent and are eliminated mostly through the urine (Epivir and Viread for example). For this reason, the doses of many nukes should be decreased if you have kidney disease. Exactly how some of these drugs are broken down by the body is still unknown (Zerit for example). This is why research and TDM (therapeutic drug monitoring) continue to be conducted on drugs that have even been in use for 10 years.
Table 1
shows the pharmacokinetic parameters for the nucleosides.
Drug Interactions With Dual RTIs
Retrovir:
Retrovir and Zerit cannot be used together. These two drugs compete for the same activating kinase enzymes (see introductory paragraph above for explanation). When these two drugs are given at the same time, Retrovir prevents Zerit from being activated, giving you no benefit from taking Zerit.
Advertisement
Zerit:
Other than mentioned above,
Zerit
has no significant drug-drug interactions with any of the other "nukes". Your doctor may be able to discuss other possible reasons why Zerit is not combined with other "nukes", but these are not for pharmacokinetic reasons.
Viread: When Viread and Videx EC are given together, increases in Videx blood levels are seen. An increase in the Videx AUC (area under the curve) varied from 48% to 60% when these two drugs were given together without and with food, respectively. Studies were done with lower doses of Videx EC and food. The best combination (250 mg of Videx EC and 300 mg Viread) resulted in no change in the AUC of Videx compared to when 400 mg of Videx EC was taken by itself. No meaningful changes were seen in Viread?s pharmacokinetics. Therefore, the drug-drug interaction can be addressed by adjusting the dose of Videx EC. When they are used together, you should be on a lower dose of Videx (250 mg daily in persons weighing greater than 60 kgs) and taking these agents with food at the same time. Long-term safety data are not available on this recommendation however, so be sure to discuss this with your doctor or pharmacist.
Emtriva: Emtriva and Epivir do not have a "drug interaction" per se, but since they have very similar chemical structures, antiviral activities and can select for the same resistance mutation, they should not be taken together (see "How these Drugs Work" above for more detailed explanation). No formal drug interaction studies have been conducted, but it would be wise to avoid using these two agents as the RTIs of your regimen until more information is available (studies suggested to be done in non-infected persons!).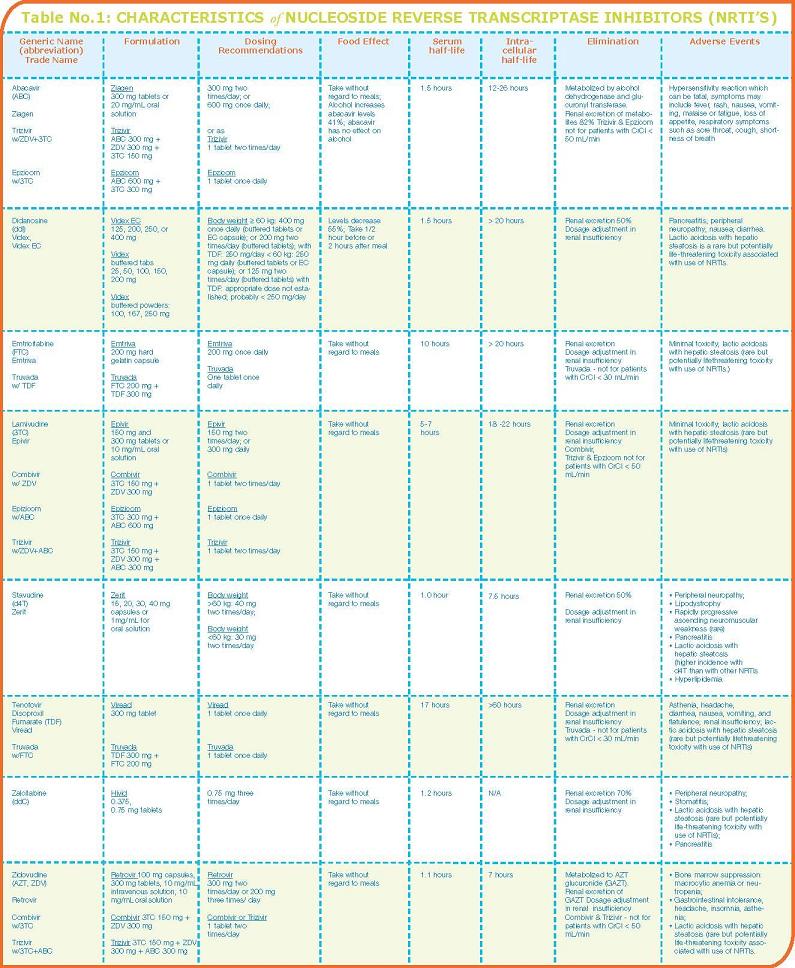 Click to enlarge
Source: Guidelines for the use of Antiretroviral Agents in HIV-Infected Adults and Adolescents,
U.S. Department of Health and Human Services
.

Table 2: Antiretroviral Regimens Recommended for Treatment of HIV-1 Infection in Antiretroviral Na?ve Patients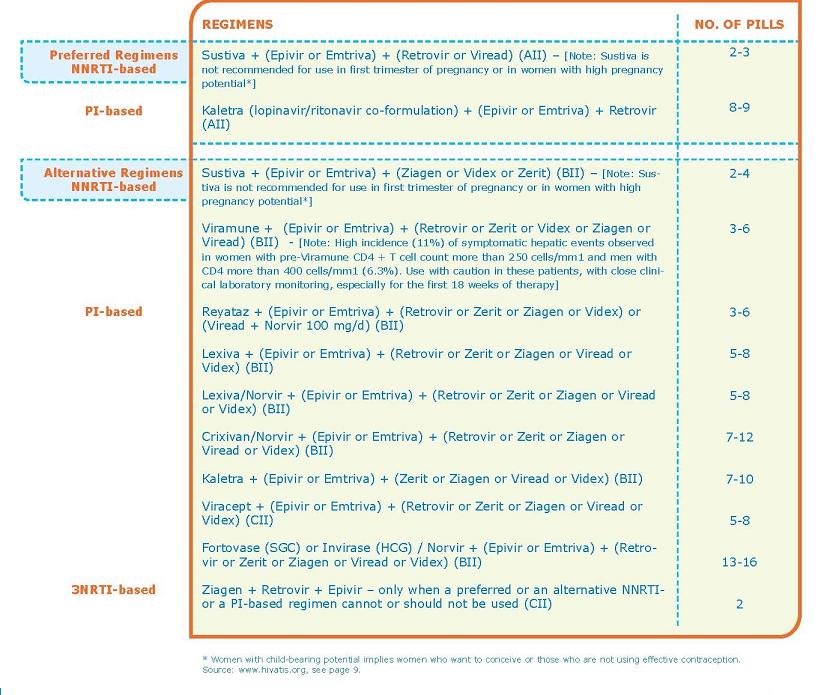 Click to enlarge
Drug Interactions With Triple RTIs
Viread and Epivir, when given with either Videx or Ziagen once a day, resulted in poor rates of efficacy. The exact mechanism of this has not been determined, but it is not believed to be one related to plasma pharmacokinetics. Regardless, these medicines should not be used as a once-daily antiretroviral regimen.
Drug Interactions With RTIs and NNRTIs
None of the RTIs have any known impact on the pharmacokinetics of the NNRTIs. One potential interaction is that Rescriptor (which needs acid in the stomach for absorption) would need to be separated from Videx buffered tablets (which reduces acid in the stomach).
Drug Interactions With RTIs and PIs
As detailed above in the metabolism paragraph, most of the RTIs are metabolized by pathways other than those used by PIs. Therefore, drug interactions resulting from inhibition or induction of CYP metabolism are not usually seen between the nukes and PIs. There are a few noteworthy exceptions to this. They are provided below.
Viread and Reyataz: When Reyataz is administered with Viread, decreased Reyataz AUCs of 30% and Cmin of 40% were seen. To counter this, 300 mg of Reyataz was given with 100 mg of Norvir and 300 mg Viread -- all given simultaneously once daily. This is done to raise the Reyataz trough concentration to about the level it usually is when you are not taking Viread. When these three were given together to HIV-positive persons, Reyataz's AUC and Cmin were actually higher compared to Reyataz alone. However, longer clinical studies of these three would be welcome.
In the meanwhile, TDM may be prudent to use to ensure the Reyataz level is high enough.
Viread levels are increased by Reyataz by about 30%. But, Viread (and Truvada) dose adjustments are not recommended. So far controlled clinical trials extending beyond 96 weeks have not shown evidence of toxicity. Patients and doctors should just be aware of the increase so they can be on the watch for a potential increase in Viread side effects.
Viread and Kaletra: Kaletra is not significantly impacted by Viread. Kaletra does impact Viread though. When given together, increases in Viread AUC and Cmin were observed to be about 30% and 51%, respectively. As noted above, dose adjustments are not necessary, but being extra vigilant for any potential increase in Viread side effects is probably warranted.
It is not known why these interactions between Viread and these two PIs happen. Formal clinical studies using pharmacokinetic or TDM-based dosing of Reyataz and Kaletra have not been conducted to date. These types of studies may provide a better understanding of why these interactions occur, and hopefully this will be forthcoming. Importantly, Viread has been shown not to interact with Crixivan, Viracept, or Fortavase or Invirase boosted with Norvir.
Retrovir: Retrovir does have some minor interaction with both Viracept and Norvir. With Norvir and Viracept, Retrovir's AUC can be decreased by 25% to 35%, respectively. No dosing changes are recommended.
Videx: The remaining drug interactions possible are the result of absorption or dietary issues. Most of the protease inhibitors have dietary restrictions (food requirements, see Protease Inhibitors). The exceptions are Lexiva and Crixivan/Norvir. As Videx should be taken on an empty stomach and the protease inhibitors are to be given with food, these medicines should be separated by a minimum of one hour when prescribed in combination. As described earlier, if Videx is being given with Viread simultaneously with food, then taking the protease inhibitors at the same time is acceptable. If you have any questions, please check with your doctor or pharmacist.
Starting and Stopping the Medicines
The plasma and intracellular half-lives of these drugs vary considerably (from 7 hours for Retrovir and Zerit to about 39 to more than 60 hours for Emtriva and Viread) (see
Table 1
and
Figure 5
). While there are recommendations for how to deal with the long half-lives of the non-nukes when stopping a regimen, there are no similar recommendations for how to deal with the nukes' long half-lives. This is an area where more studies are needed.
Patrick G. Clay, PharmD, is an Associate Professor of Medicine and Director of Clinical Research for the Kansas City University of Medicine and Biosciences. He is primarily involved in investigations of antiretrovirals in infected and non-infected persons and has been working in HIV since 1995.
Editor's Top 3 Websites
Recommended Drug Interaction Websites (and They're Free)
University of Liverpool
This informative and educational HIV pharmacology resource is valuable for healthcare professionals, scientific researchers or anyone with an interest in HIV therapy. You can find reports on recent news and hot topics in HIV, discover comprehensive information and advice on drug interactions, read about advances in therapeutic drug monitoring (TDM), and much more!
Toronto General Hospital
This website is primarily for health professionals, but is an excellent site for up-to-date information on anti-HIV medicine drug interactions as well as herbal medicine interaction data. The information in these charts is intended for use by experienced physicians and pharmacists. The tables are not intended to replace sound professional judgment in individual situations, and should be used in conjunction with other reliable sources of information. Due to the rapidly changing nature of information about HIV treatment and therapies, users are advised to re-check the information contained herein with the original source before applying it to patient care. Decisions about particular medical treatments should always be made in consultation with a qualified medical practitioner knowledgeable about HIV-related illness and the treatments in question.
UCSF
HIV InSite is developed by the Center for HIV Information (CHI) at the University of California/San Francisco (UCSF), one of the world's leading health sciences institutions. Within UCSF, HIV InSite is produced in collaboration with the San Francisco Veterans Affairs Medical Center, the Positive Health Program at San Francisco General Hospital and the Center for AIDS Prevention Studies, components of the University's AIDS Research Institute. Launched in March 1997, HIV InSite's mission is to be a source for comprehensive, in-depth HIV/AIDS information and knowledge. The site has an extensive collection of original material, including the HIV InSite Knowledge Base, a complete textbook with extensive references and related links organized by topic. Unlike many commercially oriented sites, HIV InSite's policy is to link to the best of the Web, and thousands of links to external websites are incorporated into the site's original content. It is the policy of HIV InSite to allow free, anonymous access to all of the site's content.
Back to Winter 2005 contents page.