Reclaiming the Future
The impact of the AIDS epidemic is being increasingly felt in many countries across the world. Southern Africa continues to be the worst affected area, with adult prevalence rates still rising in several countries. But elsewhere, also, in countries often already burdened by huge socioeconomic challenges, AIDS threatens human welfare, developmental progress and social stability on an unprecedented scale.
The AIDS epidemic has a profound impact on growth, income and poverty. It is estimated that the annual per capita growth in half the countries of sub-Saharan Africa is falling by 0.5-1.2% as a direct result of AIDS. By 2010, per capita GDP in some of the hardest hit countries may drop by 8% and per capita consumption may fall even farther. Calculations show that heavily affected countries could lose more than 20% of GDP by 2020. Companies of all types face higher costs in training, insurance, benefits, absenteeism and illness. A survey of 15 firms in Ethiopia has shown that, over a five-year period, 53% of all illnesses among staff were AIDS-related.
Devastating Cycles
An index of existing social and economic injustices, the epidemic is driving a ruthless cycle of impoverishment. People at all income levels are vulnerable to the economic impact of HIV/AIDS, but the poor suffer most acutely. One quarter of households in Botswana, where adult HIV prevalence is over 35%, can expect to lose an income earner within the next 10 years. A rapid increase in the number of very poor and destitute families is anticipated. Per capita household income for the poorest quarter of households is expected to fall by 13%, while every income earner in this category can expect to take on four more dependents as a result of HIV/AIDS.
In sub-Saharan Africa, the economic hardships of the past two decades have left three-quarters of the continent's people surviving on less than US$2 a day. The epidemic is deepening their plight. Typically, this impoverished majority has limited access to social and health services, especially in countries where public services have been cut back and where privatized services are unaffordable.
Advertisement
In hard-hit areas, households cope by cutting their food consumption and other basic expenditures, and tend to sell assets in order to cover the costs of health care and funerals.
Studies in Rwanda have shown that households with a HIV/AIDS patient spend, on average, 20 times more on health care annually than households without an AIDS patient. Only a third of those households can manage to meet these extra costs.
According to a new United Nations Food and Agricultural Organization (FAO) report, seven million farm workers have died from AIDS-related causes since 1985 and 16 million more are expected to die in the next 20 years. Agricultural output -- especially of staple products -- cannot be sustained in such circumstances. The prospect of widespread food shortages and hunger is real. Some 20% of rural families in Burkina Faso are estimated to have reduced their agricultural work or even abandoned their farms because of AIDS. Rural households in Thailand are seeing their agricultural output shrink by half. In 15% of these instances, children are removed from school to take care of ill family members and to regain lost income. Almost everywhere, the extra burdens of care and work are deflected onto women -- especially the young and the elderly.
Families often remove girls from school to care for sick relatives or assume other family responsibilities, jeopardizing the girls' education and future prospects. In Swaziland, school enrolment is reported to have fallen by 36% due to AIDS, with girls most affected. Enabling young people -- especially girls -- to attend school and, hopefully, complete their education, is essential. South Africa's and Malawi's universal free primary education systems point the way. Schemes to provide girls with second-chance schooling are another option.
Development and Stability Threatened
Meanwhile, the epidemic is claiming huge numbers of teachers, doctors, extension workers and other human resources. In some countries, health-care systems are losing up to a quarter of their personnel to the epidemic. In Malawi and Zambia, for example, five-to-six-fold increases in health worker illness and death rates have reduced personnel, increasing stress levels and workload for the remaining employees.
Teachers and students are dying or leaving school, reducing both the quality and efficiency of educational systems. In 1999 alone, an estimated 860,000 children lost their teachers to AIDS in sub-Saharan Africa. In the Central African Republic, AIDS was the cause of 85% of the 300 teacher deaths that occurred in 2000. Already, by the late 1990s, the toll had forced the closure of more than 100 educational establishments in that country. In Guatemala, studies have shown that more than a third of children orphaned by HIV/AIDS drop out of school. In Zambia, teacher deaths caused by AIDS are equivalent to about half the total number of new teachers the country manages to train annually.
Replacing skilled professionals is a top priority, especially in low-income countries where governments depend heavily on a small number of policy-makers and managers for public management and core social services. In heavily affected countries, losing such personnel reduces capacity, while raising the costs of recruitment, training, benefits and replacements. A successful response to AIDS requires that essential public services, such as education, health, security, justice and institutions of democratic governance, be maintained. Each sector has to take account of HIV/AIDS in its own development plans and introduce measures to sustain public sector functions. Such actions might include fast-track training, as well as the recruitment of key civil servants and the reallocation of budgets towards the most essential services.
Countries that explore innovative ways of maintaining and rebuilding capacity in government will be better equipped to contain the epidemic. Equally valuable are labour and social legislation changes that boost people's rights, more effective and equitable ways of delivering social services, and more extensive programmes that benefit those worst hit by the epidemic (especially women and orphans).
Coping with Crisis
In the worst-affected countries, steep drops in life expectancies are beginning to occur, most drastically in sub-Saharan Africa, where four countries (Botswana, Malawi, Mozambique and Swaziland) now have a life expectancy of less than 40 years. Were it not for HIV/AIDS, average life expectancy in sub-Saharan Africa would be approximately 62 years; instead, it is about 47 years. In South Africa, it is estimated that average life expectancy is only 47 years, instead of 66, if AIDS were not a factor (see
Figure 2
). And, in Haiti, it has dropped to 53 years (as opposed to 59). The number of African children who had lost their mother or both parents to the epidemic by the end of 2000 -- 12.1 million -- is forecast to more than double over the next decade. These orphans are especially vulnerable to the epidemic, and the impoverishment and precariousness it brings.
Figure 2. Changes in Life Expectancy in Selected African Countries with High HIV Prevalence, 1950-2005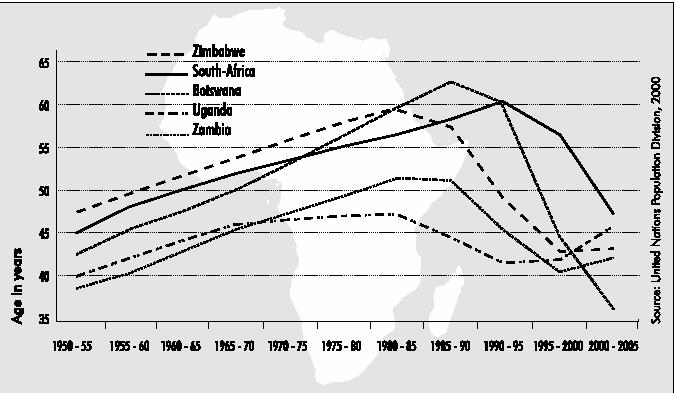 As more infants are born HIV-positive in badly affected countries, child mortality rates are also rising. In the Bahamas, it is estimated that some 60% of deaths among children under the age of five are due to AIDS, while, in Zimbabwe, the figure is 70%.
Unequal access to affordable treatment and adequate health services is one of the main factors accounting for drastically different survival rates among those living with HIV/AIDS in rich and poor countries and communities. Public pressure and UN-sponsored engagements with pharmaceutical corporations (through the Accelerating Access Initiative), along with competition from generic drug manufacturers, has helped drive antiretroviral drug prices down. But prices remain too high for public-sector budgets in low-income countries where, in addition, health infrastructures are too frail to bring life-prolonging treatments to the millions who need it.
Backed by a strong social movement, Brazil's government has shown that those barriers are not impregnable and that the use of cheaper drugs can be an important element of a successful response. Along with Brazil, countries such as Argentina and Uruguay also guarantee HIV/AIDS patients free antiretroviral drugs. In Africa, several governments are launching programmes to provide similar drugs through their public health systems, albeit on a limited scale, at first.
In all such cases, though, clearing the hurdle of high prices is essential but not enough. Also indispensable are functioning and affordable health systems. Massive international support is needed to help countries meet that challenge.