HIV incidence is rising faster in this region than anywhere else in the world. There were an estimated 250,000 new infections in 2001, raising to 1 million the number of people living with HIV.
In the Russian Federation, the startling increase in HIV infections of recent years is continuing, with new reported diagnoses almost doubling annually since 1998. In 2001, more than 40,000 new HIV-positive diagnoses were reported in the first six months. The total number of HIV infections reported since the epidemic began came to more than 129,000 in June 2001 -- up from the 10,993 reported for the end of 1998 (see Figure 3). The actual number of people now living with HIV in the Russian Federation is estimated to be many times higher than these reported figures.
At 1%, the adult HIV prevalence rate in Ukraine is the highest in the region. While injecting drug use is currently responsible for three-quarters of HIV infections in Ukraine, the proportion of sexually transmitted HIV infections is increasing. In Estonia, reported HIV infections have soared from 12 in 1999 to 1,112 in the first nine months of 2001. Outbreaks of HIV-related injecting drug use are also being reported in several Central Asian republics, including Kazakhstan and, most recently, Kyrgyzstan, Tajikistan and Uzbekistan.
Figure 3. Cumulative Number of Reported HIV Cases in the Russian Federation, 1987-2001 (as of June 2001)
Advertisement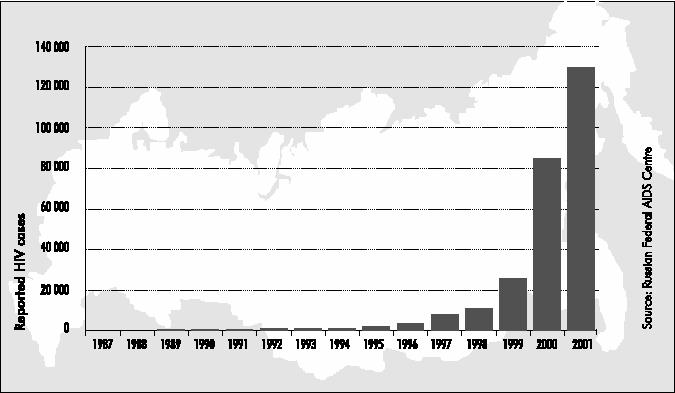 Given the current evidence, a much larger and more generalized epidemic is a real threat. However, the epidemic is still at an early stage in the region and massive prevention efforts could curtail its scale and extent. Such efforts would require a comprehensive response to reduce risky sexual and drug-injecting behaviour among young people, and tackle the socioeconomic and other factors that promote the spread of the virus.
In the Russian Federation and other parts of the former Soviet Union, the vast majority of reported HIV infections are related to injecting drug use, which has become unusually widespread among young people, especially young men. An estimated 1% of the population of those countries is injecting drugs. Given the high odds of transmission through needle sharing, the fact that the young people are also sexually active, and the high levels of sexually transmitted infections in the wider population, a huge epidemic may be imminent. As well, the male-female ratio among newly detected HIV cases has narrowed from 4:1 to 2:1, indicating that young women are increasingly at risk of HIV infection.
Several factors are creating a fertile setting for the epidemic: mass unemployment and economic insecurity beset much of the region; social and cultural norms are being increasingly liberalized; and public health services are steadily disintegrating.
Reported rates of other sexually transmitted infections are very high and compound the odds of HIV being transmitted through unprotected sex. The incidence of syphilis (the reported number of infections in a given year) in the Russian Federation in 2000 stood at 157 per 100,000 persons, compared to 4.2 per 100,000 persons in 1987. Similar general trends are visible in the Baltic States, Belarus, the Central Asian republics, the Republic of Moldova, and Ukraine.
Unprecedented numbers of young people are not completing their secondary schooling. With jobs in short supply, many are at special risk of joining groups of vulnerable populations, by resorting to injecting drug use and (regular or occasional) sex work. Among young people in the Russian Federation, for instance, drug use is almost three times more prevalent than it was five years ago. Drug use is steadily becoming a more frequent feature of secondary school life in many cities. Needle sharing is common practice among injecting drug users -- and a common cause of HIV transmission. Surveys in some cities in the Russian Federation show that most sex workers are 17-23 years old and that condom use in the sex industry is erratic, at best.
HIV risk is high among men who have sex with men, among whom multiple partners and unprotected sex are widespread. While laws penalizing homosexual activities with imprisonment have been struck off the statute books in the Russian Federation and in most (though not all) other countries of the former Soviet Union, men who have sex with men remain highly stigmatized socially. Currently, there are very few examples of HIV prevention activities targeting this group.
In south-eastern Europe, rates of sexually transmitted infections and injecting drug use are also on the rise, although still at considerably lower levels than elsewhere in the region. Drug trafficking, along with the economic and psychological aftermath of recent conflicts, are increasing the likelihood that HIV epidemics will emerge in this region.
In Central Europe, there is cause for tempered optimism. There is little indication, at this stage, of a potential rise in HIV infections. By mounting a strong national response, the Polish Government has successfully curtailed the epidemic among injecting drug users and prevented it from gaining a foothold in the general population. Prevalence remains low in countries such as the Czech Republic, Hungary and Slovenia, where well-designed national HIV/AIDS programmes are in operation.
More than 150 HIV/AIDS prevention projects among injecting drug users have been set up across the region in the past five years, along with projects focusing on other vulnerable populations such as prison inmates, sex workers and men who have sex with men. Although comparatively few in number, many of these projects are laying the foundations for larger, more extensive prevention work.
At the same time, there are signs of growing political commitment in the region. Following the UN General Assembly Special Session on HIV/AIDS, countries of the Commonwealth of Independent States are developing a special declaration on the epidemic and are preparing a regional work plan to guide a coordinated response. In countries such as Bulgaria, Romania, the Russian Federation and Ukraine, the budgets of national AIDS programmes have increased substantially. The strong partnerships being forged between the government, private sector and nongovernmental organizations in Ukraine are setting a positive example for the rest of the region. In June 2001, the President of Ukraine declared 2002 the year of the fight against AIDS.
Vigorous prevention efforts are needed to equip young people with the knowledge and services (such as HIV/AIDS information, condom promotion, life-skills training) they need to protect themselves against the virus. Given that young people (especially women) are bearing the brunt of the economic transitions in the region, socioeconomic programmes that can reduce the vulnerability of young men and women are also vital.
Special steps are needed to include HIV-related life-skills education in school curricula and to extend peer education to vulnerable young people who are in institutions or out of school and employment. Much more comprehensive efforts are needed to address the complex issues related to HIV and injecting drug use among young people.