Other Names: AMD-11070
Drug Class: Entry Inhibitor
Molecular Formula: C21 H27 N5
Registry Number: 558447-26-0 (CAS)
Chemical Name: N'-(1H-benzimidazol-2-ylmethyl)-N'-(5,6,7,8-tetrahydroquinolin-8-yl)butane-1,4-diamine
Chemical Class: Benzimidazoles
Company: Genzyme Corporation
Phase of Development: I/II
Chemical Image: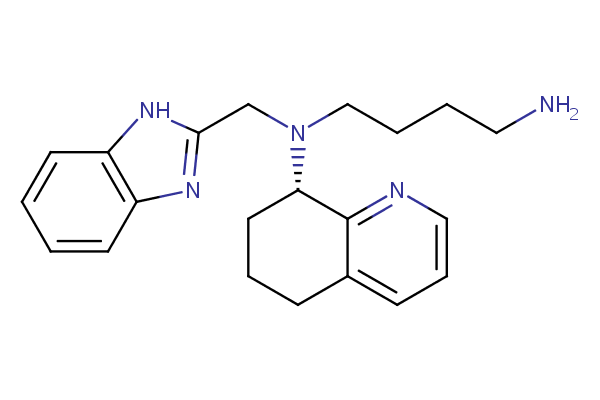 AMD-070
Molecular Weight: 349.4793
(Compound details obtained from ChemIDplus Advanced1 and NIAID Therapeutics Database2)
What Is an Investigational Drug?
An investigational drug is one that is under study and is not approved by the U.S. Food and Drug Administration (FDA) for sale in the United States. Medical research studies are conducted to evaluate the safety and effectiveness of an investigational drug. These research studies are also called clinical trials. Once an investigational drug has been proven safe and effective in clinical trials, FDA may approve the drug for sale in the United States.
To learn more about investigational drugs, read the AIDSinfo What is an Investigational HIV Drug? fact sheet.
Advertisement
What Is AMD-070?
AMD-070 is an investigational drug that has been studied for the treatment of HIV infection.

AMD-070 belongs to a class (group) of HIV drugs called entry and fusion inhibitors.2 Entry and fusion inhibitors block HIV from getting into and infecting certain cells of the immune system. This prevents HIV from multiplying and can reduce the amount of HIV in the body.

AMD-070 works by attaching to a protein on the surface of the immune cells. The protein is called the CXCR4 co-receptor. When AMD-070 attaches to the CXCR4 co-receptor, certain strains of HIV -- called R-4 tropic virus -- cannot attach to, enter, or infect the cell.3

How Are Clinical Trials Of Investigational Drugs Conducted?
Clinical trials are conducted in phases. Each phase has a different purpose and helps researchers answer different questions.4
Phase I trials: Researchers test an investigational drug in a small group of people (20-80) for the first time. The purpose is to evaluate its safety and identify side effects.
Phase II trials: The investigational drug is administered to a larger group of people (100-300) to determine its effectiveness and to further evaluate its safety.
Phase III trials: The investigational drug is administered to large groups of people (1,000-3,000) to confirm its effectiveness, monitor side effects, compare it with standard or equivalent treatments, and collect information that will allow the investigational drug to be used safely.4
In most cases, an investigational drug must be proven effective and must show continued safety in a Phase III clinical trial to be considered for approval by FDA for sale in the United States. Some drugs go through FDA's accelerated approval process and are approved before a Phase III clinical trial is complete. After a drug is approved by FDA and made available to the public, researchers track its safety in Phase IV trials to seek more information about the drug's risks, benefits, and optimal use.4
In What Phase of Testing Is AMD-070?
AMD-070 has been studied in Phase I/II clinical trials.2
What Are Some Studies on AMD-070?
Study Names: (1) X4 Antagonist Concept Trial (XACT); NCT00361101 and (2) ACTG A5210; NCT00089466
Phase: I/II
Location: XACT: United States and United Kingdom; ACTG A5210: United States
Participants:
HIV-infected adults who had HIV that used the CXCR4 co-receptor (either X4- or dual-tropic virus). (X4-tropic virus is HIV that uses CXCR4 as a co-receptor, while dual-tropic virus is HIV that uses either CCR5 or CXCR4 as a co-receptor.)
Some of participants had never taken HIV medicines before entering the study (also called treatment-naive), and others had taken HIV medicines previously (also called treatment-experienced). The treatment-experienced adults were required to be off HIV medicines for at least 14 days before starting AMD-070.
Purpose: The purpose of these studies was to look at the safety and effectiveness of AMD-070.
Study Design: In both studies, 200 mg of AMD-070 was given twice daily without any other HIV medicines (also known as monotherapy) over 10 days.
Results:
In both studies, AMD-070 was shown to have activity against X4-tropic HIV.
In terms of safety in the XACT Study, the most common side effects were gastrointestinal symptoms and headache, and there were no drug-related serious adverse events.5-10
Note: Because of liver-associated side effects in long-term animal studies, the development of AMD-070 was previously put on clinical hold.6 (A clinical hold is an order issued by FDA either to delay a clinical trial from starting or to stop an ongoing clinical trial.)
What Side Effects Might AMD-070 Cause?
In the 10-day XACT Study discussed under the previous question, the following side effects were reported: mild gastrointestinal symptoms, including diarrhea and gas (flatulence); headache; and dizziness.5

Information on possible side effects of the drug is not complete. As testing of AMD-070 continues, additional information on possible side effects will be gathered.
Where Can I Get More Information About Clinical Trials Studying AMD-070?
More information about AMD-070-related research studies is available from the AIDSinfo database of ClinicalTrials.gov study summaries. Click on the title of any trial in the list to see the ClinicalTrials.gov trial summary and more information about the study.
I Am Interested in Participating in a Clinical Trial of Amd-070. How Can I Find More Information About Participating in a Clinical Trial?
Participating in a clinical trial can provide benefits. For example, a volunteer participant can benefit from new research treatments before they are widely available. Participants also receive regular and careful medical attention from a research team that includes doctors and other health professionals. However, clinical trials may also involve risks of varying degrees, such as unpleasant, serious, or even life-threatening side effects from the treatment being studied.4

Your health care provider can help you decide whether participating in a clinical trial is right for you. For more information, visit NIH Clinical Research Trials and You.
References