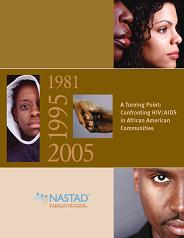 "The truth of the matter is in 2005 AIDS in America is virtually a Black disease. The epidemic will not be over unless and until Black people in America develop the capacity, infrastructure and commitment to make it so. The time is now to create a comprehensive, coordinated mass mobilization against the AIDS epidemic in Black America."

Phil Wilson
Executive Director
The Black AIDS Institute
Please note: The terms "African American" and "Black" are both used in this Call to Action. The use of the term African American is consistent with its use in the NASTAD monograph, HIV/AIDS: African American Perspectives and Recommendations for State and Local AIDS Directors and Health Departments and its recognition of historical circumstances that have created a legacy of mistrust for many African Americans in this country. Paramount to both documents, however, is an acknowledgement of the devastating impact of HIV/AIDS on all people of African descent, as reflected in the use of the term Black.

This article was provided by
National Alliance of State and Territorial AIDS Directors
. It is a part of the publication
A Turning Point: Confronting HIV/AIDS in African American Communities
. Visit
NASTAD's website
to find out more about their activities and publications.