What a Positive HIV Test Means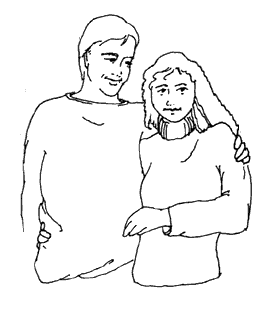 Testing positive for HIV means that your blood has signs of the virus that causes AIDS.

A positive test does not mean that you have AIDS. Many people who test positive for HIV do not get symptoms of AIDS for 8 to 10 years or longer after the virus infects them.

A positive test does mean that you need to:
Avoid giving the virus to other people.
Take good care of your own health.
The information below explains how.
How to Avoid Spreading HIV to Others
HIV can be in blood, semen, fluid from the vagina, and breast milk. The virus is passed to other people during sex. Using a condom during sex can help keep the virus from spreading to sex partners.

HIV can also be spread by sharing needles to inject drugs, from a pregnant woman to her unborn baby, and by a mother to her baby through breast milk.

If you test positive for HIV, tell all your past and present sex partners that you have HIV. Urge them to have the HIV test.

Here is how to avoid spreading HIV to others:
DO choose safe ways to be close with a lover. To find out what safer sex means for you and your partner, talk to a nurse, a counselor, or a local HIV support group. You can also call the National AIDS Hotline (1-800-CDC-INFO).
DO use condoms if you have sex, including anal sex and oral sex.

DO feel free to kiss and hug those you love. Touching won't spread the virus.
DO NOT share drug needles or works, razors, or any items that may touch your blood, semen or vaginal fluids.
DO NOT breast-feed a baby. A woman can pass the virus to her baby through breast milk.
DO NOT donate blood.
Having unsafe sex and sharing drug needles can also make your HIV disease worse by exposing you to germs that could make you sick.
Take Charge of Your Health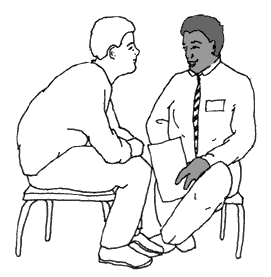 Here are four steps for taking good care of your health if you have HIV:
Visit a doctor or clinic right away for a check-up. You will need to go back for regular visits so the doctor or nurse can check on how well your body can fight off disease.
Ask about new treatments that can help people with HIV stay healthy. These include medicines to help prevent pneumonia and other infections and medicines to slow the spread of the virus.
Keep a close watch on your health between check-ups.
Be good to yourself. Listed below are steps that will help you stay well longer.
You may want to talk about each step with your doctor or nurse.
Step 1: Visit A Doctor or Clinic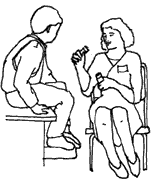 This check-up will help a doctor or nurse look for or stop any problems you may have because you have HIV and plan your care. They may take a small amount of your blood and count the numbers of certain cells called T cells (also called CD4 cells) that are important in fighting disease. The check-up should include a test for tuberculosis (TB), because some people with HIV also have TB, which needs to be treated right away. Ask if there are vaccines you should get to help you stay healthy.

The doctor must also keep a close watch on your health in the future. Find out when you should come back for your next check-up.

Don't forget or put off your check-ups. They are the key to catching problems early and taking action.
Step 2: Ask About New Treatments
Today, there are more ways than ever to fight back against HIV. Some medicines can slow down the virus and help you feel well longer. Some can prevent or delay illness caused by HIV. Other medicines can help you if you get sick.
Ask your doctor or nurse if there are any medicines that you should take now.
Be your own health advocate! Learn as much as possible about HIV treatments.
Talk to the doctor, nurse, or social worker if paying for your medicine is a problem. You may be able to get help.
It is important to know how and when to take any medicines you receive. Create a schedule like the one below to help you remember.
Treatment Schedule
Name of medicine: ____________________
How much to take: ____________________
What times of day (or night) to take:
_______________________________________
What foods, drinks, or other drugs to avoid:
________________________________________
Side effects you should report to the doctor:
________________________________________
Step 3: Watch Your Health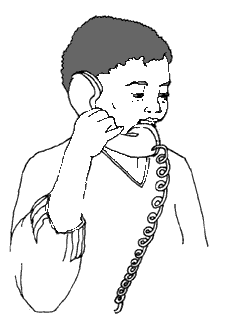 Some diseases linked to HIV have early warning signs. Call your doctor or clinic if you feel sick or have any of the problems listed below. These are not necessarily signs that you have AIDS, but they may need to be treated by your doctor.
Swollen glands in your neck, armpits, or groin.
White patches in your mouth.
Bruises or sores on your skin that don't clear up.
Fever or diarrhea.
Weight loss, when you have not tried to lose weight.
Cough and shortness of breath.
Night sweats.
Severe headaches.
Vaginal yeast infections that do not go away after treatment.
Irregular bleeding and abdominal pain that does not go away.
Step 4: Be Good to Yourself
Eat a healthy diet. Ask your doctor or nurse what foods will help keep you feeling your best.
Get plenty of rest to keep your body healthy.
Don't drink alcohol, use drugs, or smoke. Doing these things can weaken your body's defense against disease.
Exercise. Staying active helps keep you stronger and can also relieve stress.
Share your feelings with friends and loved ones when you are ready to do so. It can help a lot.
Ask the clinic or call your local health department to find a support group for people with HIV. Try to find one that fits your own special needs. It is important that you feel comfortable in the group you choose.
Research: Hope for the Future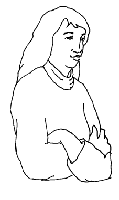 Scientists have made progress against AIDS. Today, new medicines have been helping people with HIV. You may be able to take part in a research study (called a clinical trial) to test these drugs. If the new drug works, you may be helping yourself and others to fight HIV.

To find out more about being in a clinical trial, ask your doctor or clinic. You can also call
How to Find Out More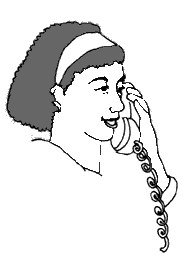 To learn more about living with HIV, call:
1-800-CDC-INFO
(1-800-232-4636)

People at this number can answer your questions about HIV disease, treatments, and the steps in this booklet. They can also send you other booklets with more information.
Remember:
Living with HIV is more than medical treatment alone. It means learning to take care of your health.
Choose safe ways to be close to a lover, so you do not pass HIV to others.
See a doctor or visit a clinic and have regular check-ups.
If the doctor gives you medicine, take it regularly.
Watch your own health. Learn to eat a healthy diet, manage your stress (stay calm), and exercise regularly.
When you feel ready to do so, join a support group or talk to your -friends or family.