Geographic Considerations
Convincing evidence that HIV causes AIDS also comes from the geographic correlation between rates of HIV antibody positivity and incidence of disease. Numerous studies have shown that AIDS is common only in populations with a high seroprevalence of HIV antibodies. Conversely, in populations in which HIV antibody seroprevalence is low, AIDS is extremely rare (U.S. Bureau of the Census, 1994).
Malawi, a country in southern Africa with 8.2 million inhabitants, reported 34,167 cases of AIDS to the WHO as of December 1994 (WHO, 1995a). This is the highest case rate in the region. The rate of HIV seroprevalence in Malawi is also high, as evidenced by serosurveys of pregnant women and blood donors (U.S. Bureau of the Census, 1994). In one survey, approximately 23 percent of more than 6,600 pregnant women in urban areas were HIV-positive (Dallabetta et al., 1993). Approximately 20 percent of 547 blood donors in a 1990 survey were HIV-positive (Kool et al., 1990).
In contrast, Madagascar, an island country off the southeast coast of Africa with a population of 11.3 million, reported only nine cases of AIDS to the WHO through December 1994 (WHO, 1995a). HIV seroprevalence is extremely low in this country; in recent surveys of 1,629 blood donors and 1,111 pregnant women, no evidence of HIV infection was found (Rasamindrakotroka et al., 1991). Yet, other sexually transmitted diseases are common in Madagascar; a 1989 seroepidemiologic study for syphilis found that 19.5 percent of 12,457 persons tested were infected (Latif, 1994; Harms et al., 1994). It is likely that due to the relative geographic isolation of this island nation, HIV was introduced late into its population. However, the high rate of other STDs such as syphilis would predict that HIV will spread in this country in the future.
Similar patterns have been noted in Asia. Thailand reported 13,246 cases of AIDS to the WHO through December 1994, up from only 14 cases through 1988 (WHO, 1995a) (Figure 5). This rise has paralleled the spread of HIV infection in Thailand. Through 1987, fewer than .05 percent of 200,000 Thais from all risk groups were HIV-seropositive (Weniger et al., 1991). By 1993, 3.7 percent of 55,000 inductees into the Royal Thai Army tested positive for HIV antibodies, up from 0.5 percent of men recruited in 1989 (U.S. Bureau of the Census Database, December 1994). Seropositivity among brothel prostitutes in Thailand rose from 3.5 percent in June 1989 to 27.1 percent in June 1993 (Hanenberg et al., 1994). By mid-1993, an estimated 740,00 people were infected with HIV in Thailand (Brown and Sittitrai, 1994). By the year 2000, researchers estimate that there may be 1.4 million cumulative HIV infections and 480,000 AIDS cases in that country (Cohen, 1994b).
Advertisement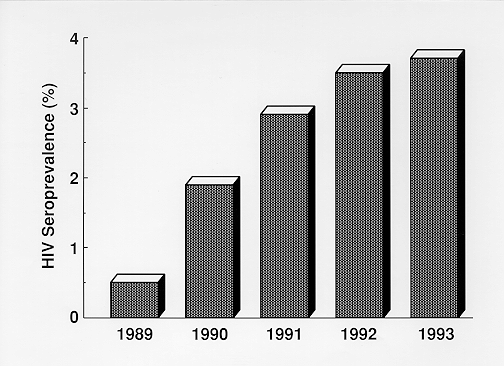 Fig. 5.
Cumulative AIDS cases in Thailand, 1979-1994

References: WHO, 1995a

By comparison, South Korea reported only 25 cases of AIDS to the WHO through Dec. 1994 (WHO, 1995a). In serosurveys in that country conducted in 1993, HIV seroprevalence was .008 percent among female prostitutes and .00007 percent among blood donors (Shin et al., 1994).