Resources
Information about cancer is available from many sources, including the ones listed below. For additional information you may wish to check the local library, bookstores or support groups in your community.
Cancer Information Service
The Cancer Information Service, a program of the National Cancer Institute, is a nationwide telephone service for cancer patients and their families and friends, the public, and health care professionals. The staff can answer questions (in English or Spanish) and can send free National Cancer Institute materials about cancer. They also know about support groups and other resources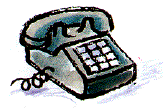 and services. One toll-free number, 1-800-4-CANCER (1-800-422-6237), connects callers with the office that serves their area
American Cancer Society
The American Cancer Society is a voluntary organization with local units all over the country. This organization supports research, conducts educational programs, and offers support groups and many other services to patients and their families. The American Cancer Society also provides free booklets. To obtain booklets or for information about services and activities in local areas, call the toll-free number 1-800-ACS-2345 (1-800-227-2345), or the number listed under American Cancer Society in the white pages of the telephone book.