"Hypocrite" Bloomberg Supports Gay Marriage -- But Not LGBT Health
May 26, 2011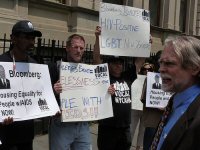 VOCAL-NY activists and Housing Works' Charles King (above, left) at the marriage protest; City Council Member Jumaane Williams at the marijuana protest.
If Bloomberg had plans to score points with the LGBT community with his big gay marriage speech on Thursday, VOCAL-NY had other ideas.
The indefatigable activist group staged two protests this week, one on Wednesday to call attention to the city's egregiously discriminatory pattern of marijuana arrests, and one yesterday, to expose the mayor's hypocritical stance on health issues that affect LGBT New Yorkers.
View photos.
"Mayor Bloomberg is a hypocrite for saying he's on the side of LGBT New Yorkers while blocking legislation that would prevent homelessness for people living with HIV/AIDS and making deep cuts to HIV/AIDS programs in the City budget," said Gustavo Pedroza, a VOCAL-NY leader and longtime marriage equality activist in Queens. "People can't stay connected to HIV/AIDS treatment without stable housing."
Advertisement
About half of all people living with HIV/AIDS in the United States are gay and bisexual men. In New York City, gay men comprise 43 percent of all reported new HIV diagnoses, despite making up less than 5 percent of the population.
Despite such statistics, Bloomberg has declared war on AIDS services, proposing more than $5 million in cuts to supportive housing and elimination of the Momentum Project, which serves 400,000 meals annually to poor people with AIDS. Housing Works had to go to court to stop crippling cuts to the HIV/AIDS Services Administration. Bloomberg also opposed 30 percent rent cap legislation. That bill would ensure low-income people living with HIV/AIDS who already qualify for rental subsidies pay no more than 30 percent of their disability income towards rent, the standard in every other housing assistance program.
"Mayor Bloomberg is trying to redefine himself as a champion for civil rights while actively opposing legislation that would let me keep my home," said Jim Lister, a VOCAL-NY leader and early activist in the LGBT business community in the West Village. "Bloomberg is not supporting LGBT people living with HIV/AIDS. If we are dead or homeless, gay marriage is irrelevant."
More From This Resource Center
---

This article was provided by
Housing Works
. It is a part of the publication
Housing Works AIDS Issues Update
. Visit
Housing Works' website
to find out more about their activities, publications and services.
---
| | |
| --- | --- |
| No comments have been made. | |
Add Your Comment:
(Please note: Your name and comment will be public, and may even show up in
Internet search results. Be careful when providing personal information! Before
adding your comment, please
read TheBody.com's Comment Policy
.)