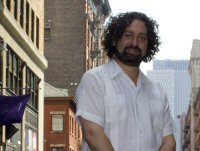 Torruella on a recent visit to New York.
We have Rafael Torruella's abuela to thank for his advocacy on behalf of injection drug users.
"After college, where I studied drug-user research, my grandmother showed me a newspaper article about outreach that was happening in Puerto Rico. She said, 'Look, this is what people are doing about what you're always talking about. That brought me into action," Torruella said.
On June 1, Torruella will become the executive director of Proyecto Casa de Ayuda Intermedia al Menesteroso (CAIM), which provides drug users in Fajardo, Puerto Rico, with badly needed services such as syringe exchange, HIV prevention education, and links to health care. (Since 2008, CAIM has operated as a subsidiary of Housing Works.)
Torruella took his grandmother's counsel to heart, working as a coordinator for Bronx-based CitiWide Harm Reduction, getting arrested to focus attention on Puerto Rico's AIDS epidemic, and recently completing a PhD at the City University of New York. His dissertation was about the relocation of drug users from Puerto Rico to the U.S.
Advertisement
"I'm very passionate about not working for but with, and alongside, people. My passion comes from working arm-to-arm, shoulder-to-shoulder with injection drug users. That's why I did research in the Bronx," he said.
The San Juan-born Torruella will need that passion. There are enormous obstacles in Puerto Rico to providing services to drug users and by extension, curbing its AIDS epidemic. Drug use plays a key role in the spread of the virus on the island. An estimated 40 percent of new HIV infections in men and 27 percent in women are the result of contaminated needles. The problem is compounded by the fact that the Puerto Rican government is reluctant to spend money on services for drug users.
"People still need the basics: syringe exchange, medical care, HIV testing, hepatitis C testing, and Puerto Rico is going through a tough time. The economy has gone backwards for a few years now. That affects the existing services and their ability to get funding," Torruella said.
Where there are dark times, however, there are also rays of hope. In March, after five drug users died from lack of access to basic health care, CAIM staged a groundbreaking protest demanding that Fajardo's mayor commit to comprehensive services for Fajardo's drug-users.
"I have to hit the ground running," Torruella said. "The needs are growing."
Words to make a grandmother proud.
Contact Torruella at r.torruella@housingworks.org.