What's So Special About Research? Dr. Carl Dieffenbach Answers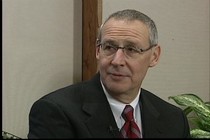 Dr. Dieffenbach gives answers to some questions about clinical trials. Credits: ifara.info/ 16th_CROI_Video_Library/ XVI CROI Video Library Page.html.
Today is National HIV Vaccine Awareness day. It is a day to recognize the thousands of volunteers who have given their time and bodies for research. It is also a day to spotlight how participation in trials is critical in the pursuit of a cure. Dr. Carl Dieffenbach, Director of the Division of AIDS at the National Institute of Allergy and Infectious Diseases, answered my questions (and questions from others) about clinical trials recruitment and the impact of the failure of FEM-PrEP.
Out of the six current clinical trial networks, which ones do you see the most success with and which ones do you see the greatest deficits?
Each [of the trials] has their own strengths. Therapeutics is focusing on the best first line and second line treatments for HIV. In the past 15 years, we have moved from essentially treatment that was a hand full of pills twice a day to one pill once a day. One pill once a day is very well tolerated and if successfully taken on a regular basis can provide lifelong treatment for the individual. That's pretty amazing. We've made HIV/AIDS, which used to be pretty much a death sentence, to a chronic manageable disease. Globally, we've gone from being able to treat maybe 300,000 people in the world to over five million globally. That never would have happened without those clinical trials. The other area we have focused on is HIV prevention. We have been able to give people the tools to protect themselves. But the fundamental challenge with that is getting people to use them. How do you make it attractive and market it?
Advertisement
Give three specific steps that NIAID intends to take to ensure that future trial design and implementation fosters participation by women, people of color and low-income people in the way of the GRACE study.
The easiest way to get to a specific population is to know what you want and go get it. In order for the data to be relevant to a given population within a clinical trial, we need to hit a target number of those types of people. For example out of 2,000 people we need 750 women. When we get to a point where it looks like we don't need to fill a quota we'll say no more men, only women. We have stopped the enrollment of the easy population and gone after the populations that are difficult to find. Additionally, a protocol starts with a group of people talking about a research question and what we try to do is to ensure that members of the community are at the table when the protocol is being designed. The GRACE study was very good at that.
Low-income people are a population we're extremely proud to serve because we do not require insurance like some trials do. Some trials require you to have insurance to cover the co-meds. We take all comers if they are in a specific group that we are seeking to study and have the disease. Additionally, we have gone to the communities where people of color are. This is an epidemic in the United States of people of color and people of poverty. So we moved our trial sites to those places.
In DC, the last two trials we ran were in the absolute poorest parts of the city. They had incredibly successful enrollment. One [trial] targeted high-risk women and the other was black MSM. We had recruiters who were people who looked like the community and were from the community. We brought them in and trained them. In some ways HIV/AIDS invented this approach.
How does the Fem-PrEP study cancellation impact the NIH funded research on pharmaceutical preventions and interventions?
The answer is that it will stimulate research because I, as a scientist, need to know why it didn't work. We had an evaluation of Truvada in MSM for HIV prevention. One pill once a day doesn't stop transmission. The answer was yes the data was very clear that the more consistent you are the better. So much so that in men who took it consistently the percent of effectiveness was 80-85%. That's a whopping number. That's the kind of thing you want from a vaccine. FEM-PrEP came along, they tried it with the women and stopped it for futility. So we look at the data in the test group and in the control group. You have a dichotomous result. On the face of it, there's a difference between men and women.
Maybe the women didn't take the medication and there's some evidence that they didn't. Is there a biological difference between men and women underneath it all? The answer is I need to know more.
The first sentence in Dr. Fauci's statement in the 2010 National HIV testing day reads "Routine testing is central to ending the HIV pandemic." Yet the term routine does not appear once in the Obama administration National HIV/AIDS strategy and the term. Is there a disconnect between the administration at NIAID and the White House?
What Dr. Fauci means by routine is that taking an HIV test needs to be the equivalent of getting your blood pressure taken. It should be the fifth vital sign. It's cheap. It's accurate. And that is the way to reduce stigma. We have 20% of the American population that has HIV and doesn't know their status. We need to get to the bottom of this. That's what he means by routine. It's a part of the CDC guidelines. The National HIV Strategy talks about full implementation of the guidelines. That's what we're talking about.
Advertisement
Any new findings that we should be looking out for as the clinical trial networks are winding down?
The next major activity at the completion of some of these studies will be really defining what the best first line will be. There have been some surprises. The next question to explore will be is there some clinical benefits to an individual starting treatment significantly earlier than the guidelines of the past. That will matter a lot because if you think about it, people who don't start HIV therapy in the beginning may not want to start because they feel ok. They don't feel sick. But there's an emerging body of evidence that shows they are actually causing harm to their bodies because HIV continues to grow and replicate. It's not just damaging to their immune system but it's damaging to their heart, their kidneys, their liver, and their bones. So we will be getting the data that shows that starting earlier actually protects you in the long run. One of the factoids tucked into the information about women and the antimicrobicidal gel is that it also protects them from herpes. That's another fact we'll be able to confirm. Having the protection for both is ideal. Start with a woman who goes through sexual debut. Use protection, don't get pregnant, and by the way if you can't get your boyfriend to use a condom, use this gel.
Side note: This interview was conducted prior to last week's announcement regarding early antiretroviral treatment.
The International AIDS Conference is coming next year. What can we expect from NIAID in regards to participation?
I'm excited. I am looking forward to showing off DC and all that it has. I'm looking forward to working with the White House and the mayor. Additionally, we hope that by the time we get to 2012, the culmination of the work that has gone on in the Department of Health and the work that NIH is doing with DOH will showcase the improvements we've made in HIV/AIDS in the city.
Are we any closer to a cure?
I think we are closer. I think we understand a little bit about what we need to do. There has been at least one patient cured, however; that poor person started with a very aggressive form of Leukemia and ended up with a bone marrow transplant. I do believe he's cured. The reason I say that is because of time. Have you ever seen a thermometer with mercury in it break and watch the mercury roll around? It always finds a way through. HIV is like mercury in that it always finds a way through. If he still had it, it would have found a way through by now.
Special thanks to Ms. Anita Greene, Outreach Program Director, National Center for Complementary and Alternative Medicine at NIH for assisting me in arranging this interview.
Get e-mail notifications every time Candace's blog is updated.