Schwarzenegger's Affair Could Have Done More Than Produce a Child
By Candace Y.A. Montague

May 17, 2011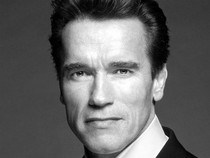 Behaving badly can cost more than child support. Credits: robotceleb.com.
Actor and former California Governor Arnold Schwarzenegger revealed that he had an affair which resulted in a child from a former staffer. The child was born 10 years ago and Schwarzenegger did not tell his wife, Maria Shriver, until earlier this year. The news came on the heels of their announcement to split up after 25 years of marriage. The regretful "Terminator" said that he "takes full responsibility for the hurt he has caused." While no one is perfect, causing harm and conceiving a child are really mild consequences in the scope of sexual health. Mr. Schwarzenegger could have, indeed, brought on even more harm from having unprotected sex.
I cannot speak about the infidelity issue (I'll leave that to Uku Mitchell). I can, however, speak about how carelessness can bring down even the most powerful people and compromise their health and the health of those they love. Schwarzenegger obviously had unprotected sex. The primary question that comes to mind as a health educator is, why didn't he use condoms? Extramarital affair you're-going-to-hell-for-breaking-your-vows aside, he could have contracted an STD or HIV and passed it on to his wife unknowingly.
Advertisement
Does having all that power make one believe that they are above being infected?
There are over
160,000 HIV/AIDS cases in California
. The Golden State is ranked
9th among the 50 states for syphilis
. California is one of the few states that I have seen that
requires
students in grades 7 through 12 to be taught about HIV/AIDS by a qualified educator. There's really no excuse for not being armed with condoms during every single tryst.
I continue to be amazed by famous men who have unprotected sex and produce children (even Senator John Edwards and Rev. Jesse Jackson didn't get it). It seems like the message is "if she gets pregnant, I'll pay for it." Or "if my wife finds out, I'll just apologize." Ignoring the risk of STDs doesn't mean one is immune to them. And anyone can contract one regardless of their title, religious affiliation or political party. As for Schwarzenegger, if he came out of this STD free, he's very lucky man. Now that he's out of office, perhaps he has more time to grab a notebook and take a seat next to a California ninth grader during sex ed.
Recommended Reading
April is STD Awareness Month: Time to take the test

Get e-mail notifications every time Candace's blog is updated.
---
Add Your Comment:
(Please note: Your name and comment will be public, and may even show up in
Internet search results. Be careful when providing personal information! Before
adding your comment, please
read TheBody.com's Comment Policy
.)