Action Alert: Condemn NY Post for Revealing Strauss-Kahn Victim Lives in AIDS Housing
May 18, 2011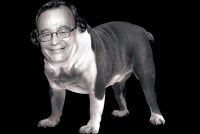 Moral compass of a dog? NY Post Editor-in-Chief Col Allan poses for the camera.
In an egregious breach of confidentiality, the New York Post has revealed that the woman accusing IMF chief Dominique Strauss-Kahn of sexual assault lives in an apartment set aside for New Yorkers who have HIV.
Update 3:50 PM: A lawyer for the alleged victim has shot back, saying the woman does not live in housing for people with HIV. "Absolutely not," said attorney Jeffrey Shapiro on the Today show.
Housing Works is calling on people across the country to contact the New York Post and condemn the publication's decision to release this information.
Express your outrage by calling Editor-in-Chief Col Allan at (212) 930-8272, emailing letters@nypost.com, and retweeting the following message:
"NYPost reveals Strauss-Kahn's alleged victim lives in AIDS housing. Condemn their tabloid HIV scare tactics @NewYorkPost!"
Advertisement
"Once again the New York Post proves that they are happy to trample on human dignity to sell newspapers. There is no public interest in knowing this woman's HIV status -- yet the woman herself could suffer greatly from the revelation," said Housing Works President and CEO Charles King. "The Post's story is an attack on women and all people with HIV."
The Post story intensifies the stigma surrounding AIDS by implying that HIV is an inherently horrifying disease. "Maid HIV Shocker" screams the paper's front page. "Dominique Strauss-Kahn may have more to worry about than a possible prison sentence."
Staff at the Post, meanwhile, won't share why they decided this information is in the public interest. "I'm sorry, I'm extremely busy, and I can't speak to you," said Bob Fredericks, one of the authors of the piece.
The alleged victim is a West African immigrant and hotel maid with a 15-year-old daughter. The New York Post reported that she has been living in housing arranged by Harlem United, a community-based organization that serves people living with HIV/AIDS. This week, she accused IMF head Strauss-Kahn of sexually assaulting her in the Sofitel hotel in Times Square.
---

This article was provided by
Housing Works
. It is a part of the publication
Housing Works AIDS Issues Update
. Visit
Housing Works' website
to find out more about their activities, publications and services.
---
Comment by: noorali m
(karachi) Tue., May. 24, 2011 at 6:35 am UTC
The IMF Chief Strauss Kahn who has resigned from his post after been accused
of some indecent assault which is yet to be proven by a Court of Law.
I would suggest a new third world Candidate worthy of the most prestigious
Job as the President of IMF as *Bangladeshi Nobel Peace Prize winner,
Muhammad Yunus*. He is seasoned and experienced and world renowned and won
the Noble Prize......He suits the job better than any other candidate of his
calibre............
Comment by: Copyright 1997
(Ontario, Ca) Thu., May. 19, 2011 at 11:41 pm UTC
Why would every single dirty detail about alleged raper be OK to widely publish, while the accuser had the right to remain anonymous? Nobody has been judged yet. Innocent until proven guilty, remember that ??? Well, DSK already suffered a great loss. Is he going to be compensated if it turns out that there was no crime?
Comment by: v
Thu., May. 19, 2011 at 4:09 pm UTC
what do u care? the public has the right to know.
Add Your Comment:
(Please note: Your name and comment will be public, and may even show up in
Internet search results. Be careful when providing personal information! Before
adding your comment, please
read TheBody.com's Comment Policy
.)